Kategorie System Utilities / Datei- & HDD-Management (Filter: Demo)
MailRecovery Server
Version: 2010.1014 | Demo (999,00 USD)
MailRecovery Server suite combines data recovery programs for email applications into convenient setup package. With this suite you are able to recover corrupted email correspondance, contacts, calendar items etc from both client files (PST, OST, DBX) and server databases (EDB, STM). MailRecovery Server suite provides data recovery solutions for Microsoft products, such as Outlook Express, Outlook, Exchange, including version 2010.
Mehr…
DataNumen Archive Repair
Version: 2.0 | Demo (199,95 USD)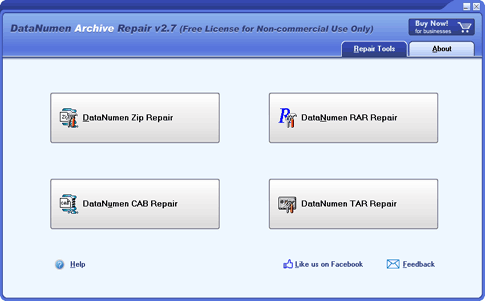 DataNumen Archive Repair(formerly Advanced Archive Repair) is a powerful archive data recovery suite. It includes tools to repair all subtypes of corrupt or damaged RAR archives, Zip archives and Self Extracting(SFX) archives, Unix TAR archives, and Microsoft CAB archives. DataNumen Archive Repair uses advanced technologies to recover your files in the archives as much as possible, so to minimize the loss in data disaster.
Mehr…
DiskInternals Outlook Express Repair
Version: 2.0 | Demo (39,95 USD)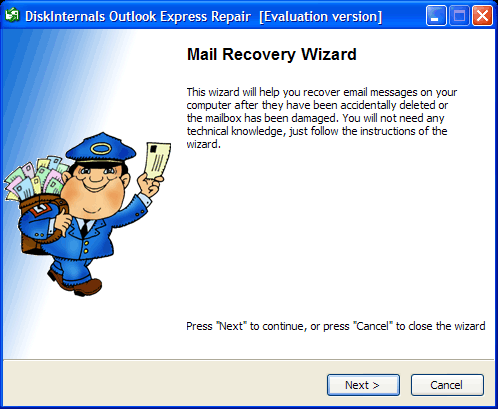 When instead of folders crammed with mail you get an error message, their importance comes forth with increased sharpness. Whatever happens to your emails, there is no need to worry. There is a tool that can fix it and bring back valuable items of your correspondence. DiskInternals Outlook Express Repair scans email accounts for damages and restores their contents whenever possible. It is the tool you can trust in times of need.
Mehr…
DiskInternals Uneraser
Version: 5.0 | Demo (39,95 USD)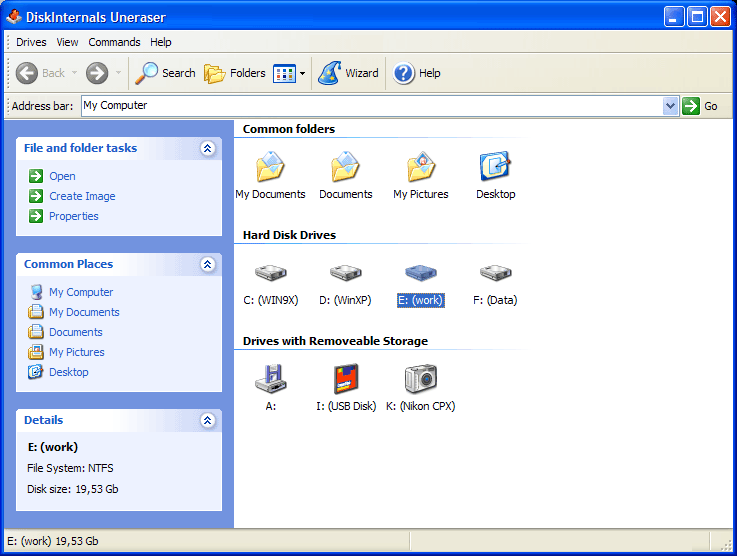 Haben Sie eine noch benötigte Datei gelöscht? Der Uneraser vermag jede gelöschte Datei wiederherzustellen z.b. Dokumenten, Fotos und ZIP-Dateien. Das Programm unterstützt neben der Festplatte alle Arten von Speichermedien (Musiksticks, Flashdisks, USB-Laufwerke, etc.). Selbst verschlüsselte Dateien können wiederhergestellt werden, und es hilft Ihnen Daten, die durch Virenattacken verloren gegangen sind. Sie brauchen keine besonderen Kenntnisse!
Mehr…
Recovery for Publisher
Version: 1.1.0845 | Demo (149,00 USD)
Recovery for Publisher is a powerful data recovery software for corrupted Microsoft Publisher documents (.PUB). Restores and tables and formatting of the original publication and saves them in more common .RTF format, readable by Microsoft Word and other text processors. Easy to use, no special user skills required. Supports Publisher 2000, 2002 and 2003.
Mehr…
DataNumen PDF Repair
Version: 2.1 | Demo (149,95 USD)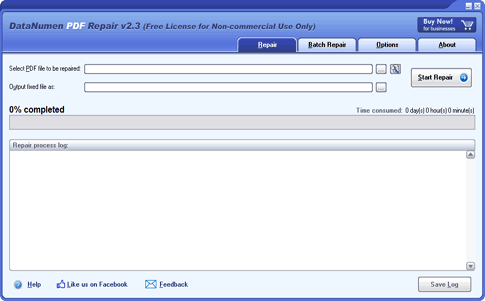 DataNumen PDF Repair(DPDFR) is a powerful PDF recovery tool. It uses advanced technologies to scan the corrupt or damaged Acrobat PDF files and recover your data in them as much as possible, so to minimize the loss in file corruption. Currently DPDFR supports to recover all versions of Adobe PDF documents. Moreover, it is integrated with Windows Explorer, supports drag & drop operations, which will make you repair PDF files easily and quickly.
Mehr…
DiskInternals FAT Recovery
Version: 3.7 | Demo (69,95 USD)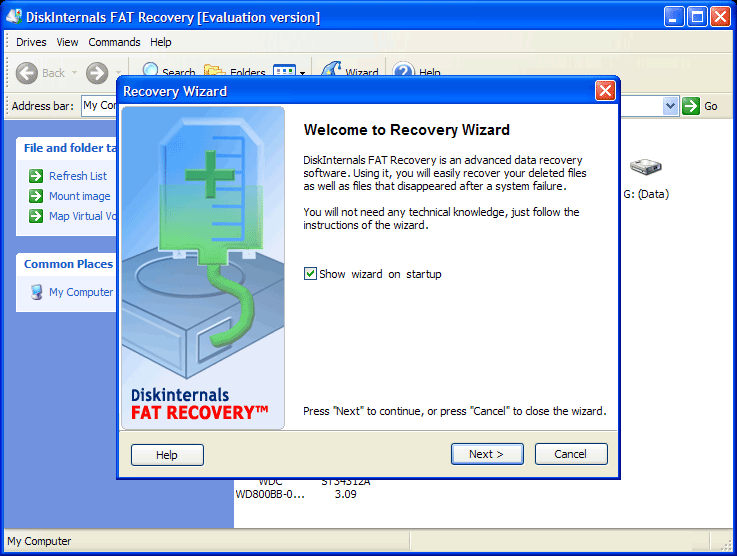 DiskInternals FAT Recovery is a fully automatic utility that recovers data from damaged or formatted disks. The program scans the disk first and then restores the original structure of files and folders. Works for all occasions - formatted drive, inaccessible drive, drive not booting, missing or deleted file or directory, corrupted or damaged partition table. Files up to 64 KB are recovered by DiskInternals FAT Recovery absolutely free.
Mehr…
DiskInternals CD and DVD Recovery
Version: 3.5 | Demo (39,95 USD)
Just finished burning CD or DVD, only to find out that some files appear to be corrupted or inaccessible? Power went out, while recording data? This solution will recover files from CDs and DVDs, including multi-session ones. CD-R, CD-RW, DVD-R, DVR+R, DVD-RW, DVR+RW and DVD-RAM. The program recovers any type of files - data, video, music, etc. The program supports ISO 9660, Joliet and UDF file systems. 100% Success Rate. Try it now!
Mehr…
Undelete NOW!
Version: 1.0 | Demo (13,95 GBP)
Accidentally deleted your files and folders? Emptied your Recycle Bin and want it back? Undelete NOW! recovers your lost files, no matter how they were deleted. Using powerful bit-by-bit scanning methods, you can be sure to get your files back quickly and easily. Undelete NOW! supports every kind of disk, including FAT 12/16/32 and NTFS (including compressed and encrypted) partitions. It supports hard disks, backup disks, SmartMedia and more.
Mehr…
RiteRecovery
Version: 1.0.0847 | Demo (149,00 USD)
RiteRecovery retrieves files from corrupted file systems: diskettes, hard disks, ZIP cartridges and other types of media, removable or non-removable. RiteRecovery saves the recovered files and folders into a folder on a safe drive. Is able to recover damaged disks with FAT12, VFAT12, FAT16, FAT32 and VFAT12 volumes created. CD/DVD file system recovery is supported as well including CDFS and UDV.
Mehr…
Recovery for Outlook Express
Version: 1.2.0845 | Demo (149,00 USD)
Recovery for Outlook Express fixes corrupted Microsoft Outlook Express folders. This simple program is easy to set up and easy to access. Supports corrupted folders recovery from Microsoft Outlook Express versions 4, 5, 5.5 and 6. Recovers messages in both plain text and HTML-format. Recovers message fields such as sender's and recipient's names and emails, subject, message flags, creation date/time, etc. Supports file attachments recovery.
Mehr…
Aufräumhilfe-Festplatte
Version: 1.0 | Demo (9,99 EUR)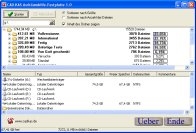 Fragen Sie sich auch manchmal, warum Ihre Festplatte schon wieder voll ist und woher die ganzen Daten gekommen sind und wo sich diese verbergen? Das Programm hilft Ihnen beim Aufräumen Ihrer Festplatte. Es listet alle Verzeichnisse sortiert nach der Größe der darin enthaltenen Daten und nach der Anzahl der darin enthaltenen Dateien auf. Sie sehen also sofort, was besonders viel Platz beansprucht und was Sie nicht benötigen, können Sie löschen.
Mehr…