Kategorie Audio & Multimedia / Audio Datei-Player
JAmp
Version: 1.0.0 | Freeware
JAmp ist eine JAVA basierter, platform unabhängiger und portabler Audio Player. Als Audioformate werden WAV, MP3, AU, AIFF und Shoutcast unterstützt. Playlisten im PLS und M3U Format können verwaltet werdent. JAmp bietet verschiedene Abspielfunktionen und eine komfortable Benutzeroberfäche. Da JAmp nur aus einer Datei besteht, kann der Player mobil (z.B. USB-Stick) eingesetzt werden.
Mehr…
Internet Radio
Version: 7.13 | Freeware
Listen to over 950 online radio stations from around the world on your Laptop or PC. Get radio stations from 119 countries around the world in English, German, Spanish, Italian, Russian, Arabic, French, Dutch and more. The stations are constantly updated to bring you up-to-date stations list. With Internet Radio you can listen to your favorite radio stations anywhere you have your internet online.
Mehr…
Country Music Radio Toolbar
Version: V2.11 | Freeware
Country Music Toolbar -100% FREE Listen to Country radio directly from browser. Listen and change stations as you browse the internet. Installs and uninstalls in seconds. Has a number of genres of Country Music, over a 100 great stations to choose from, a google search box, and a favourites section. Listen to the Best Country Music playing today. All of the latest hits.
Mehr…
Mufin Music Finder
Version: 1.0 | Freeware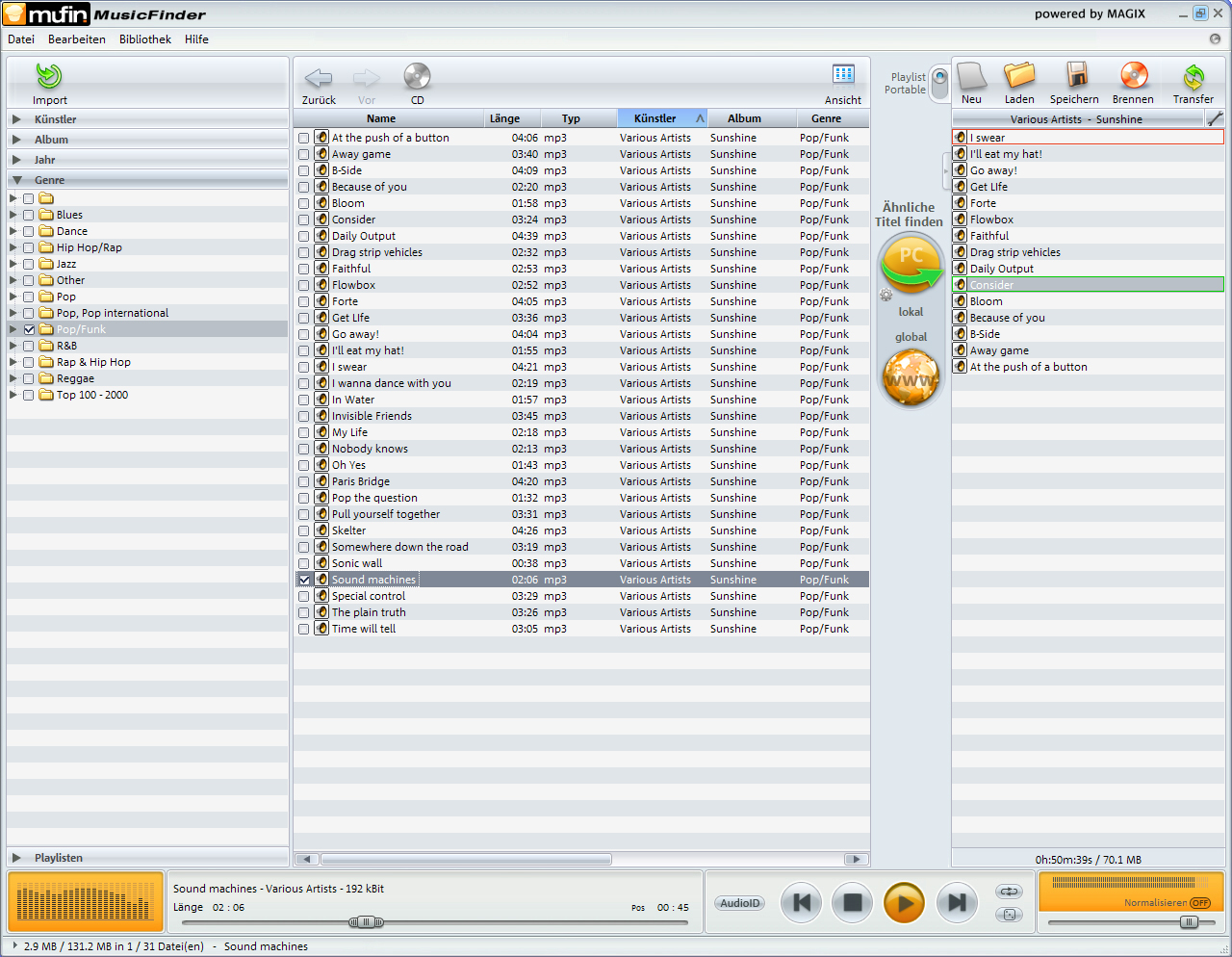 Neuartige Musikerkennung und -empfehlung, basierend auf der Fraunhofer-Entwicklung AudioID. Anstelle üblicher redaktioneller Bewertungssysteme bietet Mufin MusicFinder eine echte Analyse aller Audio-Dateien und erstellt Playlisten mit genau zueinander passenden Songs ? für zuhause & unterwegs mit MP3 Player oder iPod. Einfachste Bedienung, schnelles Brennen, perfekte Datenbank u. v. m.
Mehr…
Guitar and Drum Trainer 2
Version: 2 | Freeware
Slow down music between 5%-200% normal speed, set loop start and end points, and filter frequencies with a 16 band equalizer to learn to play your favorite music on guitar or any instrument. Use it for free or donate to support it.
Learn new music easily:
* Slow music down
* Pitch Shift music
* Filter unwanted parts with 16 band EQ
* Loop music
Just open MP3s to learn your favorite music.
Free download at RenegadeMinds.com
Mehr…
Player CEREMU SUITE
Version: 4.6 | Freeware
NEW CODECS DETECTOR. The Player Ceremu Suite is a sound player for WAV, AIF, AU, and MP3 audio
files. It is also a movie player. Play DivX, AVI, MPEG1 and MPEG2, VOB, WMV, and DVD. Features an
MP3 encoder, a ZIP compressor, a file encryptor, and a rapid launch menu. With Player CEREMU
SUITE, you can save and load lists of files in the players, change backgrounds and colors in the
sound player, etc.
Mehr…