Kategorie Audio & Multimedia / Audio Datei-Recorder
Jaksta Radio Recorder for Windows
Version: 5.0.1.54 | Shareware (19,95 GBP)
Find, Record & Convert Web Radio Shows & Stations onto your PC easily with Jaksta Radio Recorder for Windows. Jaksta Radio Recorder includes a Guide and scheduler to make it easy to find and automatically record your favorite shows. Sirius/XM, BBC, NPR, IHeartRadio streams and more can be easily recorded. Podcasts are also easy to find in the guide and easy to record. Convert your recordings to all the popular formats for easy listening.
Mehr…
Macvide Audio Recorder
Version: 2.2.51 | Shareware (19,95 USD)
Macvide Audio Recorder is a sound recording program for Mac OS X. Recording to a computer has never been easier. Macvide Audio Recorder is ideal for recording voice or other audio, podcasts, voice presentations, creating an audio book or to simply record a message.
Mehr…
MP3-Recorder
Version: 1.0 | Demo (14,99 EUR)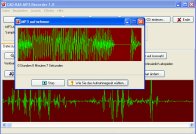 Nehmen Sie alles was Sie wollen als MP3 oder WAV Datei auf! Sie können kopiergeschützte Musik während der Wiedergabe auf Ihrem Rechner legal mitschneiden oder Sie schneiden einen Internetradio Stream mit. Sie können natürlich auch einfach übers Mikrofon aufnehmen oder über den Line-In Eingang alte Schallplatten oder Kassetten aufnehmen. Sie können Musik von einer Audio CD direkt einlesen oder bestehende MP3 und WAV Dateien zur Bearbeitung öffnen.
Mehr…
Pistonsoft MP3 Audio Recorder
Version: 1.10.10.33 | Freeware (24,95 USD)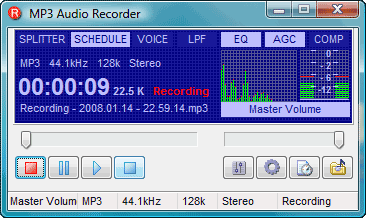 Pistonsoft MP3 Audio Recorder nimmt Audio auf und speichert es direkt in einem beliebigen Format, ohne dass es zusätzlicher Kompression oder Konvertierung bedarf. Alle Bitrates von MP3, WMA, WAV und OGG-Formaten werden unterstützt. Erstellen Sie Audiopräsentationen oder Erzählungen, machen Sie Podcasts im Web, zeichnen Sie Web-Radiostationen, Schulstunden oder Sprachnotizen leicht und bequem auf. Nehmen Sie Audio vom Mikrofon, CD/DVD-Player auf.
Mehr…
AAA Sound Recorder
Version: 3.121 | Shareware (29,95 USD)
AAA Sound Recorder can automatically detect the recording formats your sound card supports and then set the application's parameters for the best possible performance. The default parameters work in most cases, but you can change them easily to best suit your needs.
Mehr…
DU Audio Editor
Version: 1.0.0.21 | Freeware
The powerful easy-to-use digital audio editing program you can use. With Audio Editor you can: 1-Open a lot of audio files like MP3,MP2,WAV,WMA,OGG,VOX,G726,RAW,DSS,CDA,MPC,PCM,GSM?etc. 2-Save to several audio formats: MP3, WAV, VOX, OGG, G726, WMA, and RAW 3-Edit ID3 Tags of the following file types: WAV, MP3, WMA, and OGG. 4-Record from all available audio sources in your system like microphone, Stereo mix, Line in. etc.
Mehr…
Acoustic Labs Audio Editor
Version: 1.5 | Demo (24,95 USD)
The Acoustic Labs Audio Editor is an easy-to-use, yet powerful, wave (WAV), MP3, WMA, OGG and PCM audio editor, player and recorder allowing users to open, edit, save and record audio files in any of these formats. The capabilities of the Audio Editor are perfect for creating and editing a variety of audio files and audio projects.
Mehr…
Boilsoft Audio Recorder for Mac
Version: 2.21 | Shareware (29,95 USD)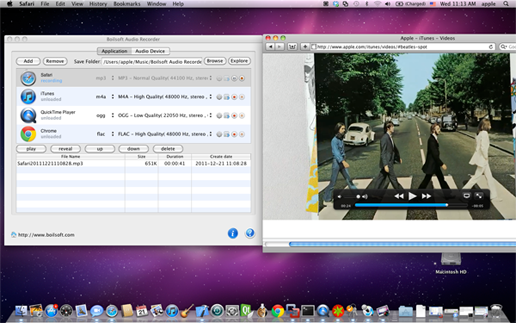 Boilsoft Audio Recorder for Mac is a powerful sound recorder and audio editor program. It can record sound from applications including Safari, Firefox, Chrome, iTunes, QuickTime, VLC, any IM software like Skype, iChat and line-in devices such as Mic, CD player. The generated audio file can be stored to MP3, WAV, AIFF, AAC, AC3, AU, FLAC, M4A, M4R, MATROSK and OGG.
Mehr…
AimOne Ringtone Maker for Mac
Version: 1.01 | Shareware (24,95 USD)
Ringtone maker for Mac,as a stable and easy-to-use Mac mobile ringtone converter software, AimOne Ringtone Maker for Mac can convert your favorite music or video soundtracks into ringtones for almost all mobile phone types. It can make ringtones from any popular video (even HD) and music format likeAVI
Mehr…
Tau Audio Recorder
Version: 1.2 | Shareware (19,95 USD)
Tau Audio Recorder is a compact, affordable and fully-functional audio recorder that supports both digital and analog inputs. It records sound from your microphone, any other default input device (MIDI, telephone, internet audio streaming, CD) and converts it directly into the selected output format without creating temporary files. With Tau Audio Recorder, you will understand that recording can be truly affordable, fast and easy as 1-2-3!
Mehr…
Call Recorder and Auto Answer for Skype
Version: 1.2 | Demo (25,00 USD)
This is MP3 Recorder for Skype Conversations and Auto Answer for Skype. May be used to record any type of Skype calls: PC-to-PC, SkypeOut, SkypeIn, conference calls. Calls may be recorded to MP3 files with CBR (48; 56; 64; 80; 96; 128; 192; 256; 320 kbit/s) or VBR. Send text message to partner on start/finish recording. Ability to mute microphone for auto answering machine. Please note: Requires Skype v5.6 or latest!
Mehr…
HiFi Recorder
Version: 3.3 | Shareware (19,95 USD)
HiFi Recorder is a mp3 recorder of getting the original sound recorded, which can record sounds from all kinds of sound devices, eg, Microphone, Line In, System sound. Besides, it can highly maintain the original scene sound by calculation.
HiFi Recorder supports MP3 and WMA, your can directly record to MP3 or WMA files.
Mehr…