Kategorie Audio & Multimedia / Audio Encoder | Decoder
Audio Conversion Studio
Version: 2.1 | Shareware (24,95 USD)
Audio Conversion Studio can convert your music files from one format to another. It support MP3, WMA 9, OGG, WAV formats and allow you to do most popular WMA to MP3 converting. Also it contain audio CD ripper, which can convert to MP3, WMA, OGG, WAV. So if you want a converter, encoder, decoder, and a ripper with WMA 9, MP3, OGG, WAV & CD audio format and ID3 v2 Tag supporting all in one - get your copy at http://www.convert-wma-mp3.com
Mehr…
Fast Audio Converter
Version: 2.5 | Shareware (19,95 USD)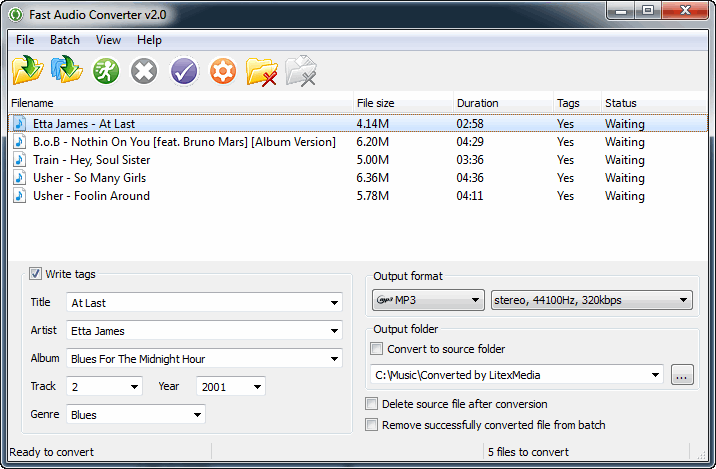 Fast Audio Converter guarantees the best-quality results even for the non-experienced users with an easy-to-use interface and navigation, batch conversion support and a fast conversion speed. The program supports the best audio codes; ID3 Tag v2 and filename generation, using ID3 Tag. Fast Audio Converter is fully Windows 7-compatible and allows converting the audio and video to MP3, WMA, WAV, OGG, FLAC, AAC and Apple loseless.
Mehr…
All To MP3 Converter
Version: 3.3 | Shareware (19,95 USD)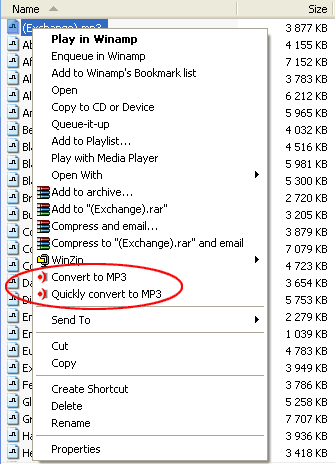 If you need to convert your audio files to MP3 format try to use our All To MP3 Converter - it gives you ability to start conversion directly from Explorer. This software supports WMA, OGG, WAV, MP4, AAC and CDA source formats, ID3v2 Tag (copying from source or creation of a new one). You can quickly and easily convert with this tool every audio file you have just found in folders on your computer or have downloaded from Internet into MP3 format.
Mehr…
SAM Cast Pro
Version: 2017.6 | Shareware (199,00 USD)
Start streaming live audio content with SAM Cast - The #1 Live Streaming Solution. All in one solution: Professional sound, Listener statistics, reporting, metadata, stream in multiple formats and stream live! Features built-in advanced audio processor: equalizer, gated AGC, stereo expander, bass EQ, 5-band processor, 2-band processor and clipper. SAM Cast is your complete live streaming solution. Start connecting with your audience now!
Mehr…
Advanced WMA Workshop
Version: 2.7.4 | Shareware (20,95 EUR)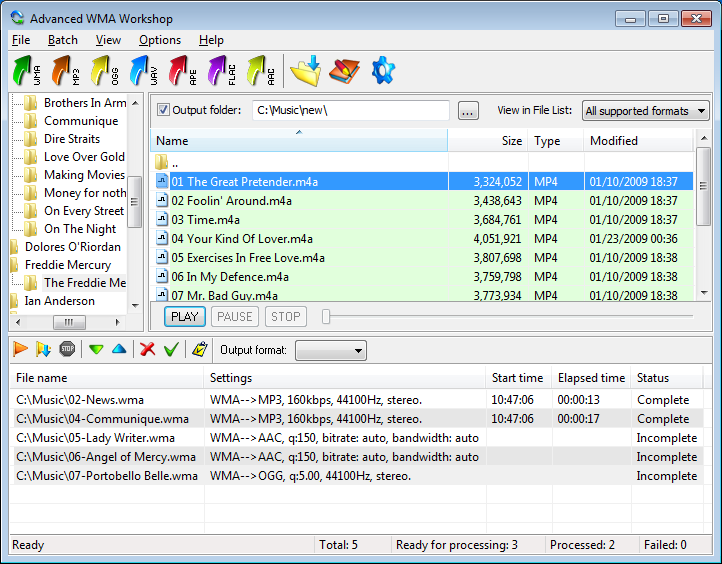 Pretty useful tool with handy interface,allowing you to convert MP3, OGG Vorbis, AAC(M4A), WMA,WAV PCM, APE, FLAC files from one format to another and rip Audio CDs(jitter correction, CDDB support) to these formats with variety of format settings. You can encode and decode audio files one by one, and use built-in batch process in case of mass conversion. This tool allows you to edit ID3v2 Tags, copy it from one file to another while recoding.
Mehr…
AbyssMedia MP3 to WAV Converter
Version: 2.85 | Shareware (14,95 USD)
The AbyssMedia MP3 WAV Converter is the ideal solution to convert batches of OGG, APE, MP3, WMA file format into WAV file format for burning onto a CD. The main goal of our software: output quality must comply with quality of the original and even be better. It has easy interface with drag & drop support, ultimate output quality, converting in batches. The AbyssMedia MP3 to WAV Converter software is for any Windows platform.
Mehr…
SAM Broadcaster PRO
Version: 2017.6 | Shareware (299,00 USD)
Eigenes Webradio betreiben mit Broadcaster PRO - Erweiterte Audiofunktionen (Crossfade Modus, Gap Killer, Lautstärkeanpassung), Senden wie ein PRO und das 24/7 dank Automatisierung. Verwalten umfangreicher Musikbibliotheken und Streamen vieler Formate. Lebe Deine Musikbegeisterung, habe Spaß und unterhalte Dein Publikum live! Du kannst sehen, wie Deine Sendungen immer beliebter werden! Die #1 Webradio-Sende-Lösung seit 2003. Jetzt downloaden!
Mehr…
CD to MP3 Ripper
Version: 2.0 | Demo (19,99 EUR)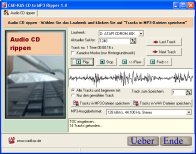 Speichern Sie Ihre Musik CD's auf dem Computer als MP3 oder WAV Datei ab! Per Knopfdruck wird der komplette CD-Inhalt als MP3-Dateien gespeichert. Sie können Sie Ihre Lieblingsmusik jederzeit während der Computerarbeit hören und schonen Ihre CD. Diese MP3 Dateien können Sie vielfältig verwenden. Sie können die MP3 Dateien natürlich auf einen tragbaren MP3-Spieler übertragen oder sich eine MP3-Musik-CD zusammenstellen.
Mehr…
InTex MP3 Converter
Version: 3.01 | Shareware (14,95 USD)
InTex MP3 Converter is one of the most powerful conversion tools on the internet. The InTex MP3 Converter is the ideal tool to convert batches WAV file format to the MP3 or OGG file format to listen to your favorite wavs but in the smaller mp3 format with your cool mp3 player or PocketPC. It's very powerfull and flexible tool: you can choose from a multitude of bit rates, sampling rates and channels.
Mehr…
MP3 and WAV Solutions
Version: 1.1 | Demo (10,49 EUR)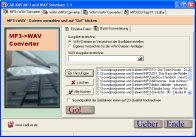 Einfaches und schnelles umwandeln von MP3- und WAV-Dateien hin und zurück. Wandeln Sie mehrere Dateien auf einmal um. Sie können auch die Samplefrequenz von WAV-Dateien ändern und die MP3-Tag Informationen über Musiktitel, Interpret usw. ändern. Dieses Programm bietet Lösungen für die tägliche Praxis. Wenn Sie eine Musik-CD brennen wollen müssen Sie zunächst Ihre MP3-Dateien in WAV-Dateien umwandeln.
Mehr…
PC-Adreßzz!
Version: 8.0 | Shareware (29,00 EUR)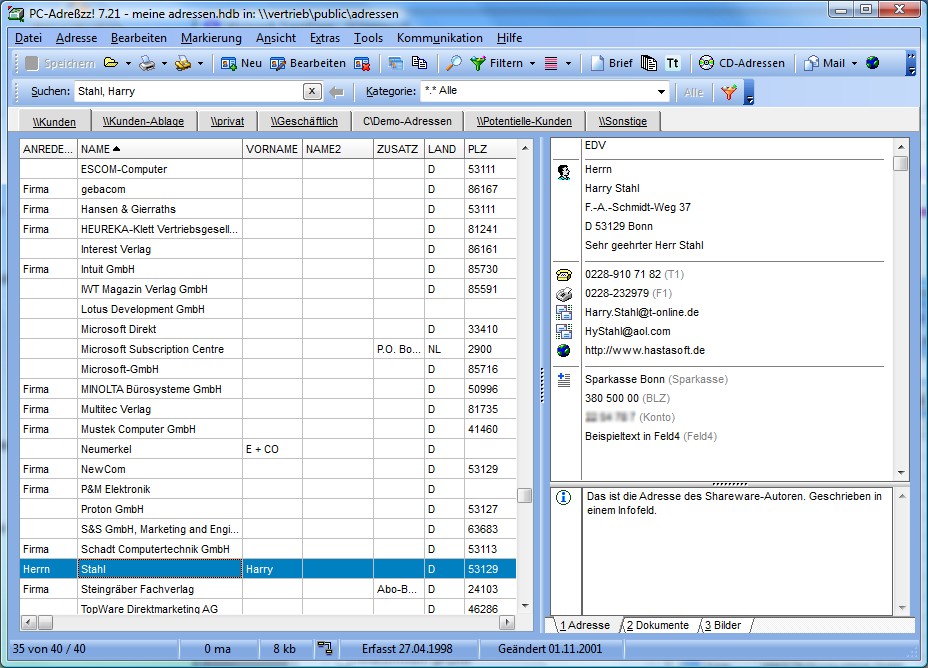 Netzwerkfähige Addressenverwaltung für Privatanwender und Unternehmen. Adressenübernahme von CD-Adressensammlungen (z.B. KlickTel, D-Info). E-Mail und Internetschnittstelle. Telefonanwahl, Adressenauswahl per Filter. Listen- Kalender- Kartei, Ettiketten- und Briefumschlagsdruck. Serienbriefdruck mit Word und Tipptext. Eigene Listendruckformate anlegen. Erweiterte Suchenfunktionen. Adressübergabe auch an OO, LibreOffice u.a. 30 Tage-Testversion.
Mehr…
TunesKit Apple Music for Windows
Version: 1.3.2 | Shareware (34,95 USD)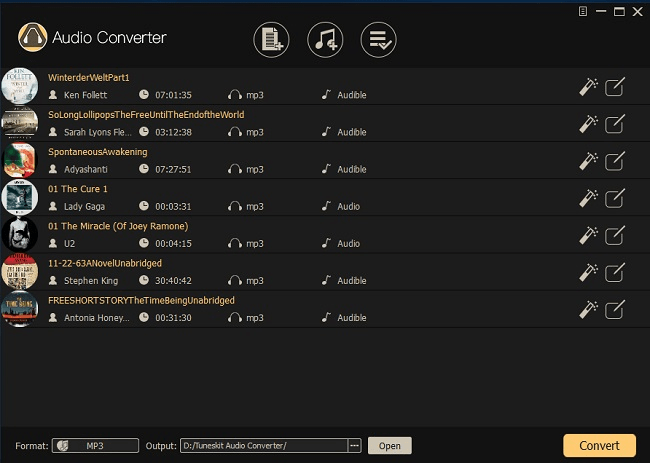 TunesKit DRM Apple Music Converter for Windows allows you easily crack DRM encryption from Apple Music and iTunes songs while converting the DRM M4P files to non-DRM MP3, AAC, WAV, M4B, M4A and FLAC so that you can freely enjoy any Apple Music offline songs on multiple media players such as iPod, iRiver, PSP, Creative Zen, etc with original CD quality and ID3 tags preserved.
Mehr…