Kategorie Audio & Multimedia / MP3
Leawo TunesCopy for Win
Version: V1.0 | Shareware (19,95 EUR)
Ein professionelles iTunes DRM-Entfernungsprogramm, das DRM von iTunes Videos, Filme und TV-Shows entfernt, sowie ein All-in-One iTunes DRM-Medienkonverter, das iTunes M4V zu DRM-freies MP4-Video konvertiert.
Mehr…
ACXtractor
Version: 3.20 | Shareware (19,99 USD)
ACXtractor ist ein schneller, professioneller und benutzerfreundlicher CD Ripper f?r Windows XP/ 2k/ NT/ ME/ 9x (auch bekannt als: Audio Grabber, Digital Audio Extraction). Sie k?nnen Ihre AUDIO-CDs sehr einfach auslesen und als WAV, MP3 oder OGG speichern.
Einige weitere Funktionen: freedb Support, CD Player, einfache Auswahl und Vorh?ren eines Teilst?cks, navigieren mit einem Slider, CD Info editieren, mehrere Songs hintereinand auslesen.
Mehr…
Leawo Music Rekorder for Mac
Version: V2.0.0.0 | Shareware (19,95 EUR)
Umfangreiche Unterstütztung: Alle Audiosignale, die man auf dem Rechner hört, kann aufgenommen werden
Musik aufnehmen: Musik kostenlos und legal in bester Qualität aufnehmen
Automatische Schneidfunktion: Musikstücke automatisch herausschneiden
Fehlenden Tags komplettieren: Fehlenden Tags der Aufnahmen automatisch
Mehr…
Mobile Ringtone Converter,mp3,amr,mmf,..
Version: 2.3.23 | Shareware (25,98 USD)
1. Convert audio to Mobile Ringtone as MP3, OGG, AMR, MMF, AMRWB, WAV. 2. Can import MP3, OGG, WAV, AU, AIFF, AMR, AMR WB+ files 3. Can add recording track. Input source is from Microphone, CD Player, Sterte Mix, Line In 4. Can set convert quality, sample rate, bitrate. 5. Can convert by selected part 6. Can mix multiple tracks 7. Can set ringtone quality, such as mp3 bitrate, ogg quality, AMR mode
Mehr…
Advanced MP3 Catalog Pro
Version: 3.36 | Shareware (29,95 USD)
Advanced MP3 Catalog wurde entwickelt, für jeden der Musik sammelt. Das Programm führt ein high-speed Datei-Scanning durch und erzeugt Kataloge in Sekunden. Durch Gruppierungen wie Album, Interpret, Jahr und andere Kriterien haben Sie über das Gruppenregister einen bequemen Zugang zu Ihrer Musik. Generierung und Druck von Berichten und CD-Covern, Katalogexport, Duplikatsuche, mächtiges Suchsystem und vieles mehr!
Mehr…
Mp3 File Editor
Version: V5.11 | Shareware (18,95 EUR)
Mp3 File Editor is possible one of the best all in one tools. Its features include MP3 TAG Editing, Multiple MP3 Tag Editing, File Renaming, Built in Mp3 Player. Customize Playlist in simple text files, HTML and DBF files. It also has drag and drop operation. This is simple to use yet complex program recommend for anyone who loves .MP3's. This has got to be the best way to manage and organize your collection of the greatest MP3's.
Mehr…
DataMPX
Version: V1.51 | Demo
DataMPX is a tool that lets you catalog your mp3 music collection, regardless of it's being on your hard drive or on removable media, say, ZIP disks or CD-Rs. The tool has a gorgeous interface and is pretty easy to use and understand. You don't have to type all your collection in the program - the tool is smart enough to import all the information from ID3 tags of your MP3 files.
Mehr…
MP3-Recorder
Version: 1.0 | Demo (14,99 EUR)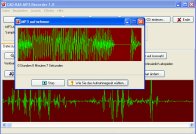 Nehmen Sie alles was Sie wollen als MP3 oder WAV Datei auf! Sie können kopiergeschützte Musik während der Wiedergabe auf Ihrem Rechner legal mitschneiden oder Sie schneiden einen Internetradio Stream mit. Sie können natürlich auch einfach übers Mikrofon aufnehmen oder über den Line-In Eingang alte Schallplatten oder Kassetten aufnehmen. Sie können Musik von einer Audio CD direkt einlesen oder bestehende MP3 und WAV Dateien zur Bearbeitung öffnen.
Mehr…
MPEG & AVI 2 MP3
Version: 1.0 | Demo (19,99 EUR)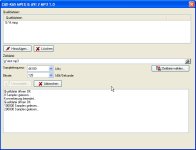 Das Programm speichert den Ton einer Video/DVD-Datei (MPEG 2, MPEG, AVI) als MP3 oder WAV Musikdatei. Sie können so alle "coolen Sprüche" oder den Soundtrack eines Filmes als Musik-CD brennen oder auf den MP3 Player laden. Sie können sich auch Ihre eigenen Hörspiel-CDs brennen, wenn Sie die Audiodatei später nachbearbeiten.
Mehr…
Online Audio Converter
Version: 1.3 | Freeware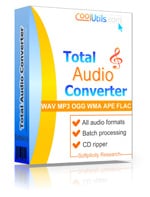 Convert WAV, MP3, WMA, MP4, OGG, AAC absolutely free. Find the safe audio converter! You convert audio online; no need to install anything on your pc. Your mp3 player does not support OGG? Convert it to MP3! Online Audio Converter will convert your tracks, change bit rate, channels or sample rate. All is done in 3 clicks. You browse for your file, select target format and get the resulting new audio. It is fast, simple and safe. Try it now!
Mehr…
Online TVx Remote Control
Version: 1.0.0 | Freeware
Use your phone to control Online TVx on your desktop. With this smart application you can easily turn your phone into remote control for your Online TVx program. Things to know: - All you need to get started is to install the application into your mobile phone and insert number in your desktop Online TVx - You can control playback, volume, fullscreen mode - Channel list will be loaded from your Online TVx favorite list - Control TV and Radio.
Mehr…
Migrate EDB to PST
Version: 5.3 | Shareware (299,00 ZAR)
Migrate EDB to PST tool, retrieve mailbox items from corrupt or inaccessible Exchange (.EDB) in just few simple steps. Recovery for Exchange server is now very simple with Enstella EDB to PST Migration tool. EDB migration software needs only .edb file and extract every user accounts as .pst file. Try Enstella EDB to PST migrator and instantly restore exchange edb file to pst file with all emails, contacts, calendar, notes, journals, tasks etc.
Mehr…