Kategorie Audio & Multimedia / Ripper & Konverter
Alive Video Converter
Version: 3.3.0.2 | Shareware (35,00 USD)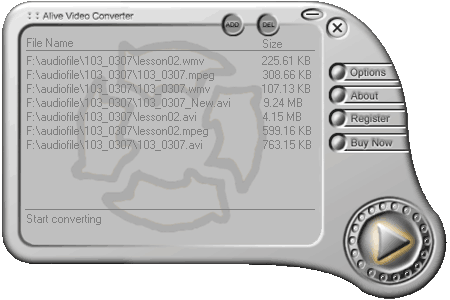 Alive Video Converter is a professional video tool to convert video files from one format to another, and extract audio tracks from video. It can convert all popular video files, including AVI, MPEG, MPG, ASF, WMV, MOV, VOB, MP4, 3GP, 3G2, DivX, XviD, MOD, DV or QuickTime to AVI, DivX, XviD, MPEG(MPEG-1, MPEG-2, DVD/VCD/SVCD), WMV, MP4, 3GP, PSP, iPod, Zune, ASF, MOV, VOB. Free trial version is here: http://www.alivemedia.net/videoconverter.htm
Mehr…
Alive CD Ripper
Version: 1.8.2.8 | Shareware (24,95 USD)
Alive CD Ripper extracts audio CD tracks into MP3, WAV, WMA and OGG files. Alive CD Ripper is a powerful and easy to use cd ripper tool and extracts your audio CDs into MP3, WAV, WMA and OGG files on-the-fly. It can download the CD information from FreeDB, and save to local database. Alive CD Ripper also generates the Winamp Playlist file(M3Ufile), and let you edit ID3 tags in MP3 files. Just visit our webpage: http://www.alivemedia.net/cdripper.
Mehr…
WAV 2 MID
Version: 1.0 | Demo (14,99 EUR)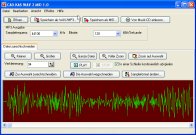 Mit dem Programm WAV 2 MID können Sie WAV-Dateien, MP3 Dateien oder Audio-CD's in MIDI Dateien umwandeln. Das heißt, dass das Programm die Noten der Musik erkennen kann und dann in der MIDI Datei die Noteninformationen ablegt. Diese Umwandlung ist nicht verlustfrei, klappt aber vor allem bei wenigen Instrumenten recht gut. MIDI Dateien sind sehr viel kleiner als WAV oder MP3 Dateien und können als Polyphone-Handymelodie benutzt werden.
Mehr…
Alive MP3 WAV Converter
Version: 3.9.3.2 | Shareware (29,95 USD)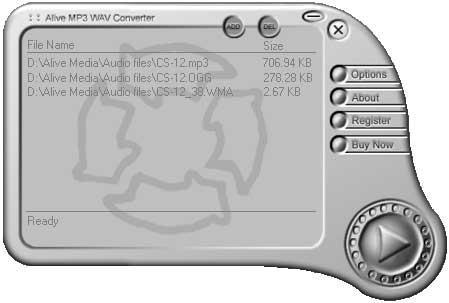 Alive MP3 WAV Converter converts MP3, WAV, WMA, OGG, and VOX files from one to another with a single right-click. It is very simple and easy to use. Just right-click on files in Windows Explorer, select Convert to MP3 (or WAV, OGG, WMA, VOX), and convert them using your predefined settings. It supports normalizing of MP3 to MP3, WAV to WAV, WMA to WMA, OGG to OGG, VOX to VOX, and supports MP3 VBR, OGG VBR. http://www.alivemedia.net/mp3wav.htm
Mehr…
Allok WMA MP3 Converter
Version: 1.1.0 | Shareware (16,50 EUR)
Allok WMA MP3 Converter is a super and ease-to-use tool that directly converts audio format MP3, WAV( PCM, DSP, GSM, ADPCM ), WMA, MP2, OGG from one format to another format. The very user-firenldy and easy-to-use interface lets you easily convert audio files in batch regardless of their source formats and target formats. Allok MP3 WAV Converter also supports playback with its built-in player.
Mehr…
AudioConverter Studio
Version: X | Shareware (39,95 EUR)
Benutzerfreundlicher Musikdateien Umwandler, inklusive Audio CD Ripping und einen vollen MP3 Tags (Versionen id3v1 und id3v2) Support. Mit Hilfe des Programms können Sie kinderleicht Musikdateien höherer Qualität in niedrigere konvertieren, dabei aber die MP3-Tags aus der Originaldatei bewahren. Vergessen Sie die hässlichen Namen: track01 und track99! Der CDDB Support lässt Sie während des Rippens entspannen und füllt die Tags automatisch.
Mehr…
MP3Producer FR
Version: 2.61 | Shareware (22,00 EUR)
MP3Producer FR is a particular version for French-speaking users (interface and Help file are in French). Converts CD to MP3,WAV,OGG,WMA. Supports ID3v1,2 tagging to save song info in MP3; MPEG1, MPEG2 formats of MP3; 8-320 bitrates, constant and variable; advanced FreeDB(CDDB) function to retrieve the CD info from the Internet. User friendly, stylish interface makes you work with MP3Producer enjoyable and easy.
Mehr…
Movavi Video Converter
Version: 12 | Shareware (29,95 EUR)
Movavi Video Converter is an indispensable addition to any media library. You can transcode video and audio into more than 180 media formats, encode for playback on more than 200 mobile devices. Convert any usual 2D video to 3D format! Video conversion is not the only function: Movavi Video Converter provides basic video editing tools and video enhancing filters. Do anything you want with Movavi Video Converter!
Mehr…
Direct MP3 Joiner
Version: 3.0.2.9 | Shareware (19,95 USD)
Direct MP3 Joiner ist ein einfaches und schnelles Werkzeug zum Kombinieren, Vereinigen und Zusammenfügen von MP3-Dateien. Mit Direct MP3 Joiner können Sie mehrere MP3-Dateien zu einer größeren MP3-Datei in einigen Sekunden zusammenfügen. Mit unserer Audio Softwareanwendung können Sie schnell MP3-Audiodateien ohne Rekomprimierung und Qualitätsschäden kombinieren und vereinigen.
Mehr…
Direct Audio Converter and CD Ripper
Version: 2.0.7.0 | Shareware (24,95 USD)
Direct Audio Converter und CD Ripper ermöglicht es Ihnen Ihre Lieblingstracks zu allen möglichen Formaten ohne Qualitätsverluste zu konvertieren. Das Programm unterstützt alle notwendigen Formate, wie MP3, WMA, WAV, OGG, FLAC, Monkey's Audio APE, MusePack MPC, WavPack WV, SPX, AIFF und AC3. iPod Benutzer werden mit der Unterstützung der AAC, MP4, M4A (iPod audiobooks) Apple Formate positiv überrascht.
Mehr…
DVD Reauthor
Version: 3.0 | Demo (149,95 USD)
DVD Reauthor is a simple, easy and powerful tool for DVD Reauthoring. It works only with Sonic Scenarist.The
main function of DVD Reathor is decomposing the DVD into video, audio and other files with the creation special
script-file for the current DVD disk. All output data and script-file is ready for editing in Sonic Scenarist. It saves you
time and allows you to use only one tool for reauthoring.
Mehr…
MP3 CD Ripper
Version: 5.01 | Shareware (29,95 USD)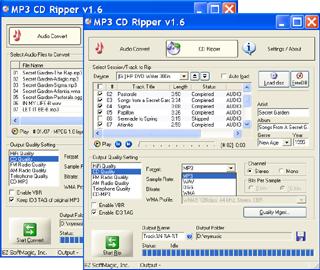 MP3 CD Ripper builds CD Ripper and Audio Converter in one - you can easily rip your favorite audio CD tracks to MP3, WMA, WAV, OGG, FLAC, APE, MPC, VOX files, and convert up to 26 audio formats CDA to MP3/WAV/WMA, MP3 to WAV, WMA to WAV, MP3 to WMA, Apple Lossless M4A to MP3, AAC/MP4 to MP3. Reliable and high performance CD ripping engine with jitter correction to compensate reading errors. Supports to retrieve disc album info. from CDDB online.
Mehr…