Kategorie Audio & Multimedia / Ripper & Konverter
Movavi Video Converter
Version: 12 | Shareware (29,95 EUR)
Movavi Video Converter is an indispensable addition to any media library. You can transcode video and audio into more than 180 media formats, encode for playback on more than 200 mobile devices. Convert any usual 2D video to 3D format! Video conversion is not the only function: Movavi Video Converter provides basic video editing tools and video enhancing filters. Do anything you want with Movavi Video Converter!
Mehr…
Direct MP3 Joiner
Version: 3.0.2.9 | Shareware (19,95 USD)
Direct MP3 Joiner ist ein einfaches und schnelles Werkzeug zum Kombinieren, Vereinigen und Zusammenfügen von MP3-Dateien. Mit Direct MP3 Joiner können Sie mehrere MP3-Dateien zu einer größeren MP3-Datei in einigen Sekunden zusammenfügen. Mit unserer Audio Softwareanwendung können Sie schnell MP3-Audiodateien ohne Rekomprimierung und Qualitätsschäden kombinieren und vereinigen.
Mehr…
Direct Audio Converter and CD Ripper
Version: 2.0.7.0 | Shareware (24,95 USD)
Direct Audio Converter und CD Ripper ermöglicht es Ihnen Ihre Lieblingstracks zu allen möglichen Formaten ohne Qualitätsverluste zu konvertieren. Das Programm unterstützt alle notwendigen Formate, wie MP3, WMA, WAV, OGG, FLAC, Monkey's Audio APE, MusePack MPC, WavPack WV, SPX, AIFF und AC3. iPod Benutzer werden mit der Unterstützung der AAC, MP4, M4A (iPod audiobooks) Apple Formate positiv überrascht.
Mehr…
DVD Reauthor
Version: 3.0 | Demo (149,95 USD)
DVD Reauthor is a simple, easy and powerful tool for DVD Reauthoring. It works only with Sonic Scenarist.The
main function of DVD Reathor is decomposing the DVD into video, audio and other files with the creation special
script-file for the current DVD disk. All output data and script-file is ready for editing in Sonic Scenarist. It saves you
time and allows you to use only one tool for reauthoring.
Mehr…
MP3 CD Ripper
Version: 5.01 | Shareware (29,95 USD)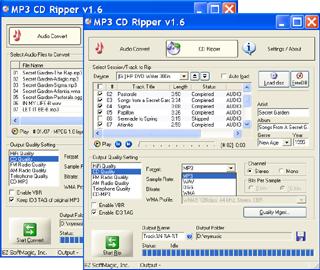 MP3 CD Ripper builds CD Ripper and Audio Converter in one - you can easily rip your favorite audio CD tracks to MP3, WMA, WAV, OGG, FLAC, APE, MPC, VOX files, and convert up to 26 audio formats CDA to MP3/WAV/WMA, MP3 to WAV, WMA to WAV, MP3 to WMA, Apple Lossless M4A to MP3, AAC/MP4 to MP3. Reliable and high performance CD ripping engine with jitter correction to compensate reading errors. Supports to retrieve disc album info. from CDDB online.
Mehr…
Total Audio Converter
Version: 5.5 | Shareware (19,90 USD)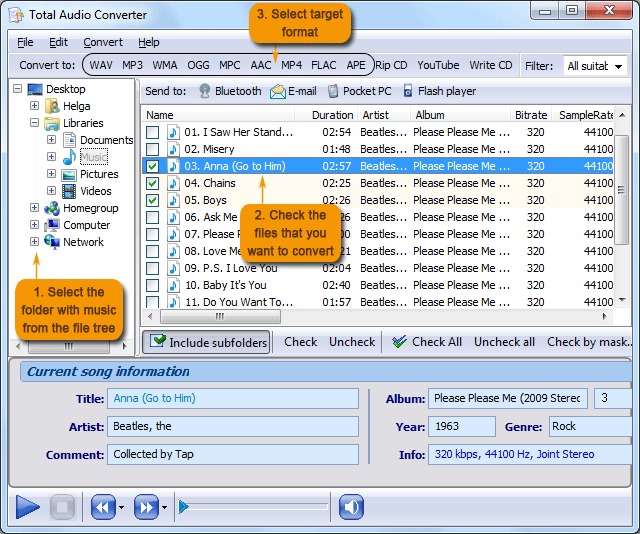 Total Audio Converter erfüllt alle Bedürfnisse des Benutzers hinsichtlich der Audio-Konvertierung. Es unterstützt WAV, WMA, MP3, APE, FLAC, OGG, AMR, MP4, AAC, MPC und 10 weitere Audioformate. Das Programm ist äußerst benutzerfreundlich und zugleich sehr leistungsfähig. Auch der Preis ($19.90) für einen Alles-in-Einem Audiokonverter mit einem integrierten CD-Ripper, Audio-Player und Unterstützung der Befehlszeile ist sehr günstig, nicht wahr?
Mehr…
Super Sound Joiner
Version: 3.1.1.8 | Shareware (27,99 EUR)
Super Sound Joiner joins all kinds of sound files into one large wav file. The sound joiner supports many audio formats such as MP3, WAV, WMA, AC3, OGG, MPA, MP2, AU, AIF, SND, etc. and video formats AVI, VCD, MPEG, WMV, ASF, OGM, DIVX, DAT, etc. No matter what compression rate, sample frequency or channels of input audio are, Super Sound Joiner converts them to same parameters and output one wav file.
Mehr…
AimOne Audio/Video to MP3/WAV Converter
Version: 1.01 | Shareware (24,95 USD)
With AimOne Audio/Video to MP3/WAV Conveter, you can easily extract and convert audio from almost any kind of Audio and Video file types to MP3/WAV output in batch mode. It offers a built-in-player to view or listen to the file before extracting the sound, which allows you to set the start/end points of the portion you want to extract and convert. Supports AVI, VCD, DVD, MPEG, WMV, WMA, DAT, AC3, RM and other formats.
Mehr…
Midi to WAV Maker
Version: 2.4.1.1 | Shareware (23,00 EUR)
MIDI to WAV Maker ist ein Werkzeug, um in CD-Qualität MIDI in WAV umwandeln. Nach dem Umwandeln einer MIDI in eine WAV können Sie die erzeugte WAV mit anderen Werkzeugen einfach auf eine CD brennen oder die WAV zu einem anderen Zweck bearbeiten.
Mehr…
CoffeeCup MP3 Rip & Burn
Version: 4.0 | Shareware
CoffeeCup MP3 Rip & Burn is the perfect CD ripper software for burning, ripping, or converting your favorite music. It allows you to save your CDs to all kinds of music formats like MP3, WMA, OGG, APE, WAV, and VQF and then play them back on almost any device.
Mehr…
MediaMonkey
Version: 4.1.18.1852 | Freeware (29,95 USD)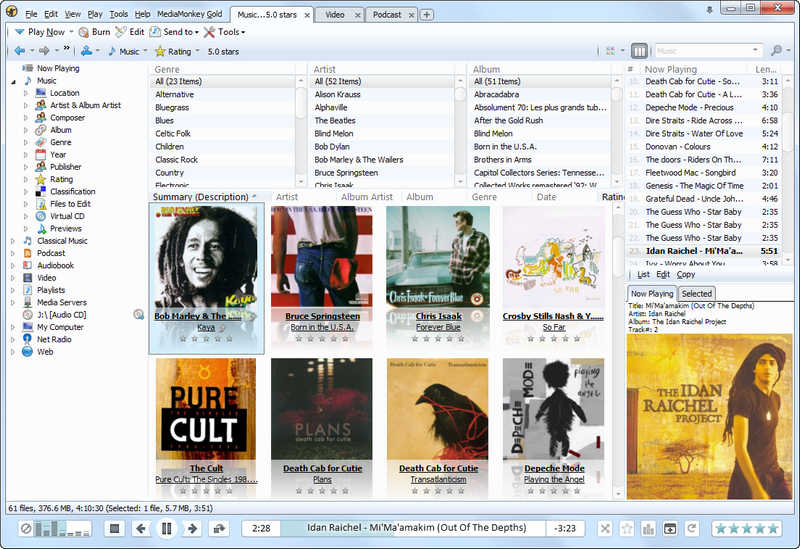 Ein einfach zu bedienender Musik Manager für echte Musiksammler. Er katalogisiert CDs,OGG,M4A,WMA,MPC,APE,FLAC,WAV und MP3 Dateien, und sucht nach dem Album Cover und Informationen über das Web. Er beinhaltet einen tag-Editor & und benennt Dateien um, ein CD ripper & Audio Konverter, und einen Abspiellisten Editor um Musikzusammenstellungen zu erzeugen. Er passt die Lautstärke, CDs brennt, und mit iPods und mp3-Geräten syncronisiert werden kann.
Mehr…
CopyAudioCD
Version: 1.01 | Shareware (19,90 USD)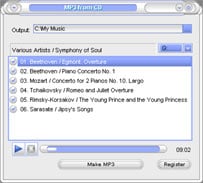 Tired of CDs lying everywhere? Don't want to risk losing or breaking your most treasured CD? Then why not convert your CD collection into MP3 one. CopyAudioCD is the fastest and most affordable solution currently available on the market. It works fully automatically and does not require any technical knowledge. The program supports ID3 Tags and converts tracks on the fly, without creating intermediary wav files. Try it FREE now!
Mehr…