Kategorie Audio & Multimedia / Video Tools
Replay Media Splitter
Version: 2.2.1409 | Shareware (29,95 USD)
Replay Media Splitter is an easy audio and video file editor & file joiner. Learn to edit & join like a pro in no time. To edit: just load the file you want, mark the sections to keep or exclude and click "trim". The program offers a range of editing tools from simple to precise. Works with the major formats: AVI, WMV, ASF, WMA, MOV, MP4, MKV, MP3. Use the join manager to join files of the same type. Great for the beginner video or audiophile.
Mehr…
1CLICK DVD MOVIE
Version: 3.1.0.2 | Shareware (59,00 USD)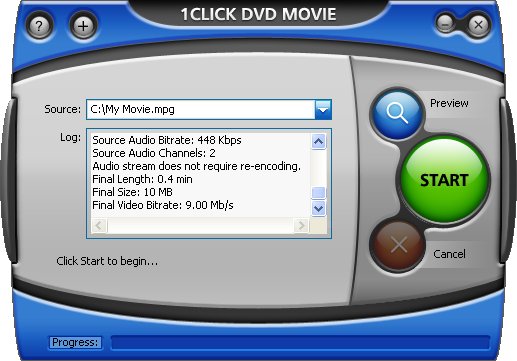 1CLICK DVD MOVIE converts movie files to DVD, VCD or SVCD. This software is compatible with most movie file formats including AVI, DivX, XviD, MPEG1, MPEG2, QuickTime, ASF, WMV and XP Media Center files. With just one click, you can create a DVD movie. You won't have to sit in front of a computer to watch a movie any more. With 1CLICK DVD MOVIE, you can convert your movie files to DVD and watch them on your television.
Mehr…
Free YouTube Uploader
Version: 4.0.5.827 | Freeware
Free YouTube Uploader ist die PC Desktop Anwendung, um Video auf YouTube ohne Verwendung der originalen YouTube-Bedienoberfläche hochzuladen. Wenn Sie oft Videos hochladen, dann wird Ihnen dieses Programm eine gute Hilfe sein, weil es einen Batch-Modus unterstützt. Unterstützte OS: Windows XP/Vista/7. Das Programm enthält keine Spyware oder Adware. Es ist kostenlos und sicher zu installieren und zu benutzen.
Mehr…
VideoGet
Version: 7.0.3.92 | Shareware (19,95 EUR)
VideoGet ist der Downloadmanager vom Hochleistungs-Online-Video, der Ihnen mehrere Videos aus dem Netz zu bekommen verhilft! VideoGet erlaubt Sie die Videodateien direkt auf Ihren Computer aus mehreren Online-Video-Websites zu downloaden und automatisch zur Vielfalt von Videoformaten (AVI, MPEG1, MPEG2, WMV, FLV, MP4, 3GP, MP3) im Einzeln oder Gruppenmodus zu konvertieren.
Mehr…
SWF & FLV Player for Mac
Version: 3.5 | Freeware
Based on the standard Adobe Flash player for Mac OS X, SWF & FLV Player by Eltima Software offers advanced and unique features that allow you to play, rewind, fast-forward and preview SWF and FLV files frame-by-frame, and also create and manage playlists, zoom movies in and out, fit to current window size or restore to original one, set playback quality, control Flash security, check SWF file's comprehensive information and lots more.
Mehr…
Replay Media Catcher
Version: 5.0.1.54 | Demo (49,95 USD)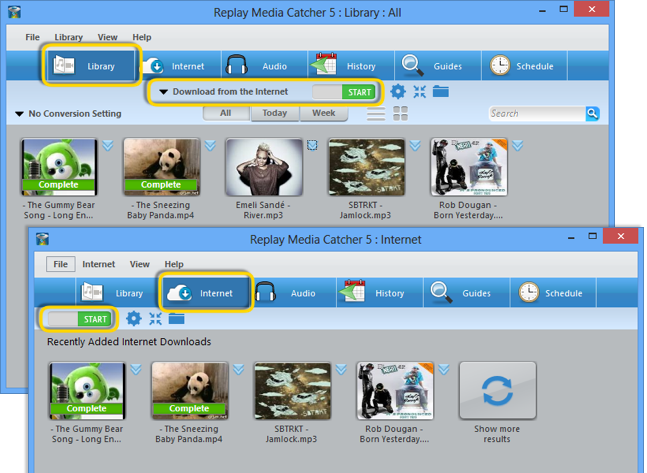 Download & convert video/audio from millions of sites as it is played. Most files can be downloaded at 10x real time. Includes Media Guides to help you find video/audio from popular sites. A built-in audio recorder will save audio from ANY site - including sites that encrypt their streams. Also includes a scheduler, torrent downloader and tons of other amazing features to make it easy to download, convert and enjoy all kinds of streaming media!
Mehr…
Kate`s Video Toolkit
Version: 7.388 | Shareware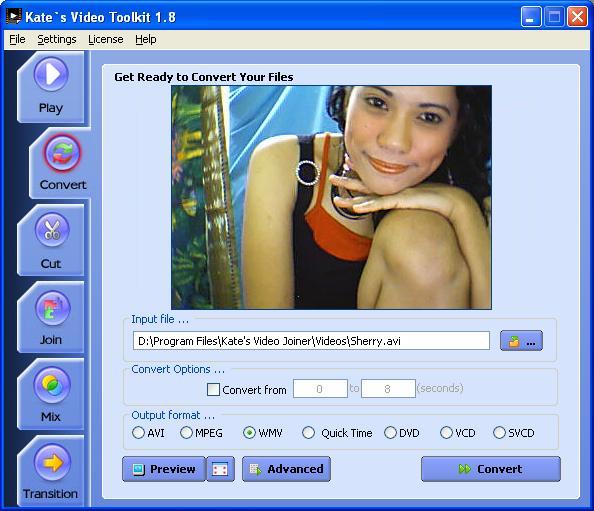 All-in-one Bildschirm/Audiotoolkitlösung. Effekte umwandeln, schneiden, verbinden, mischen und anwenden. Unterstützungen AVI, WMV, BEWEGUNGEN, DIVX, ASF, 3GP, MP4, MPEG1, MPEG2, VCD-PAL, VCD-NTSC, SVCD-PAL, SVCD-NTSC, DVD-PAL, DVD-NTSC und andere Formate. Ein 3D (70 übergänge) und ehrfürchtige Effekte (über Effekt 50) zwischen jeder möglicher Kombination der videoclips, Abbildung hinzufügen übergänge. Sie bietet einen Errichten-inspieler Ansicht
Mehr…
Kate`s Video Joiner
Version: 4.285 | Freeware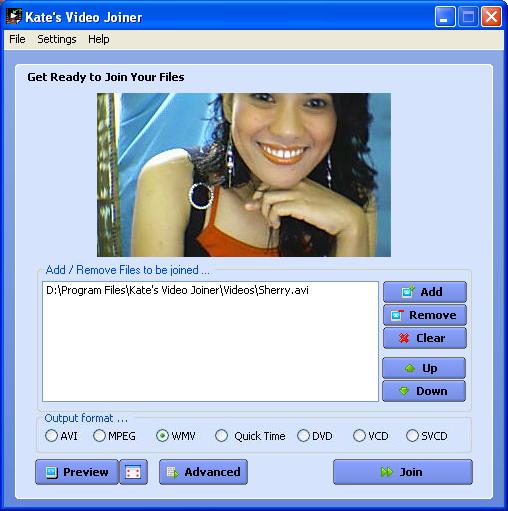 Joins multiple videos of same or different format and save it as single video. Supports AVI, WMV, MOV , DIVX, ASF, 3GP, MP4, MPEG1, MPEG2, VCD-PAL ,VCD-NTSC, SVCD-PAL, SVCD-NTSC, DVD-PAL, DVD-NTSC and other formats.
Mehr…
VG Deamon
Version: 1.0.1 | Shareware (39,95 EUR)
Die einfachste Methode eine Bedienungs-Demo zu schreiben ist die, die gesamte Programmbedienung 1 zu 1 vom Desktop abzufilmen. Genau dazu ist VG Deamon im Stande; inkl. Tastatur- und Mausprotokoll. Die Features: Aufnehmen in AVI-Datei, Aufnehmen durch Screenshots, Einblenden eines Timecodes, Markierung der Mausklicks im Video, Aufnahmepause, Autostart; wahlweise direkte Aufnahme. Beispieldemos: http://www.vgsolutions.de/produkte/vg_deamon/
Mehr…
Free Video to MP3 Converter
Version: 5.0.9 | Freeware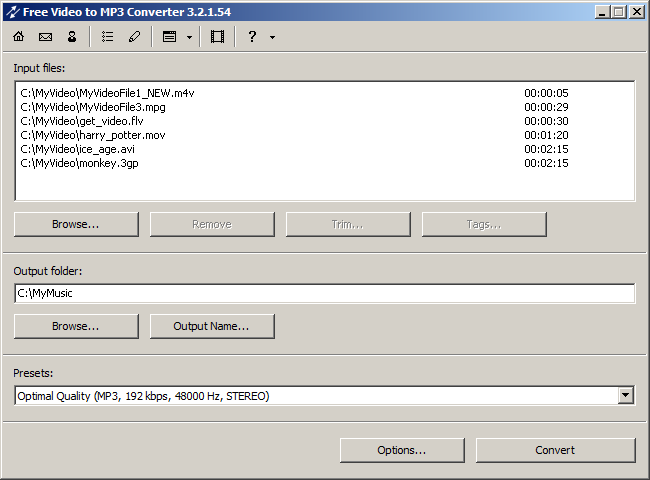 Verwenden Sie Free Video to MP3 Converter, um Audio von Videos zu extrahieren (*.avi, *mpg, *.mpg, *.mp4, *.wmv, *.asf, *.mov, *.qt, *.3gp, *.3g2, *.amv, *.flv) und als MP3 zu speichern. Erstellen Sie die beste Qualität der MP3s mit Einstellungen ?Extreme/Insane Quality?. Batch-Umwandlung. Voreinstellungseditor. Free Video to MP3 Converter enthält keine Spyware oder Adware. Er ist kostenlos und gefahrlos zu installieren und zu benutzen.
Mehr…
Kate`s Video Converter
Version: 4.722 | Freeware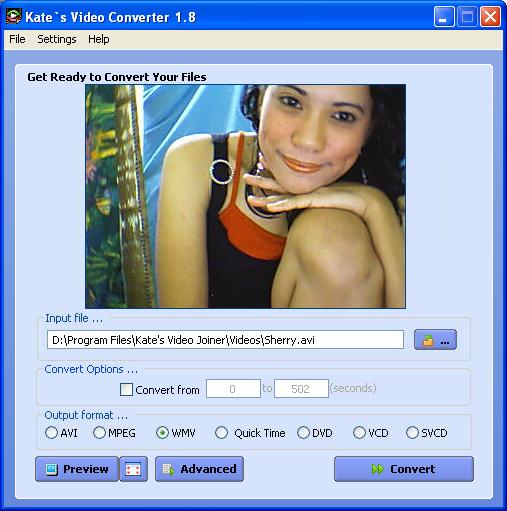 Video converter which can convert video file between all popular video formats including AVI, WMV, MOV , DIVX, ASF, 3GP, MP4, MPEG1, MPEG2, VCD-PAL ,VCD-NTSC, SVCD-PAL, SVCD-NTSC, DVD-PAL, DVD-NTSC and other formats.
Mehr…
Open Video Capture
Version: 1.0 | Shareware (29,99 USD)
Es kann Bildschirm vom webcam gefangennehmen, TV Tuner karte, digitaler Bildschirm,
digitale Kamera und andere Sicherungsvorrichtungen. Es kann videokompressionscodec und
Audiokompressionscodec, Ausgangsrahmengröße und Rahmenrate einstellen. Es auch Snapshots abbildungen mit dem hotkey.
Mehr…