Kategorie Audio & Multimedia / Video Tools
Ultra QuickTime Converter
Version: 4.4.1208 | Shareware (25,00 EUR)
Ultra QuickTime Converter is a powerful tool to help you convert QuickTime MOV, QT, MP4, M4V files to AVI, DivX, Xvid, MPEG1, MPEG2, VCD,DVD,WMV, MP4, 3GP, FLV formats. With the fast and powerful QuickTime video decoder inside, Ultra QuickTime Converter can support almost all MOV, QT, MP4, M4V files, even QuickTime Player has not been installed. It supports batch convert MOV, QT, MP4, M4V files to various format files.
Mehr…
Tansee iPod Transfer
Version: 5.0.0.0 | Shareware (19,95 USD)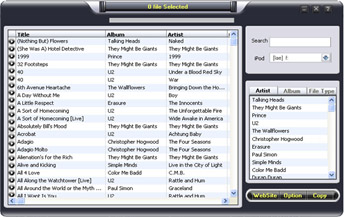 Tansee ipod Transfer is the easiest-to-use and fastest song and video to computer transfer software for Apple iPod on the market. It can transfer almost all kinds of song to computer. And can transfer by playlists, album and artists.
Mehr…
Ultra RM Converter
Version: 5.4.1208 | Shareware (25,00 EUR)
Ultra RM Converter is a tool to help you convert RealMedia(*.RM,*.RMVB) files to AVI, DivX, Xvid, MPEG1, MPEG2, VCD, DVD, WMV formats. With the fast and powerful RM/RMVB decoder inside, Ultra RM Converter can support almost all RM/RMVB files, even RealPlayer has not been installed. Integrated High-speed MPEG-2 encoder which let you make DVD-Video files(VIDEO_TS, AUDIO_TS) and VCD/SVCD image(*.bin,*.cue), so you can burn VCD/SVCD/DVD disc easily.
Mehr…
ChiliBurner
Version: 3.3 | Shareware (29,95 USD)
ChiliBurner is the most complete burning solution to create, copy and backup DVDs, CDs, VCDs and SVCDs. Create CDs and DVDs with data, video or audio content. Create DVDs, VCDs, SVCDs in all popular video formats: AVI, MPEG, MOV, WMV, and more. Burn audio CDs from MP3, WMA and WAV originals. Preview and edit videos before burning. Create Hollywood-style animated DVD-menus. Copy, back up and save files from CD or DVD to your computer's hard disk.
Mehr…
GBTimelapse
Version: 3.7.12 | Shareware (99,00 USD)
GBTimelapse is a Microsoft Windows application for the capture of time-lapse image sequences or for general purpose remote capture. You control a Canon EOS digital camera tethered to your computer by a USB cable. Using the camera's settings, you capture images using the computer rather than the camera controls and collect a series of images automatically while the camera and computer are left unattended.
Mehr…
Able MPEG2 Editor
Version: 3.2.36 | Shareware (19,95 USD)
Able MPEG2 Editor lets you remove any parts from MPEG2 (DVD) files without decoding. Using the included video player, you can easily remove any unwanted parts (TV Ads and so on) from MPEG2 (DVD) video files in minutes. You can preview the MPEG2 file, set ranges (start and end points) and cut to the good parts.
Mehr…
Cinematheca
Version: 1.0 | Freeware
You can use Cinematheca to maintain your own movie collection and also view a list of movies in your friend's collections. It is easy to see if your friend has a new movie and ask him or her to let you see it. You can view your friends' collections even when they are offline. The software allows you to rate movies and share these ratings with your friends, search your collection and your friends' collections, and group movies into virtual folders
Mehr…
MPEG 2 AVI
Version: 1.0 | Demo (19,99 EUR)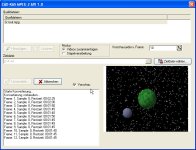 Konvertieren Sie Ihre MPEG Videos (VOB Dateien von DVDs) in AVI Dateien! Sie wählen einfach die MPEG Videos zum Konvertieren und die Zieldatei aus. Das Programm konvertiert dann alle Videos nacheinander oder fügt alle Videos zu einem großen Video zusammen.
Mehr…
AimOne Screen Recorder
Version: 1.31 | Shareware (39,95 USD)
AimOne Screen Recorder is a powerful video-recording software, allows you record the full screen, window or fixed-region to AVI or WMV files, You can even record audio into the video file, from any source including the microphone, line-in, or speakers.
It's ideal for making demos, tutorials, and training videos.
Mehr…
DVDPizza
Version: 1.0.15 | Shareware (29,95 USD)
DVDPizza is the simplest ever tool that allows you to copy, burn and backup your DVD! You can save your DVD on your hard disk or copy DVD to DVD with a highest quality. DVDPizza supports all types of DVDs including virtual disks. What you get with DVDPizza: - Fastest DVD copying with just one click. - Back up and burn your DVD. - Supports NTSC/PAL movies, supports D5/9 DVDs. Supports DVD-R/RW, DVD+R/RW, any SCSI,IDE,USB DVD burner/recorder.
Mehr…
VideoReDo Plus
Version: 2.1.0. | Shareware (49,99 USD)
Frame accurate edit your MPEG videos faster without loosing quality. Edit DVDs, and solve MPEG video sync issues quickly and reliably. Automatically remove TV commercials with AdDetective feature. Perfect for quickly cutting and joining your videos and corrects the effects of dropped frames when burning DVDs from TV, noisy video tapes and other synchronization problems.
Mehr…
Replay Screencast
Version: 1.21 | Shareware (29,95 USD)
Replay Screencast is the easiest way to capture whatever you see on your screen, and turn it into a movie file, or "screencast." You can also record audio from the microphone or any other source. It's a great way to make awesome Software or Web site Tutorials, make videos from Powerpoint presentations, record IM and Chat sessions, record Webcasts, and more! Just click the Record button, and your video is build automatically while you narrate.
Mehr…