Kategorie Audio & Multimedia / Video Tools
Able MPEG2 Editor
Version: 3.2.36 | Shareware (19,95 USD)
Able MPEG2 Editor lets you remove any parts from MPEG2 (DVD) files without decoding. Using the included video player, you can easily remove any unwanted parts (TV Ads and so on) from MPEG2 (DVD) video files in minutes. You can preview the MPEG2 file, set ranges (start and end points) and cut to the good parts.
Mehr…
VideoReDo Plus
Version: 2.1.0. | Shareware (49,99 USD)
Frame accurate edit your MPEG videos faster without loosing quality. Edit DVDs, and solve MPEG video sync issues quickly and reliably. Automatically remove TV commercials with AdDetective feature. Perfect for quickly cutting and joining your videos and corrects the effects of dropped frames when burning DVDs from TV, noisy video tapes and other synchronization problems.
Mehr…
AimOne Screen Recorder
Version: 1.31 | Shareware (39,95 USD)
AimOne Screen Recorder is a powerful video-recording software, allows you record the full screen, window or fixed-region to AVI or WMV files, You can even record audio into the video file, from any source including the microphone, line-in, or speakers.
It's ideal for making demos, tutorials, and training videos.
Mehr…
SplitMovie
Version: 2.1.23 | Shareware (29,95 USD)
Simple and fast video splitting software. With SplitMovie, you can split/cut/trim your video of any format automatically by size, time or number of pieces and manually by selecting the beginning and ending points of the needed segments. SplitMovie uses the unique fast splitting technology of saving AVI and MPEG without recompression and quality loss for the fastest result. It supports all popular formats: AVI, MPEG, VOB, MP4, MOV, WMV, and more.
Mehr…
Replay Screencast
Version: 1.21 | Shareware (29,95 USD)
Replay Screencast is the easiest way to capture whatever you see on your screen, and turn it into a movie file, or "screencast." You can also record audio from the microphone or any other source. It's a great way to make awesome Software or Web site Tutorials, make videos from Powerpoint presentations, record IM and Chat sessions, record Webcasts, and more! Just click the Record button, and your video is build automatically while you narrate.
Mehr…
DVDPizza
Version: 1.0.15 | Shareware (29,95 USD)
DVDPizza is the simplest ever tool that allows you to copy, burn and backup your DVD! You can save your DVD on your hard disk or copy DVD to DVD with a highest quality. DVDPizza supports all types of DVDs including virtual disks. What you get with DVDPizza: - Fastest DVD copying with just one click. - Back up and burn your DVD. - Supports NTSC/PAL movies, supports D5/9 DVDs. Supports DVD-R/RW, DVD+R/RW, any SCSI,IDE,USB DVD burner/recorder.
Mehr…
Motion Hunter
Version: 1.01 | Shareware (24,50 USD)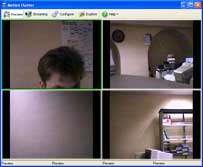 Motion Detection Software. Take the advantage of being informed! Be sure!
Do you want to be sure your private property isn't broken? Make your personal Video Security and Surveillance System at home using your computer, web cam and new motion detection software MotionHunter! Any intrusion into your office, house or garage will be detected.
MotionHunter controls 1 to 4 cameras connected to your computer.
Mehr…
DivX Create Bundle (incl. DivX Player)
Version: 6.2 | Shareware (19,99 EUR)
The DivX Create Bundle includes DivX Pro, DivX Player, the DivX Web Player and the DivX Converter, providing all you need to create and play DivX videos. DivX provides up to 10 times better compression than MPEG-2/DVD with extremely fast encoding speed and exceptional quality. This version increases encoding speed from 6.0 by up to 350% on dual core CPUs. Videos created with the DivX Converter will play back on millions of certified devices.
Mehr…
VIPlayer
Version: 1.0 | Shareware (9,00 EUR)
- Normal and simply Windows User interface.
- Simply open a media file as you do it in Word or Excel and show it.
- You can open more than one media-files (DVD, video, audio and pictures) together.
- When you open a file, all files with those extention will be automaticaly imported in an Access-database file (mdb).
- No limits for a database of media files, you can hold a million and more media files in a Table.
Mehr…
MPEG AVI DVD Cutter
Version: 1.0 | Demo (19,99 EUR)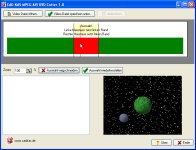 Scheiden Sie unliebsame Teile wie Werbung usw. aus DVD und Videodateien (MPEG und AVI) einfach heraus. Sie markieren zunächst einen Bereich mit der Maus. Dabei sehen Sie bei jedem Mausklick das gewählte Bild in der Vorschau. Dann klicken Sie auf "Auswahl wegschneiden". Dies können Sie mit beliebig vielen Bereichen eines Films machen. Am Schluß speichern Sie noch die neue Videodatei ab. Sie können auch den Film z.B. auf 2 CD's splitten.
Mehr…
Allok Video Joiner
Version: 4.6.0529 | Shareware (25,00 EUR)
Allok Video Joiner is a powerful tool to join or merge multiple AVI, Divx, XviD, MPEG, WMV, ASF, RM, MOV, 3GP, MP4, FLV files into one large file in various format.You can add an unlimited number of video files to the list and easily rearrange their order if needed , then merge the videos files to AVI, Divx, XviD, MPEG, VCD, SVCD, DVD, WMV, MP4, FLV formats. It also supports join video files to VCD/SVCD image and DVD-Video files.
Mehr…
Audio To Video Mixer
Version: 3.2.1.2 | Shareware (27,99 EUR)
It is a video converter to mix audio files into video. It can remove original sound from your home video, add background music, narration or sound tracks to the video. It can convert audio and video to AVI, configure the volume, start time, playback speed and repeat properties of each audio file, open compression system for video and audio, support different codecs such as DivX, XviD, join video files into a large avi file.
Mehr…