Kategorie Büro / Buchhaltung & Finanzen
ChequeSystem Cheque Printing Software
Version: 3.9.4 | Shareware (107,50 USD)
ChequeSystem provides a complete cheque printing and management solution. You are no need to write any, just print and sign it. All issued cheques are kept in records. Account report and payee report provides complete cheque issued history on bank a/c and payee. You can download cheques templates from server or use design tools to arrange the cheque layout. ChequeSystem provides batch printing function and supports different types of printers.
Mehr…
Softwarenetz Kassenbuch
Version: 4.00 | Shareware (59,90 EUR)
Das Kassenbuch für alle Selbstständigen und kleinen Unternehmen, die ein einfaches und bedienerfreundliches Programm zur Kassenbuch-Führung benötigen. Auch ohne Buchhaltungskenntnisse sofort zu verstehen. Und es kann noch vieles mehr: Bankumsätze über Onlinebanking automatisch buchen, Ihre Paypal Kontoauszüge importieren, grafische Statistiken auf Knopfdruck und eine Datev-Exportfunktion für Ihren Steuerberater.
Mehr…
Commissioner
Version: 1.2 | Demo (696,00 EUR)
Commissioner ist ein Warenwirtschaftssystem für die Second Hand Branche. Seine Funktionen sind speziell auf die Besonderheiten des Kommissionsgeschäftes zugeschnitten. Es erleichtert Ihnen die täglichen Routinearbeiten rund ums Geschäft und gibt Ihnen so den notwendigen Freiraum, sich auf die wesentlichen Dinge wie z.B. Ihre Kunden und Kommittenten zu konzentrieren.
Mehr…
PrecisionID MICR Fonts
Version: 2012 | Demo (95,00 USD)
This MICR font package contains one multi-purpose MICR E13B font and 10 additional variations of this font which include light, bold, wide and narrow versions. All of these fonts are provided in both TrueType and PostScript format. We also provide placement instructions and a MICR calibration tool, which can be used to determine if you need to implement one of the variations of this font. A setup file is supplied to ease installation.
Mehr…
Star Quotes/Estimates
Version: 2.50 | Shareware (39,00 USD)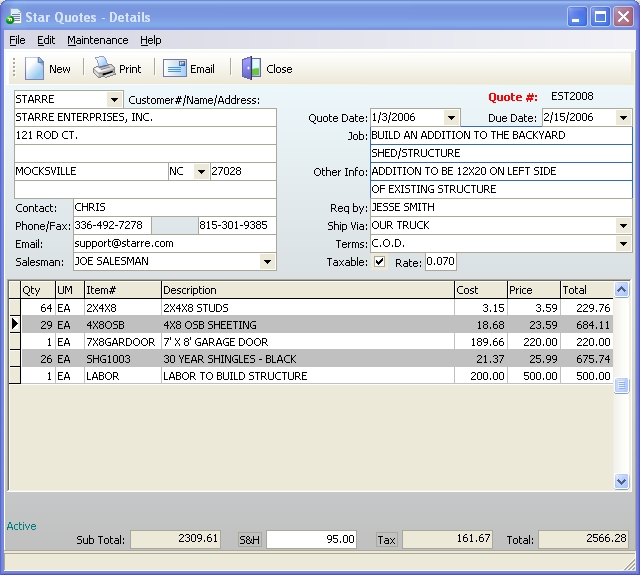 Star Quotes/Estimates is a simple yet powerful program used to make the process of typing up and printing quotes/estimates easy. There are many features that simplify the whole process of creating and printing Quotes. It saves all your different customer and items so you do not have to re-key these every time which makes Quote creation so much easier. Free for 30 Days !!! Discover more info at www.starresoft.com
Mehr…
Excel Invoice Manager Pro
Version: 2.221025 | Shareware
This flexible billing software/invoice software is based on Excel form/template. The Pro edition of the billing software/invoice software is a superb billing/invoicing program for various small to medium businesses. Easy-to-customize invoice form based on Excel template, customizable database structure supported by Database Designer. The search bar allows you to find customers, products and invoices easily - e.g. Customer Name contains Bill.
Mehr…
AllBalancesLink Excel Add-In for Peachtree
Version: 1.00 - Build 004. | Shareware (99,00 USD)
AllBalancesLink uses a new add-in architecture introduced from MS Office 2000. This new technology allows the use of interfaces (forms and dialog boxes), therefore enabling much easier user-friendly applications than for instance, DDE implementations.
Mehr…
Excel Invoice Manager Enterprise
Version: 2.221025 | Shareware
This is billing software based on Excel invoice templates and databases. This edition of the billing software supports unlimited number of companies and networking, as well as custom fields that allow the billing software to create invoices with any number of columns and fields. Because the billing software is based on Excel invoice templates, you can easily customize it by dragging and dropping.
Mehr…
Atlas EasyBill
Version: 3.2 | Shareware (29,00 EUR)
Schreiben von Rechnungen, Offerten und Quittungen. Speziell für Heimanwender, Einmannfirmen und Kleinbetriebe basierend auf modernster Technologie neu entwickeltes Fakturierungsprogramm. Bearbeitung direkt in der Seitenansicht. Die Rechnungs-PDF werden automatisch in Unterordnern abgelegt. Mailen ist möglich. Die Texte können lang und formatiert sein. Es gibt 3 MWST-Abrechnungen, Rabatt-, Skonto- und Zusatztextmöglichkeit. Einfache Installation
Mehr…
MYOB Password Recovery
Version: 1.1S | Shareware (29,95 EUR)
MYOB Password Recovery is a program to recover (or remove) lost or forgotten passwords to MYOB files (.MYO, .DAT, .PLS, .PRM). All passwords are recovered instantly regardless of length. Multilingual passwords are supported. All versions of MYOB are supported.
Mehr…
Excel Invoice Manager Express
Version: 2.221025 | Shareware
Excel Invoice Manager Express edition is invoice software for small or home business invoicing. It is seamlessly integrated with Microsoft Excel, providing you with a true what-you-see-is-what-you-get invoice form for creating invoices. The invoice software is suitable for businesses that are not registered to bill/collect tax, businesses with one level of tax and businesses with 2 levels of tax (e.g. State and Federal tax).
Mehr…
Business Card Studio
Version: 4.5.22.1034 | Shareware (24,95 USD)
Powerful ease-of-use tool for designing nice looking templates of business cards. With its help you'll be able to create custom cards composed of various graphic shapes.
Mehr…