Kategorie Büro / Buchhaltung & Finanzen
CD Front End GOLD
Version: 2016.5.7 | Shareware (1,00 EUR)
Create autoplay CD DVD presentation, menu, product catalog. The user simply inserts the autorun/autostart CD DVD and Web-like pages are shown (also full screen). Professional, visual, no programming: automatic catalog creation with database import; auto photo album; can include video, music, links, hot spots, popup windows, any buttons you want to launch files (PDF, PowerPoint, AutoCAD...). No browsers needed. Several secure protections...
Mehr…
easy-bill Rechnungen
Version: 8 | Demo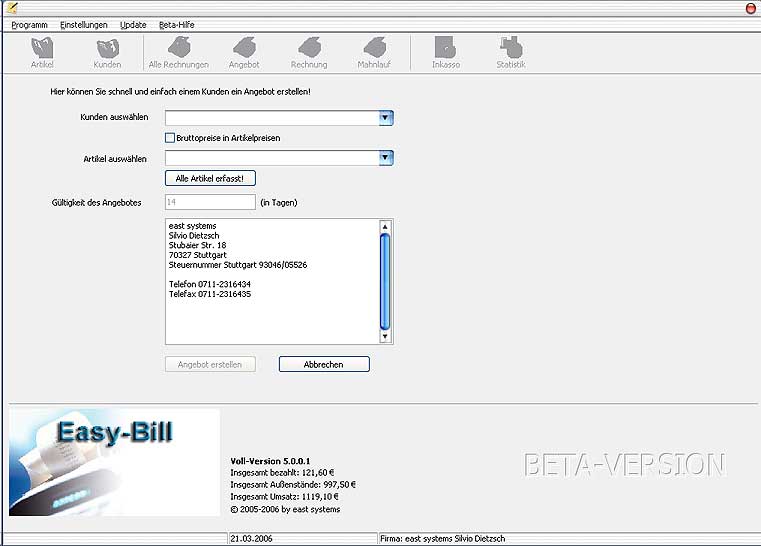 Inkl. Rechnungs-, Kunden-, Offene Posten- und Artikelverwaltung exklusives Design der Rechnungen durch Einbindung Ihres Logo´s! Umfangreiche und einfache Angebotserstellung und individuelle Daten für einzelne Kunden (Skontosätze), individuelle Artikeldaten, individuelle Rechnungs- und Mahnungstexte und Lieferdatum für jeden Artikel einzeln verfügbar. In nur 2 Schritten zur fertigen Rechnung!
Mehr…
Ezy Invoice
Version: 13.0.0.16 | Shareware (149,00 USD)
Create, print or email highly customizable business Invoices, Quotes, Credit & Debit Notes, Delivery Orders, Purchase Orders and other documents. Manage your Inventory & Accounts Receivables. Instant access to Sales, Receipts, Debtors, Tax, Inventory & other reports. Insert Paypal links to emailed invoices to collect credit card payments over the Internet. Use in standalone single user or networked multi-user mode.
Mehr…
Convert2MetaStock
Version: 2.2 | Shareware (29,95 USD)
This application creates data in the MetaStockTM format from an ASCII historical end-of-day data source file. The file can practically be in any format. You can define how your ASCII source is structured, for example:
Which columns have which fields? (date, time, open, close, etc.)
What is the column delimeter character? (space, tab, etc.)
What is the date format? (2001.02.14 or 04-JAN-2002)
Mehr…
SmartChart
Version: 1.6 | Shareware (59,95 EUR)
Managing your stock trading activity with ?Smart Chart? is a cinch. The program can read practically any ASCII file or MetaStock file and plot the data. The package includes:
Over 30 of the most popular technical indicators into the charting software so you have access to the likes of Bollinger Bands, Moving Average Envelopes, MACD, Moving Averages, R.S.I, A.T.R, Standard Deviation, Typical Price Volume, Money Flow Index
Mehr…
Lotto f?r Windows
Version: 3.9 | Shareware (19,00 EUR)
Ein Programm f?r jeden Lottospieler. Mit allen Lottozahlen seit 1955. Berechnung der erfolgreichsten Reihen (Topreihen). Trefferquoten f?r einzelne Zahlen und Zahlenkombinationen. Verschiedene Grafiken. Scheinauswertung. Verwaltung der Scheine. Auswertung von Zahlenreihen beliebiger L?nge und in beliebigen Zeitabschnitten, auch in der Systemspielumgebung (Normal, Voll, VEW). Generierung von Zahlenreihen mit vorgegebenen Randbedingungen.
Mehr…
MLDownloader
Version: 7.1 | Shareware (59,95 EUR)
MLDownloader downloads intraday, end of day and historical stock quotes, Options and Futures from various Internet sites. The program gives you the option of saving your data in MetaStock? or in the form of ASCII files. You are completely free to define your format of the ASCII files, so almost any Technical Analysis software can read it.
To bring your data up-to-date simply instruct MLDownloader to perform a data collection download.
Mehr…
BS1 Enterprise Accounting
Version: 2017.8 | Shareware (339,00 USD)
Accounting and Distribution ERP Software: Hauptbuch, Kreditoren, Debitoren, Inventar, Bestellungen, Aufträge und Quotes, Sales Analysis und Kontenabstimmung. Einfach, aber leistungsstark. Drucke Zitate, Kommissionierung rutscht, Frachtbriefe, Rechnungen, Bestellungen, Schecks, Jahresabschlüsse, Berichte über die Verkäufe, und viele andere Berichte. Anpassung und Quellcode verfügbar.
Mehr…
BS1 Accounting
Version: 2017.8 | Freeware
Kostenlose Buchhaltungssoftware: Hauptbuch, Kreditoren, Debitoren, Inventar, Sales Analysis und Kontenabstimmung. Anpassung und Source-Code zur Verfügung.
Mehr…
BS1 Professional Time Billing
Version: 2017.8 | Shareware
Freizeit Billing und Accounting-Software AP, AR, GL, Inventar, Time Billing, Sales Analysis und Kontenabstimmung. Jobs werden nach Priorität und Fälligkeitsdatum verfolgt. Anpassung und Source-Code zur Verfügung.
Mehr…
PC Invoice Pro Edition
Version: 2.39 | Shareware (49,95 USD)
Designed for the small to medium sized business. PC Invoice covers everything from invoicing, estimating, and purchase order creation. With multiple marketing and manager reports you can track every aspect of you business and customers. PC Invoice also gives you many different options to customize the program to your needs including being able to network it.
Mehr…
Profit Loss Report Spreadsheet
Version: 7.0 | Demo (29,95 USD)
This award-winning Excel spreadsheet is a simple alternative to accounting software to organize and track small business income and expenses. Easier for you and tax preparer when tax time rolls around. Outgrown the shoebox organization method, but not quite ready for accounting software? Easily organize income and expenses for business management and tax preparation. Save time, money and tax time headaches. Requires MS Excel.
Mehr…