Kategorie Büro / Buchhaltung & Finanzen
AllBalancesLink Excel Add-In for Peachtree
Version: 1.00 - Build 004. | Shareware (99,00 USD)
AllBalancesLink uses a new add-in architecture introduced from MS Office 2000. This new technology allows the use of interfaces (forms and dialog boxes), therefore enabling much easier user-friendly applications than for instance, DDE implementations.
Mehr…
MYOB Password Recovery
Version: 1.1S | Shareware (29,95 EUR)
MYOB Password Recovery is a program to recover (or remove) lost or forgotten passwords to MYOB files (.MYO, .DAT, .PLS, .PRM). All passwords are recovered instantly regardless of length. Multilingual passwords are supported. All versions of MYOB are supported.
Mehr…
Business Card Studio
Version: 4.5.22.1034 | Shareware (24,95 USD)
Powerful ease-of-use tool for designing nice looking templates of business cards. With its help you'll be able to create custom cards composed of various graphic shapes.
Mehr…
Excel Invoice Manager Enterprise
Version: 2.221025 | Shareware
This is billing software based on Excel invoice templates and databases. This edition of the billing software supports unlimited number of companies and networking, as well as custom fields that allow the billing software to create invoices with any number of columns and fields. Because the billing software is based on Excel invoice templates, you can easily customize it by dragging and dropping.
Mehr…
Excel Invoice Manager Express
Version: 2.221025 | Shareware
Excel Invoice Manager Express edition is invoice software for small or home business invoicing. It is seamlessly integrated with Microsoft Excel, providing you with a true what-you-see-is-what-you-get invoice form for creating invoices. The invoice software is suitable for businesses that are not registered to bill/collect tax, businesses with one level of tax and businesses with 2 levels of tax (e.g. State and Federal tax).
Mehr…
Atlas EasyBill
Version: 3.2 | Shareware (29,00 EUR)
Schreiben von Rechnungen, Offerten und Quittungen. Speziell für Heimanwender, Einmannfirmen und Kleinbetriebe basierend auf modernster Technologie neu entwickeltes Fakturierungsprogramm. Bearbeitung direkt in der Seitenansicht. Die Rechnungs-PDF werden automatisch in Unterordnern abgelegt. Mailen ist möglich. Die Texte können lang und formatiert sein. Es gibt 3 MWST-Abrechnungen, Rabatt-, Skonto- und Zusatztextmöglichkeit. Einfache Installation
Mehr…
CD Front End GOLD
Version: 2016.5.7 | Shareware (1,00 EUR)
Create autoplay CD DVD presentation, menu, product catalog. The user simply inserts the autorun/autostart CD DVD and Web-like pages are shown (also full screen). Professional, visual, no programming: automatic catalog creation with database import; auto photo album; can include video, music, links, hot spots, popup windows, any buttons you want to launch files (PDF, PowerPoint, AutoCAD...). No browsers needed. Several secure protections...
Mehr…
Lotto f?r Windows
Version: 3.9 | Shareware (19,00 EUR)
Ein Programm f?r jeden Lottospieler. Mit allen Lottozahlen seit 1955. Berechnung der erfolgreichsten Reihen (Topreihen). Trefferquoten f?r einzelne Zahlen und Zahlenkombinationen. Verschiedene Grafiken. Scheinauswertung. Verwaltung der Scheine. Auswertung von Zahlenreihen beliebiger L?nge und in beliebigen Zeitabschnitten, auch in der Systemspielumgebung (Normal, Voll, VEW). Generierung von Zahlenreihen mit vorgegebenen Randbedingungen.
Mehr…
SmartChart
Version: 1.6 | Shareware (59,95 EUR)
Managing your stock trading activity with ?Smart Chart? is a cinch. The program can read practically any ASCII file or MetaStock file and plot the data. The package includes:
Over 30 of the most popular technical indicators into the charting software so you have access to the likes of Bollinger Bands, Moving Average Envelopes, MACD, Moving Averages, R.S.I, A.T.R, Standard Deviation, Typical Price Volume, Money Flow Index
Mehr…
easy-bill Rechnungen
Version: 8 | Demo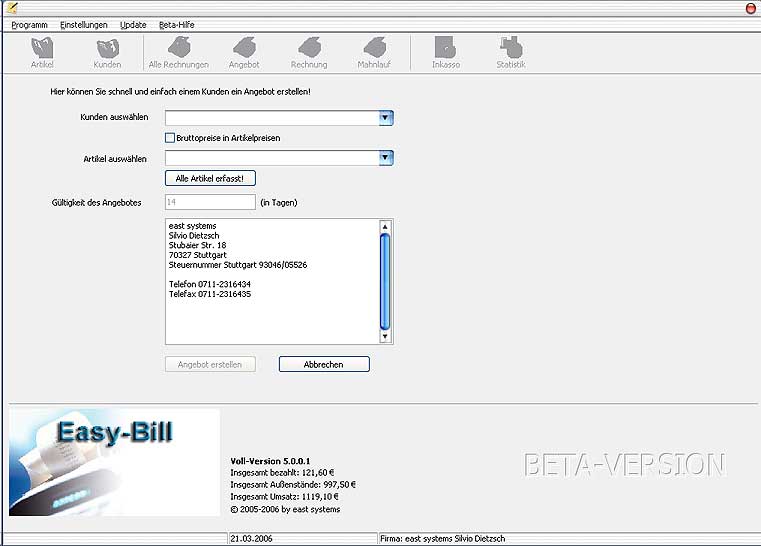 Inkl. Rechnungs-, Kunden-, Offene Posten- und Artikelverwaltung exklusives Design der Rechnungen durch Einbindung Ihres Logo´s! Umfangreiche und einfache Angebotserstellung und individuelle Daten für einzelne Kunden (Skontosätze), individuelle Artikeldaten, individuelle Rechnungs- und Mahnungstexte und Lieferdatum für jeden Artikel einzeln verfügbar. In nur 2 Schritten zur fertigen Rechnung!
Mehr…
Convert2MetaStock
Version: 2.2 | Shareware (29,95 USD)
This application creates data in the MetaStockTM format from an ASCII historical end-of-day data source file. The file can practically be in any format. You can define how your ASCII source is structured, for example:
Which columns have which fields? (date, time, open, close, etc.)
What is the column delimeter character? (space, tab, etc.)
What is the date format? (2001.02.14 or 04-JAN-2002)
Mehr…
Ezy Invoice
Version: 13.0.0.16 | Shareware (149,00 USD)
Create, print or email highly customizable business Invoices, Quotes, Credit & Debit Notes, Delivery Orders, Purchase Orders and other documents. Manage your Inventory & Accounts Receivables. Instant access to Sales, Receipts, Debtors, Tax, Inventory & other reports. Insert Paypal links to emailed invoices to collect credit card payments over the Internet. Use in standalone single user or networked multi-user mode.
Mehr…