Kategorie Büro / Datenbanken & Tools
MyDeveloper Studio
Version: 3.00 beta | Shareware (69,95 USD)
A comprehensive IDE for MySQL, it helps you work faster with MySQL by automating and simplifing the database development process. Presents a powerful visual interface for developing scripts, executing queries, managing users and privileges, and more. Key features include a completely unique stored routine debugger, an advanced SQL editor, integrated database explorer, database backup and restore, and fast direct connection to MySQL.
Mehr…
HKVertrag
Version: 3.00 | Shareware (30,00 EUR)
Verträge spielen im Geschäftsleben eine wichtige Rolle. In jedem Unternehmen müssen Verträge verschiedenster Art beachtet, aufbewahrt und verwaltet werden. Damit ein sinnvolles Vertragsmanagement möglich ist, bietet sich eine Software für die Vertragsverwaltung an. In einer Vertragsdatenbank werden alle Verträge erfasst.
Mehr…
VIPlz
Version: 1.1 | Demo (15,00 EUR)
- Datenbank mit allen PLZ, BLZ und KFZ für Deutschland.
- Möglichkeit für jeden PLZ, Stadtteil, Strasse, BLZ und KFZ Ihre unbegrenzte Texten als Memos einzufügen.
- Strassen für etwa 350 Hauptstädte Deutschlands.
- Einfaches Suchen in aller Tabellen durch belibiges Teil des PLZ, Ortsname etc oder des Teil Ihres Memo;
Mehr…
MDB Password Recovery
Version: 1.0.2 | Shareware (29,95 EUR)
Have you ever forgotten a password for your MS Access database? Whether you have or haven't, you'll appreciate this solution to all lost password problems from restoring passwords to performing security audits and other administrative tasks. All passwords are recoverable no matter how long or complex they are, and so are multilingual passwords and even ones that were spelled incorrectly.
Mehr…
DBRecovery
Version: 2010.1016 | Demo (799,00 USD)
DBRecovery suite provides a set of database recovery utilities in convenient setup package at cost-saving price. With DBRecovery one can recover tables and table data from damaged database. The suite provides recovery solution for several database server and client solutions, including MS Access, SQL Server, Oracle, MySQL, PostgreSQL, FileMaker, MS Works, Sybase and others. DBRecovery suite components are easy-to-use, no special skills required.
Mehr…
ACT-To-Outlook Professional - 2007
Version: 9.1 | Shareware (195,00 USD)
Convert your ACT! database into Outlook, including Notes, History, Attachments and User Defined Fields to Outlook. In addition, convert multiple users into multiple Outlook folders for easy placement of Calls, Todo's and Meetings. Fully compatible with Outlook 2000, 2002 and 2003 and ACT! version 2007. Compatible versions for ACT! 2000, 6.0 and 2005/2006 are available at the act-to-outlook.com website.
Mehr…
DTM Schema Inspector
Version: 2.00.07 | Demo (79,00 USD)
DTM Schema Inspector is a database schema browsing and management tool that let the user work with database schemas more effectively. The program lets the users work simultaneously with any number of database schemas (metadata) and displays information in a convenient tree-view format, as well as offers current views of database contents and properties. The tool supports all modern database systems and desktop formats.
Mehr…
Database Oasis
Version: 3.2.8 | Shareware (119,99 USD)
Database Oasis is a dynamic database tool that allows you to store all of your personal and business information in one convenient location on your PC-without any technical savvy. The simple point and click interface allows you tell it what data you want to store and how you want it presented. Whether you need to store your company's sales history or your children's medical records, it's handled.
Mehr…
CDBF for Linux
Version: 2.99 | Shareware (35,00 USD)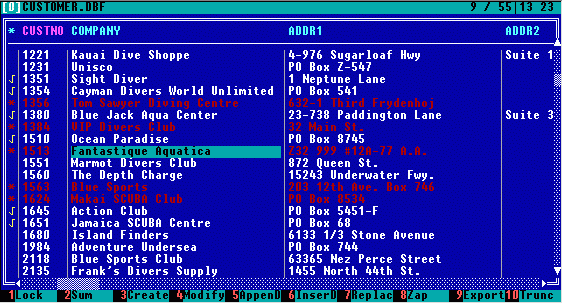 CDBF is a powerful database viewer and editor that lets individuals and business users access databases directly without programming via the familiar Windows interface. This small and handy utility offers everything you need for working with database. Unlike other similar tools CDBF doesn't separate the viewing and editing modes: when you are viewing the table, you can always click on a field you want to modify and make all necessary changes.
Mehr…
HK Abwesenheitsmanager
Version: 2.02 | Shareware (25,00 EUR)
HK AbwesenheitsManager ist Ideal für Kleinbetriebe und Teammanager. Sie koordinieren ganz einfach alle Urlaubstermine und erfassen sämtliche Arten von Fehlzeiten (Krankheit, Seminare, Freistellung usw.). So gewährleisten Sie einen überschneidungsfreien Abgleich der Urlaubswünsche und verhindern dadurch eine unerwartete Leere in Ihrem Büro.
Mehr…
MDB (Access) to DBF
Version: 3.02 | Shareware (29,95 USD)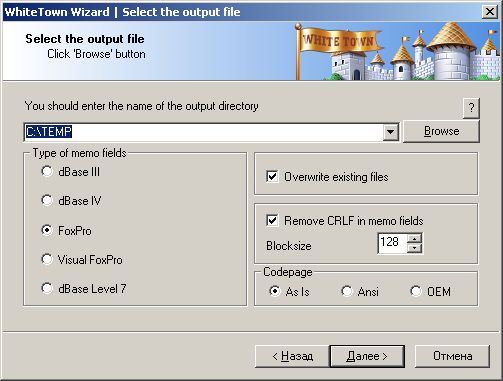 Der MDB (Access) to DBF erlaubt ihnen das Umwandeln ihrer MDB Dateien in das DBF Format. Es ist sehr einfach zu benutzen. Das Programm kann auch von der Kommandozeile benutzt werden.
Mehr…
Geodata International
Version: 9.03 | Demo (150,00 EUR)
Geodaten International - Weltweite Datenbank der Länder mit georeferenzierten Städten, Gemeinden, Postleitzahlen und Verwaltungseinheiten mit WGS84- und UTM-Koordinaten und Höhen zur Geokodierung, Umkreissuche, Navigation und Entfernungsberechnung. Die Datenbanktabellen liegen im Dateiformat CSV (Comma Separated Values) vor. Als Zeichensatz wird das UTF8 character set verwendet.
Mehr…