Kategorie Büro / Datenbanken & Tools
Toad for MySQL
Version: 7.3.1 | Freeware
Toad for MySQL empowers MySQL developers and administrators develop code more efficiently. It also provides utilities to compare, extract and search for objects, manage projects, import/export data and administer the database. Toad for MySQL increases developer productivity and offers access to a solid community of experts and peers for interactive support.
Mehr…
TOAD for DB2
Version: 6.0 | Freeware
TOAD for DB2 is a database development solution that provides productivity features/functions for rapidly creating and executing queries, facilitating database object management, developing SQL code, and accessing DB2 expertise instantly. Toad Developers have access to a community of users, peers, and experts.
Mehr…
ScimoreDB Embedded Database
Version: 2.0 | Demo
ScimoreDB Embedded database is in-process running SQL database with over 375.000 deployments that has a small footprint, easy-to-use interface and yet a full set of stand-alone database server's features. Developers use ScimoreDB to simplify software development for any sized database applications for Windows.
Mehr…
Access Password by Thegrideon
Version: 2016.04.07 | Shareware (19,95 USD)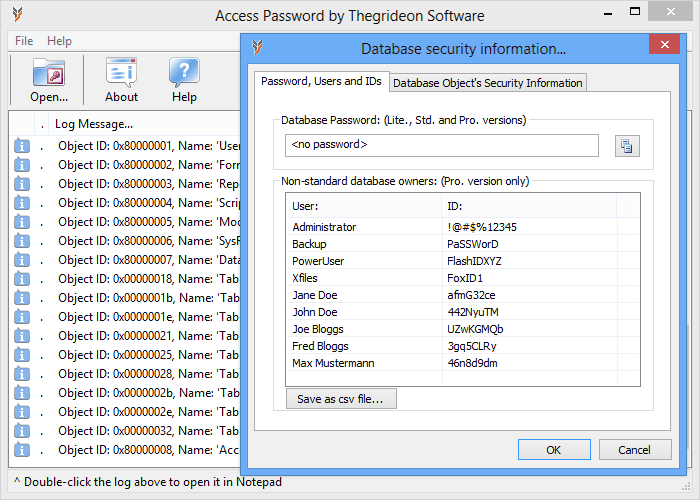 Access Password by Thegrideon Software is advanced MS Access database (mdb, mdw, mde, etc.) password recovery tool. With this tool you can recover your database passwords, user-level security records (logins from .mdw) or users and groups ids to recreate lost system.mdw (Workgroup Information) file. Access Password recovers data instantly and works with all MS Access 2.0 - 2013 databases.
Mehr…
Advanced CSV Converter
Version: 6.47 | Shareware (39,95 USD)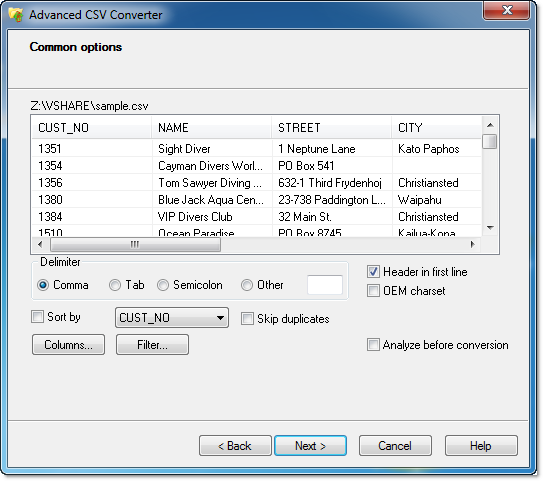 Der CSV Converter ist ein vielseitiges, doch leicht benutzbares Konvertierungsprogramm. Es hat eine vertraute Assistentenoberfläche, kann aber auch als Kommandozeilen-Tool zur Stapelverarbeitung benutzt werden. CSV Converter unterstützt all die modernen Datenaustauschformate, so wie XLS, DBF, TXT, HTML, RTF, PRG und andere.
Mehr…
ScimoreDB Distributed
Version: 4.0 | Freeware
Royalty free fully featured SQL database engine with nearly 1 million installations worldwide. Use as embedded, like MS access, or as large clustered, like Oracle/DB2, distributed database. ScimoreDB embedded, server or distributed databases has been optimized for MS Windows and .NET to deliver optimal database performance.
Mehr…
Openfind Enterprise Search
Version: 3.0 | Demo (199,00 USD)
Openfind Enterprise Search (OES) is designed for easy installation and simple configuration, allows setting up intranet heterogenous data search in minutes. With multi-lingual search capability, OES can deal with double bytes as well as single bytes contents.OES shareware allows 30 indices and up to 50,000 documents per index.
Mehr…
ABLD-AccessFind
Version: 1.41 | Demo (49,90 EUR)
Suche nach Feldinhalten innerhalb von MS-Access Datenbanken, Suche gesamt oder nur in einzelnen Feldern möglich, Feldauswahl für Suche und Anzeige, Suche über Wildcards möglich, erzeugt Auswertungsdatei
Mehr…
DataNumen Database Recovery
Version: 2.0 | Demo (199,95 USD)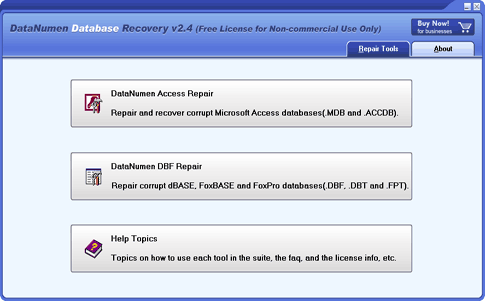 DataNumen Database Recovery (DDBR) is a powerful database recovery suite. It includes recovery tools DataNumen Access Repair (DACCR) and DataNumen DBF Repair (DDBFR). DACCR can repair corrupt Access databases. MS Access 95 to 2013 are supported. DDBFR can recover corrupt DBF files. All versions of DBF databases, including dBASE, FoxBase, FoxPro, Visual FoxPro are supported. DDBR is your ideal solution for database disaster recovery.
Mehr…
DTM Migration Kit
Version: 1.13.05 | Demo (159,00 USD)
DTM Migration Kit is a powerful yet simple data import,export and migration tool that comes in handy if you run multiple databases. Use it to import, export or migrate data between different data sources (ODBC, IDAPI or Oracle Call Interface supported). The program is fully automatic and supports all popular database formats. Simple visual interface lets you set own transformation and flow control rules to give you added flexibility.
Mehr…
Recovery for FileMaker
Version: 2.0.0938 | Demo (149,00 USD)
Recovery for Fikemaker is a powerful data recovery software for damaged FileMaker Pro database files (.FP5, .FP7). Recovers tables and table data. Stores recovered information into common .DBF format, compatible with many database applications. Supports FileMaker Pro 10, 9, 8, 7, 6 and 5.5 databases. Easy to use, no special user skills required.
Mehr…
Database Designer for PostgreSQL
Version: 1.11.3 | Shareware (124,95 USD)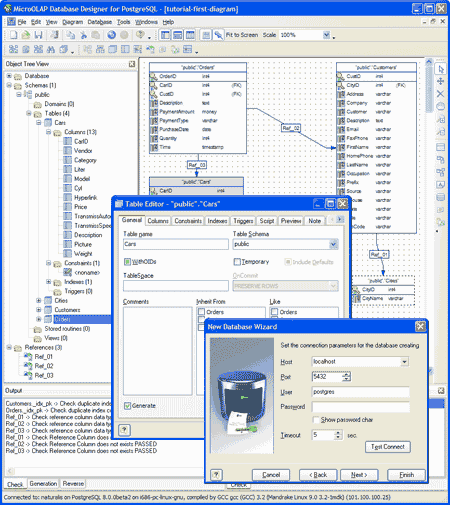 MicroOLAP Database Designer for PostgreSQL is an easy and powerful visual development system intended for database design, modeling, creation, modification and reverse engineering. It not only accelerates and makes the process of database creation clear but also simplifies database maintenance. MicroOLAP Database Designer for PostgreSQL is developed especially for the popular PostgreSQL database and takes into account its features.
Mehr…