Kategorie Büro / Datenbanken & Tools
TOAD for DB2
Version: 6.0 | Freeware
TOAD for DB2 is a database development solution that provides productivity features/functions for rapidly creating and executing queries, facilitating database object management, developing SQL code, and accessing DB2 expertise instantly. Toad Developers have access to a community of users, peers, and experts.
Mehr…
TOAD for Oracle Freeware
Version: 8.5 | Freeware
Toad® for Oracle is a comprehensive database tool for development and administration that enables you to perform daily tasks efficiently and accurately. It has grown over the past 10 years into the most widely-used tool of its kind. Our online community, www.toadworld.com, gives you access to resources and expertise. Whether you are a Developer, DBA or Analyst, there is a Toad for Oracle edition built for you.
Mehr…
Toad for MySQL
Version: 7.3.1 | Freeware
Toad for MySQL empowers MySQL developers and administrators develop code more efficiently. It also provides utilities to compare, extract and search for objects, manage projects, import/export data and administer the database. Toad for MySQL increases developer productivity and offers access to a solid community of experts and peers for interactive support.
Mehr…
XLS (Excel) to DBF Converter
Version: 3.25 | Shareware (29,95 USD)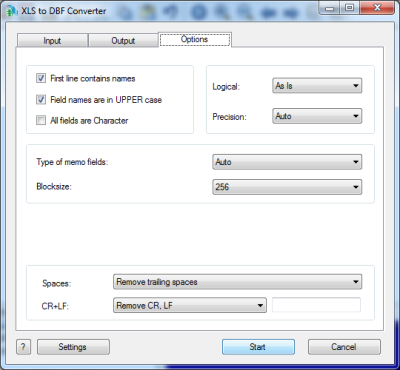 Der XLS (Excel) to DBF Converter erlaubt ihnen das Umwandeln ihrer XLS-Dateien (Microsoft Excel) in das DBF-Format. MS Excel verwendet bis Version 2007 ein geschütztes Binärdateiformat mit der Bezeichnung ?Binary Interchange File Format (BIFF)? als Primärformat. Seit Excel 2007 wird das offene XML-Format als primäres Dateiformat verwendet. Sie können Tabellen für den Export auswählen und notwendige Optionen einstellen.
Mehr…
DTM Schema Comparer
Version: 1.11.09 | Demo (149,00 USD)
DTM Schema Comparer is a visual database schemas comparison and synchronization tool that supports ODBC, OLEDB, IDAPI and Oracle Call Interface connections. The visual representation of database schemas as a tree makes the comparison process more comfortable. The tool deals with tables, views, indexes, keys, triggers, procedures. The built-in SQL text comparison tool allows you to view two scripts with differences displayed in a comfortable way.
Mehr…
DTM Data Comparer
Version: 1.25.01 | Demo (159,00 USD)
DTM Data Comparer is a visual tool for data comparison and synchronization with automation facility. HTML or Excel reports with localization feature, multivendor environment support with unified interfaces: ODBC, OLE DB, IDAPI/DBE and Oracle Call Interface. Flexible and customizable. Mapping and data conversion for complex comparisons. Query to table, File to table and Excel to table modes. Synchronous navigation and other unique features!
Mehr…
ScimoreDB Embedded Database
Version: 2.0 | Demo
ScimoreDB Embedded database is in-process running SQL database with over 375.000 deployments that has a small footprint, easy-to-use interface and yet a full set of stand-alone database server's features. Developers use ScimoreDB to simplify software development for any sized database applications for Windows.
Mehr…
Access Password by Thegrideon
Version: 2016.04.07 | Shareware (19,95 USD)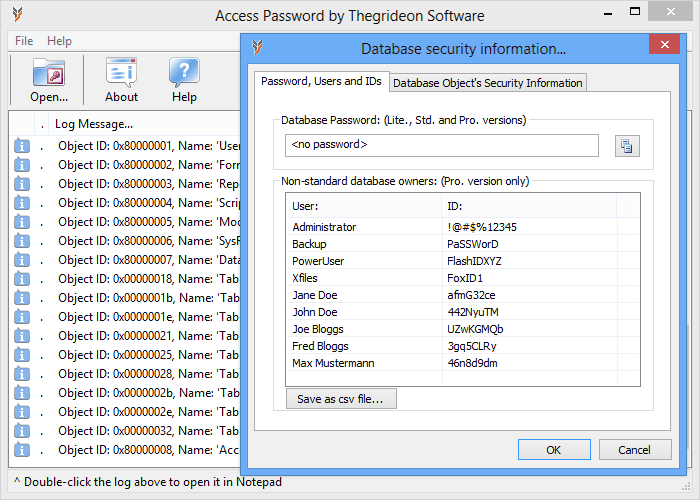 Access Password by Thegrideon Software is advanced MS Access database (mdb, mdw, mde, etc.) password recovery tool. With this tool you can recover your database passwords, user-level security records (logins from .mdw) or users and groups ids to recreate lost system.mdw (Workgroup Information) file. Access Password recovers data instantly and works with all MS Access 2.0 - 2013 databases.
Mehr…
ScimoreDB Distributed
Version: 4.0 | Freeware
Royalty free fully featured SQL database engine with nearly 1 million installations worldwide. Use as embedded, like MS access, or as large clustered, like Oracle/DB2, distributed database. ScimoreDB embedded, server or distributed databases has been optimized for MS Windows and .NET to deliver optimal database performance.
Mehr…
Advanced CSV Converter
Version: 6.47 | Shareware (39,95 USD)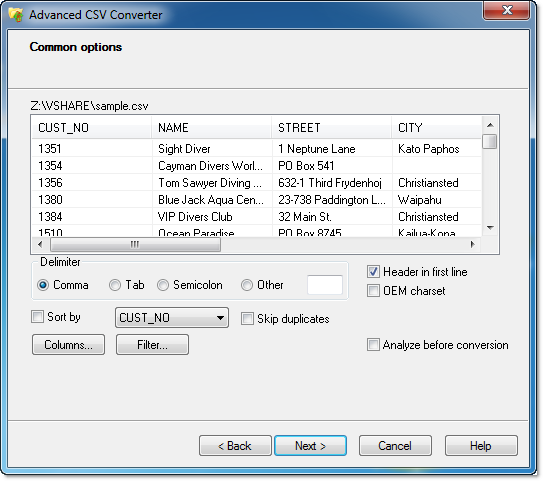 Der CSV Converter ist ein vielseitiges, doch leicht benutzbares Konvertierungsprogramm. Es hat eine vertraute Assistentenoberfläche, kann aber auch als Kommandozeilen-Tool zur Stapelverarbeitung benutzt werden. CSV Converter unterstützt all die modernen Datenaustauschformate, so wie XLS, DBF, TXT, HTML, RTF, PRG und andere.
Mehr…
DataNumen Database Recovery
Version: 2.0 | Demo (199,95 USD)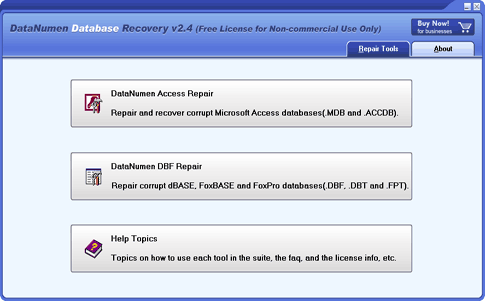 DataNumen Database Recovery (DDBR) is a powerful database recovery suite. It includes recovery tools DataNumen Access Repair (DACCR) and DataNumen DBF Repair (DDBFR). DACCR can repair corrupt Access databases. MS Access 95 to 2013 are supported. DDBFR can recover corrupt DBF files. All versions of DBF databases, including dBASE, FoxBase, FoxPro, Visual FoxPro are supported. DDBR is your ideal solution for database disaster recovery.
Mehr…
ABLD-AccessFind
Version: 1.41 | Demo (49,90 EUR)
Suche nach Feldinhalten innerhalb von MS-Access Datenbanken, Suche gesamt oder nur in einzelnen Feldern möglich, Feldauswahl für Suche und Anzeige, Suche über Wildcards möglich, erzeugt Auswertungsdatei
Mehr…