Kategorie Büro / Inventar & Barcoding
Barcode Add in for Excel
Version: 2011 | Demo (139,00 USD)
Easily generate linear and 2D barcodes in Microsoft Excel with this add-in. The add-in dynamically changes selected cells, rows and columns to barcodes using formulas and functions. The barcodes will dynamically change in the worksheet; when data in Excel changes, because formulas and functions are used. This product may be used royalty free with a valid license to any of IDAutomation's Barcode Fonts.
Mehr…
BISaM Büchereiverwaltung für Schulen
Version: 2.9 | Shareware (168,00 EUR)
BISaM Buch Informations-System am Monitor ist eine Software speziell für Schulen und kleine Bibliotheken. Die Ausleihe und Rückgabe wird so vereinfacht, dass der Betrieb der Schulbücherei durch ehrenamliche Helfer problemlos möglich wird. Insbesondere die Nutzung des Barcodelesers vereinfacht und beschleunigt aller Erfassungsvorgänge.
Mehr…
iBarcoder, Mac Barcode Generator
Version: 3.9.0 | Shareware (49,95 USD)
Barcode creator, QR code and Datamatrix generator. Create, print and export barcodes as vector graphics, or high resolution images. Print barcodes on Avery label templates, or make custom formats. Add text and graphics. Barcode types supported: Postnet, Japanpost, FIM Codes, UPC, EAN, ISBN, ISSN, Code 128, Codabar, ITF14, Code 39, Code 11, Code 93, MSI, Interleaved 2 of 5, Datamatrix, Intelligent Mail, Pharmacode and QR Code, GS1 Databar.
Mehr…
Barcode Add in for Word
Version: 2011 | Demo (139,00 USD)
Easily generate linear and 2D barcodes in Microsoft Word with this add-in. Simply select text to be barcoded, click on the add-in button and it will change the selected data to a scannable barcode. Compatible with Word 2003 and above running on Microsoft Windows. This product may be used royalty free with a valid license to any of IDAutomation's Barcode Fonts.
Mehr…
FastReport Server
Version: 2.3 | Shareware (499,00 USD)
FastReport Server dient als Basis zur Realisierung der Strategie des Business Intelligence (BI), indem es die am meisten benötigten Informationen via Internet/Intranet direkt zur Verfügung stellt oder es in interne Anwendungen einarbeitet. FastReport Server enthält auch eine komplette Palette an Remote Tools zur Reportgenerierung. FastReport Server ist die optimale Lösung für Unternehmen jeglicher Größe.
Mehr…
Bytescout BarCode Generator
Version: 4.61.0.952 | Freeware
Bytescout BarCode Generator is able to generate and export barcode into image (EMF, PNG, JPG, TIFF, GIF). Supports almost all available 1D and 2D barcode types: Codabar, Code 39, Interleaved 2 of 5, Code 93, Code 128, EAN-13, EAN-8, JAN-13, Bookland, UPC-A, UPC-E, Postnet, PDF417, Truncated PDF417, DataMatrix, QR Code, MaxiCode, GS1 barcodes and more. The software is based on Bytescout BarCode (generator) SDK for .NET software developers.
Mehr…
Asset Track Asset Tracking Software
Version: 8.0 | Demo (1.500,00 USD)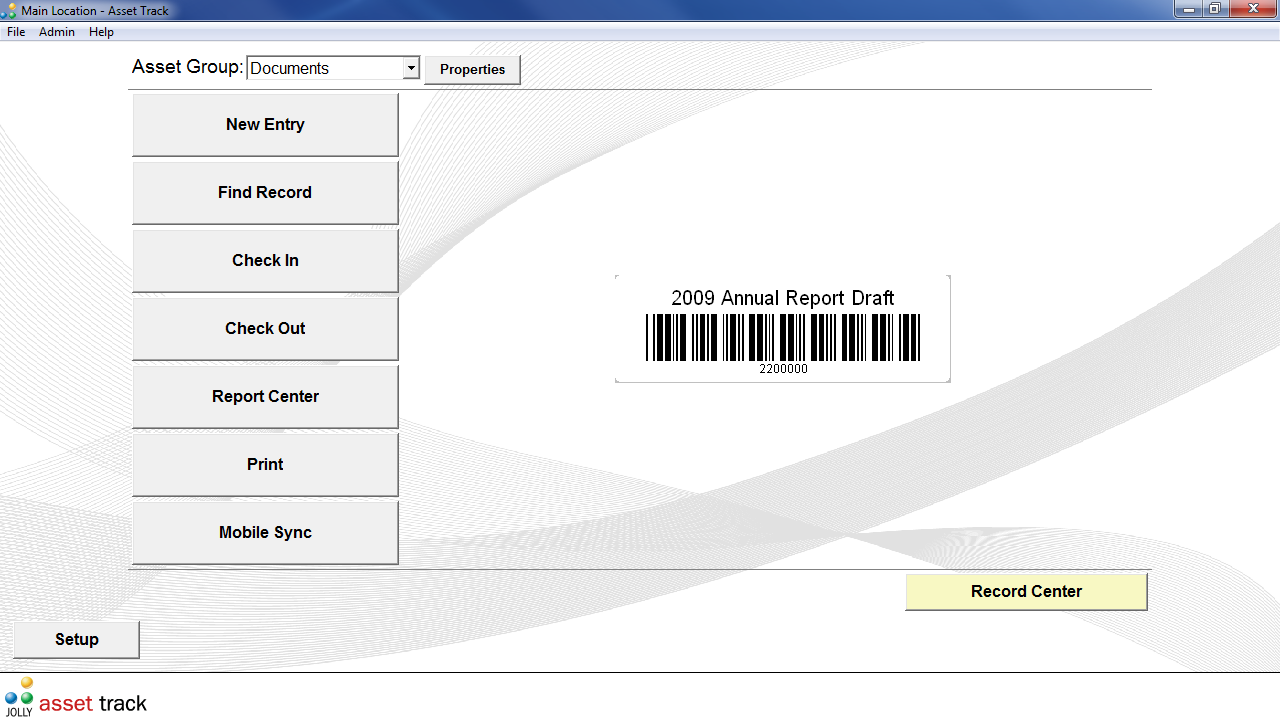 Easily track all assets in your facilities with Asset Track. Record supplier and user information. Know where the asset is located. Scan manufacturer barcodes or produce barcode labels directly from Asset Track.
Mehr…
Free Barcode Label Design Application
Version: 2009 | Freeware
This barcode label design and printing application is free (not a demo) and easy to use. Bar code values may be determined by VB script, incremented, or obtained from CSV, Excel, Access or an internal database. Contains label stock templates for Avery, Herma, Zweckform and others. It accurately prints barcodes on any graphics printer, including thermal printers.
Mehr…
Chrysanth Inventory Manager
Version: 3.0.1 | Shareware (799,00 EUR)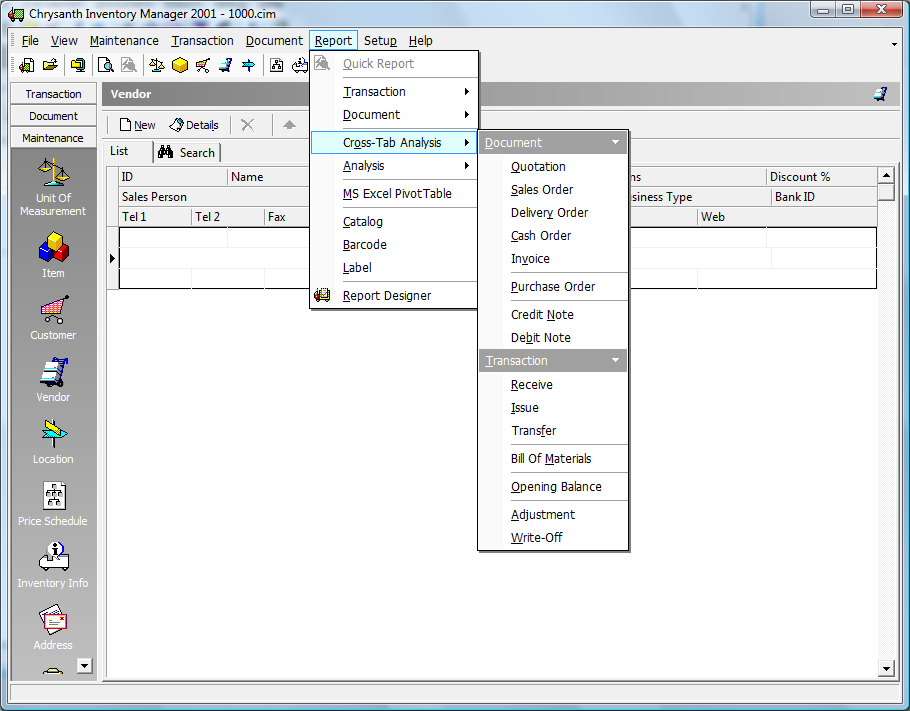 Chrysanth Inventory Manager is a field proven inventory tracking and management solution that is specifically designed to cater for business with high-ticket but low-number-SKU settings. Due to the very different nature of the inventory tracking and management needs of such business nature, it warrants an entirely different yet unique design that requires all items to-be-shipped via Inventory Offset Methodology.
Mehr…
SmartVizor Variable Data Batch Publishing Software
Version: 24.2.170.325 | Shareware (395,00 USD)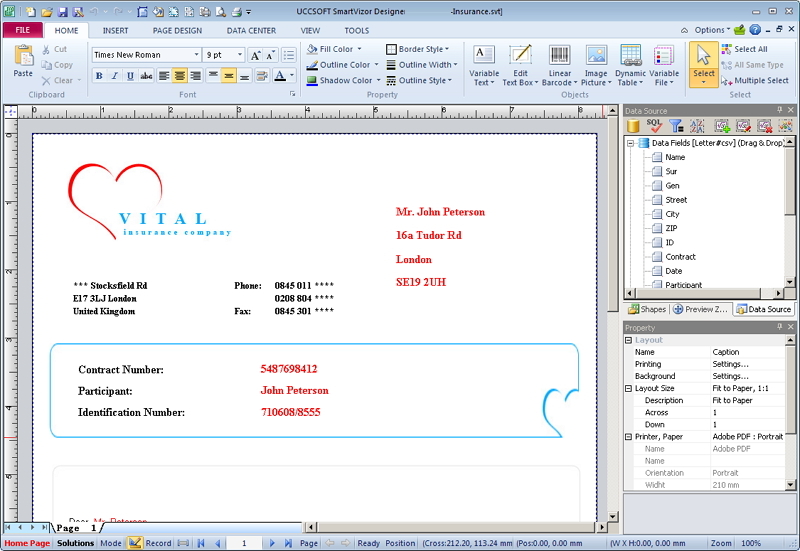 SmartVizor is a stand-alone,powerful and extremely easy to use variable-data-printing application. SmartVizor Suite is a software solution for creating personalized communications and professional one to one documents. It is one of the least expensive full-featured variable-data-printing solutions available today. With SmartVizor Suite, merge any design with any database and print on any printer.
Mehr…
2D Barcode Image Generator
Version: 13.07 | Demo (149,00 USD)
This professional grade application is used to easily create and paste 2D DataMatrix, Aztec, QR Code, PDF417, Maxicode and many popular Linear barcodes into other Windows applications or generate high quality graphic image files. Command line options are now supported in this new version. Commonly used with PhotoShop, Quark and Publisher. Settings and properties of the barcode are retained for ease of use.
Mehr…
Universal Barcode Font Advantage
Version: 16.01 | Demo (199,00 USD)
Die Universal Barcode Font Advantage (TM) wurde entwickelt, um die meisten linearen Barcodes als einzelne Schrift auf mehrere Betriebssysteme und Sprachumgebungen einschließlich Double Byte-Versionen von Windows, wie die in China und Japan sowie anderen asiatischen Ländereinstellungen verwendet erstellen. Neu kompilierte Web Fonts in WOFF, EOT und SVG-Formate in Entwicklerpakete.
Mehr…