Kategorie Büro / Inventar & Barcoding (Filter: Shareware)
Inventoria Bestandssoftware
Version: 4.04 | Shareware (99,00 USD)
Inventoria ist eine professionelle Bestandssoftware fuer Windows fuer ihre Lagerhaltung. Sie koennen Bestaende an einem oder mehreren Standorten verwalten, Warnmeldungen und Berichte erstellen, Artikel importieren, eine Datenbank mit Lieferanten und Kunden pflegen und mehr. Integrieren Sie ausserdem andere Businessprogramme, um die Bestandsdaten fuer alle Unternehmensaspekte zu pflegen.
Mehr…
SmartVizor Variable Barcode Batch Printing Software
Version: 25 | Shareware (395,00 USD)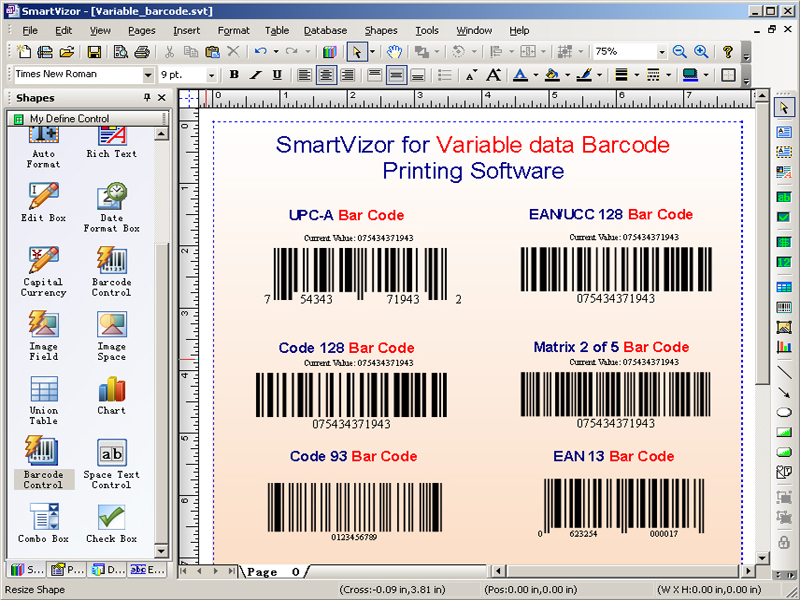 SmartVizor is a stand alone,powerful and extremely easy to use variable barcode print application. SmartVizor Suite is a software solution for creating personalized communications and professional one to one documents. It is one of the least expensive full-featured variable barcode print solutions available today.With SmartVizor Suite, merge any design with any database and print on any printer.
Mehr…
Karstens Paket-Manager .NET
Version: 1.1.1650.50100 | Shareware (16,00 EUR)
Karstens Paket-Manager ist eine Ausfüllhilfe für Vordrucke der Dt. Post AG. Die .NET-Version ist nur mit installiertem Microsoft .NET-Framework 2.0 lauffähig. Das Programm besitzt ein Adressbuch mit Im-/Exportfunktion, eine PLZ-/BLZ-Datenbank welche automatisch während d. Eingabe arbeitet, eine Vielzahl von Druckoptionen und anderen nützlichen Funktionen. Natürlich speichert das Programm einen Standardabsender und protokolliert die Druckaufträge.
Mehr…
Barcode Plug-in for FileMaker
Version: 7.1 | Shareware (199,00 USD)
This barcode plug-in easily integrates into FileMaker Pro to add barcodes to forms and reports. Supported bar code types include Code 128, Postnet, Planet, ITF, UPC, EAN, Codabar, MSI and USPS OneCode. The plugin is free to use with IDAutomation Barcode Fonts which are available at: http://www.idautomation.com/fonts/
Mehr…
BarCode-ActiveX
Version: 5.92 | Shareware (179,00 USD)
BarCode-ActiveX allows you to easily and quickly add barcode label printing features to your projects. It is a fast and reliable ActiveX control which requires minimal knowledge and experience to use. The control can generate barcode labels in many standard formats and then render them in the form of a vector-based image format. BarCode-ActiveX also performs as a server-side component.
Mehr…
Barcode Vectorizer
Version: 1.4 | Shareware (59,00 EUR)
Erzeugt hochpräzise Barcodes als Vektor- (EPS, SVG) oder Rastergrafiken (BMP, JPG) zur Übernahme in andere Anwendungen. Unterstützt dabei gängige Barcode-Typen wie EAN-13, EAN-8, UPC-A, ISBN-13, PZN, Code 93, Code 128, 2 of 5 Interleaved sowie Code 39 und bietet weitgehende Anpassung zahlreicher Attribute, durch die eine Nachbearbeitung der Grafik überflüssig oder nur minimal ist.
Mehr…
DataMatrix ActiveX
Version: 3.6 | Shareware (179,00 USD)
DataMatrix ActiveX lets you easily add barcodes to any Windows application that supports ActiveX technology. In doing this, you are not required to have any programming knowledge - simply insert a DataMatrix object to a document. All the functionality of the component is implemented in one small file, which is convenient for distribution. The component can be used in web programming and internet. It combines flawless performance and high speed.
Mehr…
Star EZ Inventory
Version: 2.86 | Shareware (39,00 USD)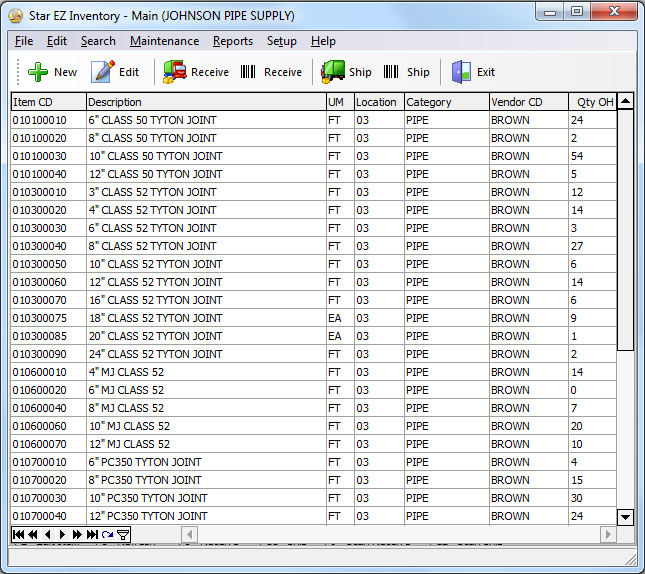 Star EZ Inventory is a simple yet powerful application program used to make the process of tracking and controlling your inventory fast and easy. There are many features that simplify the whole process of Tracking and Controlling Inventory. There is a fully functional database that stores your created Items, Vendors, and many more sets of data. Discover more info at www.starresoft.com
Mehr…
Bogart for Video Store
Version: 5.40.19 | Shareware (175,00 USD)
Bogart is a powerful and easy-to-use Point of Sale system for the video rental & DVD stores. This application is designed to quickly create detailed invoices as well as to track late charges and customer return history. Its main features include reservations; password-protected manager functions; inventory management; special promotions; house accounts; detailed sales history; etc. Fully integrated with Google Maps
Mehr…
Barcode Forge
Version: 4.6 | Shareware (69,00 EUR)
Mit Barcode Forge entwerfen und drucken Sie professionell aussehende, für Barcode-Scanner wie für den Menschen gleichermaßen gut lesbare Barcode-Etiketten. Daten für den Druck können Sie mühelos etwa aus Excel, Access und vielen anderen Datenbanken übernehmen. Das Programm wartet mit zahlreichen Funktionen auf und weiß aus jedem Drucker, egal ob herkömmlicher Laser- oder Etikettendrucker, für Ihre Barcodes die bestmögliche Qualität herauszuholen.
Mehr…
Hardware Inspector
Version: 4.7 | Shareware (199,00 USD)
Hardware Inspector is a premium solution for computer hardware and software management. Multiple inventory options. Data import from system information tools. Detailed asset inventory: installation data, accounting information, history of transfers and maintenance. A large variety of customizable reports and Visual Report Designer. Flexible access permission at various levels. Powerful search tools. Full-featured built-in Service Desk.
Mehr…
iRondo Imaging Station
Version: 1.7 | Shareware (1.495,00 USD)
Easy to use iRondo profiles simplify the batch processing of thousands of images per hour by automating common image cleanup and organization functions in a foolproof way. Automatically group image batches by coverpage barcode, rename files by the barcode value, clean up (despeckle, remove border, noise, crop, autorotate) images, prepare PDF files for customer delivery, create barcode extracts for integration with other applications
Mehr…