Fix Broken Links for Excel
Dieses Programm wird Ihnen präsentiert von:
Office Assistance LLC
Pacific Business Centre
P.O. Box 3 98124-1069
United States
| | |
| --- | --- |
| Kategorie: | Büro / Office Suites & Tools |
| Version: | 1.1.5 |
| Release-Datum: | 30.01.2013 |
| Größe: | 2,71 MB |
| Betriebssystem: | Win 98 / 2000 / XP / 2003 / Vista |
| Anforderungen: | Microsoft Excel 2013, 2010, 2007, 2003 2000/XP. Microsoft Office 365 (desktop Excel version). |
| Sprachen: | Englisch |
| Downloads: | 0 im Januar / 57 insgesamt |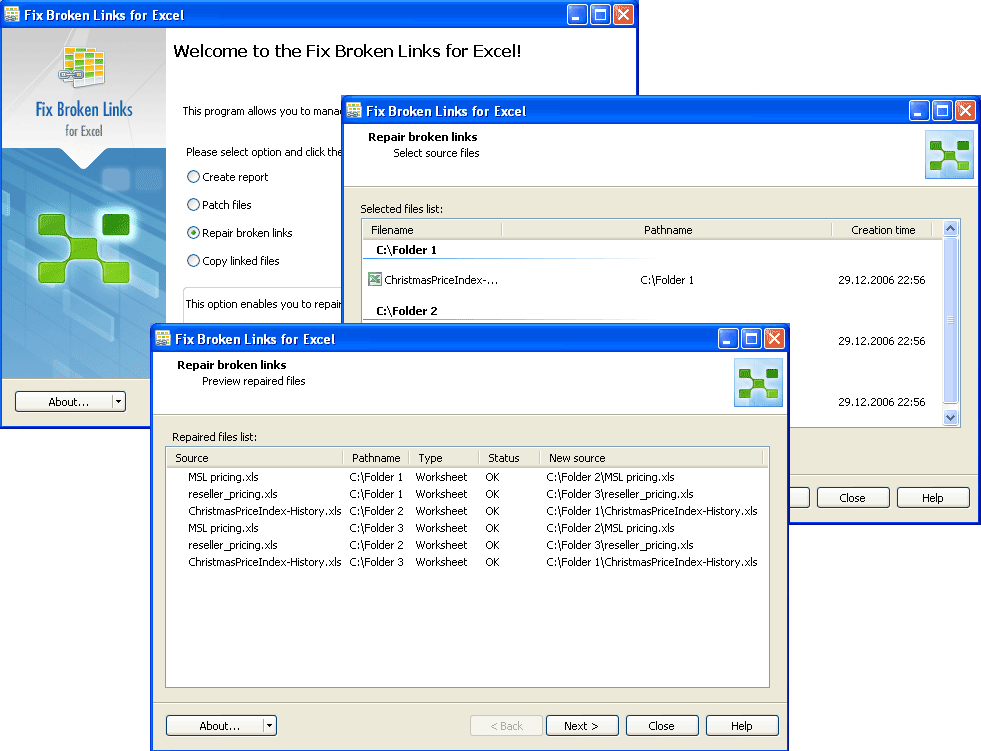 Fix Broken Links for Excel will help you to find and fix broken links in Microsoft Excel 2000-2013 linked files.
Key add-on functions:
1. Search for documents with the broken links.
Fix Broken Links for Excel will find the documents with broken links appeared in the result of copying, moving or renaming the file. The results of the search will be presented as a convenient and comprehensive report.
2. Fixing broken links.
Fix Broken Links for Excel restores the broken links to files. After fixing them, you will be provided with a report enumerating a list of files with fixed links as well as a list of the files where the links can not be restored with the connected parts missing. The program has a special mode of marking the files using which you can quickly restore broken links in the documents which you have to frequently move from one computer to another.
3. Transferring or copying linked documents to another location.
Fix Broken Links for Excel will transfer the linked documents to a specified folder (location - folder, device, etc) saving all links. This function is particularly useful for those who work with the same documents, for example on their PC and notebook.
4. Work with files stored on web-sites and SharePoint servers.
With the help of HTTP protocol, Fix Broken Links for Excel can work with remote documents in the same way as with local ones. This opportunity allows you to download documents directly from a web-site or SharePoint server. Copying the linked documents from SharePoint server by means of Fix Broken Links for Excel, you automatically save all links in them.
Hier können Sie die Update-Infos für dieses Programm abonnieren. Sie erhalten dann zukünftig eine Benachrichtigung per Email, sobald ein Update zu diesem Programm eingetragen wurde.
Um die Update-Infos zu abonnieren, tragen Sie nachfolgend Ihre E-Mail-Adresse ein. Sie erhalten dann eine E-Mail mit einem Link, über den Sie das Abo bestätigen müssen.
Sie können die Update-Infos jederzeit wieder abbestellen. Hierzu finden Sie am Ende jeder E-Mail mit Update-Infos einen entsprechenden Link.
Dieser Service ist für Sie vollkommen kostenlos.

Kommentare zu Fix Broken Links for Excel
Bisher gibt es keine Kommentare zu diesem Programm.
Selbst einen Kommentar schreiben