Kategorie Büro / Office Suites & Tools (Filter: Shareware)
A VIP Sales Management Solution
Version: 4.12 | Shareware (49,95 USD)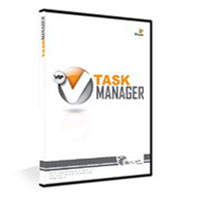 VIP Task Manager is professional easy-to-use software for Sales Team project, workflow management. VIP Task Manager combines functions of CRM, TeamOrganizer, ProjectManager, DocumentManager. It allows your team to plan, track and report of your sales team's activities, share your contacts database, calendar, tasks, files, links etc. VIP Task Manager provides you with total control over your customers, sales managers and sales tasks execution.
Mehr…
SmartVizor Variable Barcode Label Printing Software
Version: 25 | Shareware (395,00 USD)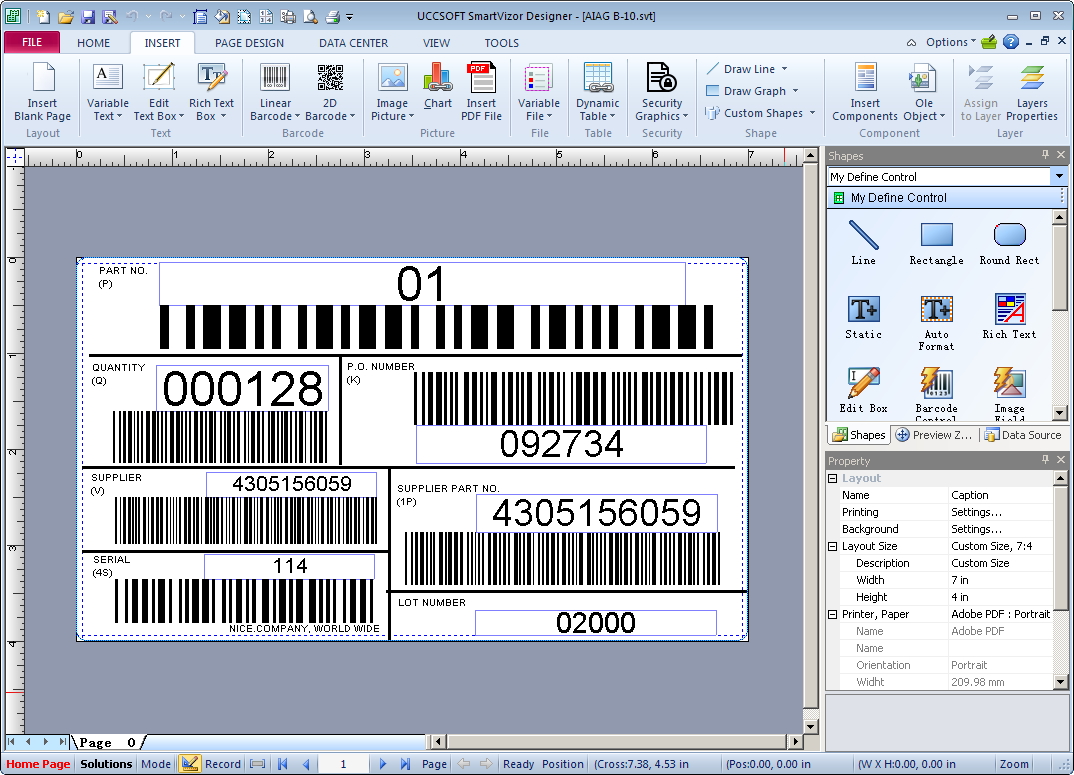 SmartVizor is a stand-alone,powerful and extremely easy to use barcode label printing application. SmartVizor Suite is a software solution for creating personalized communications and professional one to one documents. It is one of the least expensive full-featured barcode label printing solutions available today. With SmartVizor Solution, merge any design with any database and print on any printer.
Mehr…
Recovery for Calc
Version: 1.1.0906 | Shareware (99,00 USD)
Recovery for Calc is data recovery program for OpenOffice Calc spreadsheets (.ods). Recovery for Calc retrieves cells data and all standard cell's properties from corrupted OpenOffice spreadsheets. Recoveres files created by OpenOffice Calc version 2.0.
Mehr…
Recovery for Writer
Version: 1.1.0907 | Shareware (99,00 USD)
Recovery for Writer is data recovery program for OpenOffice Writer documents (.odt). Recovery for Writer retrieves text, formatting and images from corrupted OpenOffice documents. Recoveres files created by OpenOffice
Mehr…
Merge Tables Wizard for Microsoft Excel
Version: 3.1.4 | Shareware (37,95 EUR)
Inhalte aus unterschiedlichen Quellen aus derselben oder unterschiedlichen Excel-Dateien (2010 - 2003) können mit diesem Add-In rasch zusammengeführt werden. Es können eine oder mehrer Spalten als Vergleichskriterium dienen, neue Spalten zur Haupttabelle hinzugefügt, bestehende Inhalte oder exklusiv leere Zellen aktualisiert und nicht passende Zeilen am Ende angehängt werden. Und so funktioniert es: http://www.ablebits.com/go.php?to=mtwvideo-s
Mehr…
<b>Similar Data Finder</b> for Excel
Version: 1.1.6 | Shareware (39,00 USD)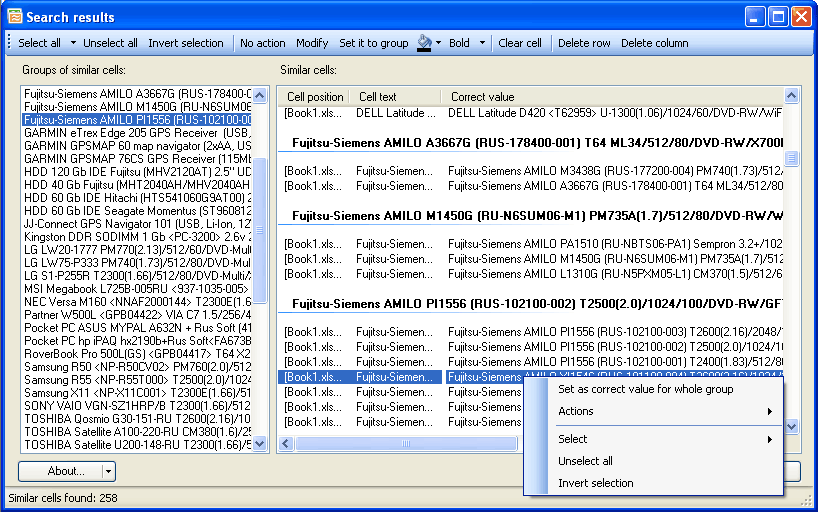 Similar Data Finder for Excel will help you to find cells with similar values in Microsoft Excel 2000-2013 worksheets. The program enables you to quickly find mistakes made while entering cell values; easily correct the mistakes; find and mark cells which seem to be incorrect; remove the cells with identical values.
Mehr…
PDF Vista Server
Version: 7.02 | Shareware (86,00 EUR)
Install a shared PDF printer on the server, and allow your users to create PDF files on their client-side by printing from any Windows program to this shared PDF printer, and get quality PDF output.
Features:
Support Terminal Services and Citrix
Centralized PDF conversion
Deploy PDF Vista printer as a shared printer
Dynamically enable or disable shareable PDF printer
Share PDF Vista printer on server-side for client-side users
Mehr…
MAPILab Find and Replace
Version: 1.2.2 | Shareware (39,00 USD)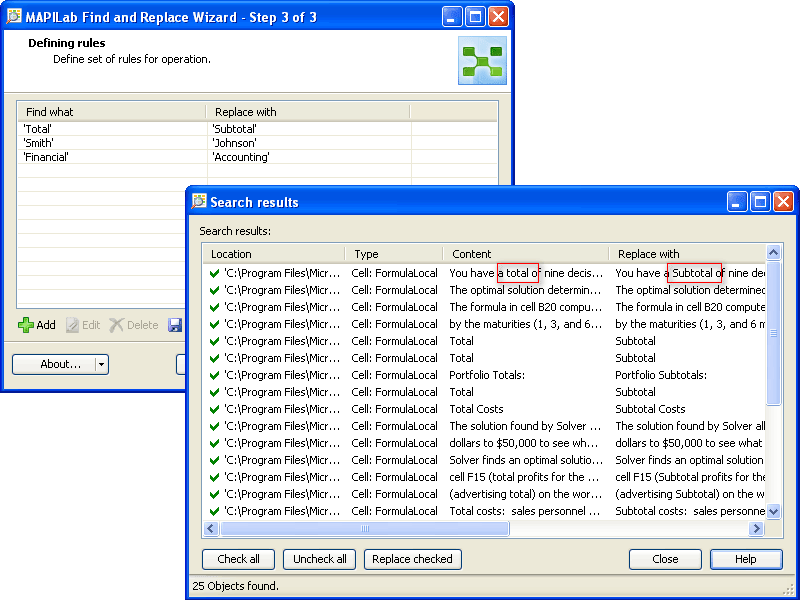 MAPILab Find and Replace for Excel is an advanced version of the "Find and Replace" function in Excel. The add-on has a number of essential benefits: simultaneous work with several files; saving and downloading retrieval requests as templates for reuse; creation of an unlimited number of rules for search and replacement of data; find and replace operation inside all document properties (formulas, values, etc).
Mehr…
Compare Spreadsheets for Excel
Version: 1.1.9 | Shareware (59,00 USD)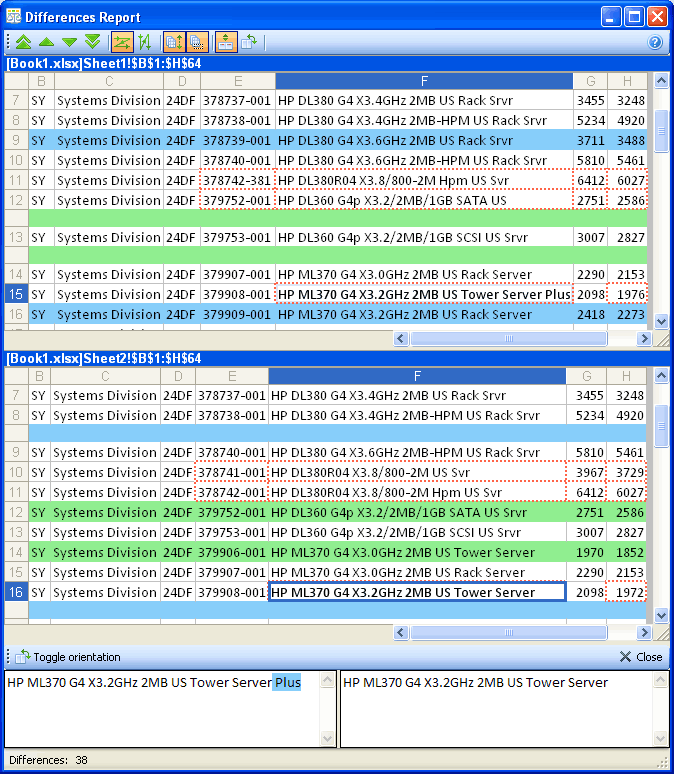 A powerful and convenient add-on for comparison of Microsoft Excel 2000-2013 files. Program features: work with files, tables or the selected range of cells; work with files without opening them in Microsoft Excel; a presentation of the results as a comprehensive report; a possibility to compare any cells in the final report; comparison by cell values or by formulas.
Mehr…
Advanced Consolidation Manager
Version: 1.1.1 | Shareware (39,00 USD)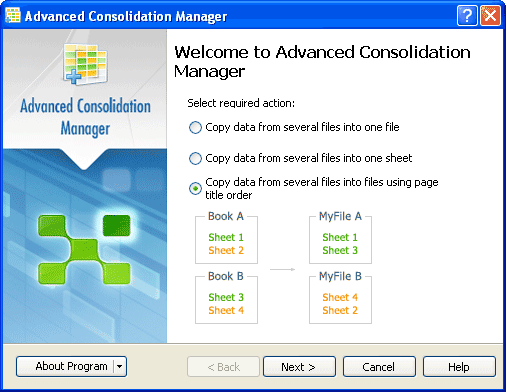 The add-on is designed for merging tables and consolidating Microsoft Excel data. In comparison to a standard data consolidation in Microsoft Excel, Advanced Consolidation Manager will allow you to process any number of files per one program run as well as to combine data from different files in one.
Mehr…
<b>Tables Transformer</b> for Excel
Version: 1.3.3 | Shareware (39,00 USD)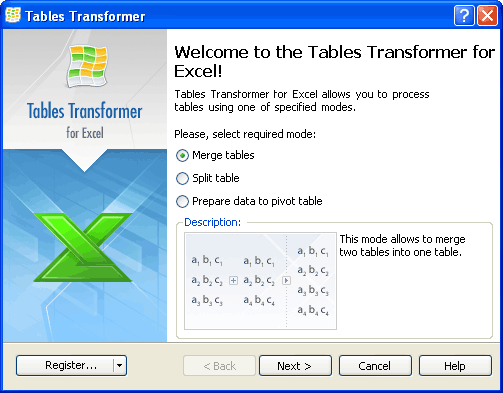 This add-in for Excel 2000-2013 will allow you to fast and easy transform current tables to construct pivot ones, to divide one table into several ones or to unite two tables in one.
Mehr…
FormsAssistant
Version: 1.7 | Shareware (39,95 USD)
FormsAssistant is a Microsoft Word add-in that takes the work and uncertainty out of creating and filling in business forms. Working from within the familiar Microsoft Word interface, FormsAssistant makes it easy to create new forms, modify existing ones, and fill forms with the appropriate information. By standardizing and automating your business' forms processing, productivity increases
Mehr…