Kategorie Büro / PIMS & Kalender
SEO Note
Version: 1.3.34 | Freeware
SEO Note is one of the best freeware personal and business information managers for Microsoft Windows XP, 2000, NT, 98 and 95 systems. Save and organize all your personal and business notes in a single file and make your life easier. Save time searching for phone numbers, names, plans and ideas!
Mehr…
Advanced Phonebook
Version: 2.15 | Shareware (14,95 USD)
Tired of trying to remember phone numbers, e-mail addresses, MSN, Skype, AOL and other contact information? Advanced Phonebook allows you to keep it all in one place. Quick access to any contact via the alphabetic index and contact categories. Additionally, Advanced Phonebook can search by any criteria. Also, it is possible to create a report or export data to an HTML or CSV file.
Mehr…
Notezilla
Version: 8.0.18 | Shareware (29,95 USD)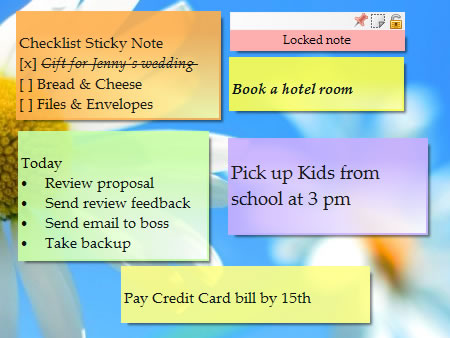 Notezilla is a handy & professional sticky notes app for Windows. It lets you take quick notes on desktop notes (similar to 3M Post-It(r) Notes) and stick them to websites & docs. Set reminders on each sticky note. Notezilla can sync sticky notes between computers via the cloud. You can also access your notes from iOS (iPhone/iPad), Android, Windows Phone, Blackberry etc. Sticky notes can be sent to another computer over LAN or Internet.
Mehr…
ICE Kommunikationsmanager IKom
Version: 2008 | Freeware
Professionelles Büroprogramm mit zahlreichen Zusatzfunktionen für kleine und mittelständische Firmen. Bestandteile: Adressenstamm (Kunden,Lieferanten und private Kontakte), gemeinsamer Kalender, Aufgabenverteilung, Mitarbeiterverwaltung, Urlaubsplanung, Textverarbeitung, Druckarchiv, SMS-Center, Telefax, PDF-Export, Routenplaner, Telefonliste und Netzwerkunterstützung
Mehr…
Ovalox Kalender Designer
Version: 1.0 | Shareware (19,95 EUR)
Mit Ovalox Kalender Designer können Sie einfach und bequem unterschiedliche Kalender erstellen und selbst gestalten. Die Ihnen zur Verfügung gestellten Kalender sind z.B. Fotokalender, Tischkalender, Einlagen für Zeitplaner usw.
Mehr…
Terminkalender Outlook Sync
Version: 2.0 | Shareware (17,40 EUR)
Terminkalender OutlookSync bietet Ihnen die Möglichkeit Termine und Aufgaben des Bitwerk Terminkalenders mit Outlook zu synchronisieren. Da nahezu jeder PDA eine Synchronisation mit Microsoft Outlook integriert hat können Sie über diesem Weg Ihren PDA mit dem Bitwerk Terminkalender synchronisieren.Terminkalender OutlookSync exportiert nur Termine und Aufgaben aus Outlook, die dem in OutlookSync selektierten Benutzer betreffen oder gehören.
Mehr…
PIM XP
Version: 1.21 | Shareware (34,95 USD)
PIM XP allows you to plan your business and personal time, maintain your address book, make notes, schedule tasks, etc. However, PIM XP is not just a personal information manager. With PIM XP, you can keep your own blog filling it with the ideas ? you prepare post and easily publish it in your blog! PIM XP is a really powerful and indispensable tool for active people with a lot of ideas.
Mehr…
Personal Knowbase
Version: 4.1.1 | Shareware (49,95 USD)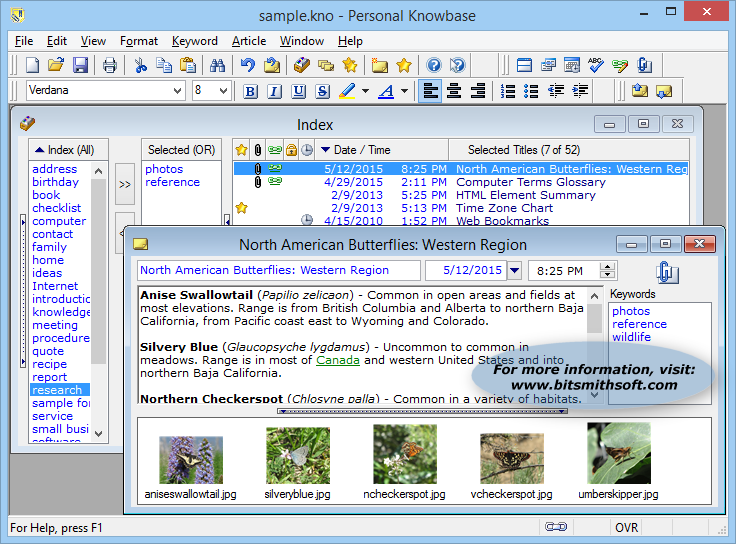 Take control of your notes with Personal Knowbase. Capture ideas and clippings. This note management software is easy to use, yet handles a large amount of information. Find notes by filtering on your chosen keywords. Import many file types. Link to websites and files. Cross-link notes. Protect with passwords. Bookmark important notes for instant access. Set reminders on notes. Run from portable USB drive. No limit to size of the database.
Mehr…
InfoWonder
Version: 1.1.3100 | Freeware
InfoWonder is a new kind of personal information organizer managing many different types of information: word processed notes, voice/audio "notes", web pages, pictures, and offering user-created fill-in forms to simplify repetitive data entry. InfoWonder has a comprehensive reminder capability that supports an advanced recurrence setup. More features: spell checker, calendar view, automatic backup, advanced search, import/export, and much more.
Mehr…
EssentialPIM
Version: 7.52 | Freeware
This absolutely free personal information manager can store, manage and encrypt data: day/week/month/year calendar views, to do lists for keeping all your tasks up-to-date, notes (pictures, tables, any formatted text), email messages, password entries and contacts. Offers AES 256-bit encryption, MS Outlook import/export, search capabilities, versatile print features, and adjustable contacts storage with unlimited fields.
Mehr…
Terminplaner Netzwerk
Version: 1.0 | Demo (39,99 EUR)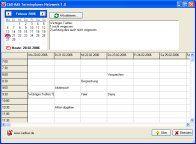 Wollen Sie Termine gemeinsam von mehreren Rechnern aus verwalten (z.B. Rechner vom Chef und Rechner der Sekretärin)? Dann ist dies Ihr Programm! Nie wieder laufen Sie von Rechner zu Rechner, um neue Termine abzugleichen! Alles läuft automatisch und ohne Ihr Zutun. Im Hintergrund läuft eine SQL Datenbank, die keiner Wartung und keiner Installation bedarf. Sie legen das Programm auf einem Netzlaufwerk ab und jeder kann es von dort starten.
Mehr…
Actual Reminder
Version: 3.0.9 + Weather | Shareware (29,95 USD)
Der Actual Reminder ist ein einfacher Kalender und Terminplaner der auf dem Windows-Desktop angezeigt wird. Die Software ist mehrsprachig, die Übersetzung aber wohl mit einem Übersetzungscomputer gemacht und daher teilweise sehr amüsant.
Mehr…