Kategorie Büro / PIMS & Kalender
ShixxNOTE
Version: 6.net | Shareware (24,95 USD)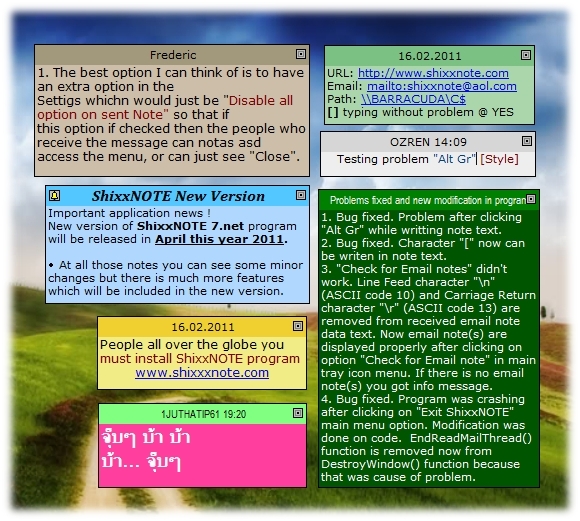 ShixxNOTE is a personal organizer, desktop sticky notes (post-it) program, instant messaging application (LAN messenger) and a network communications tool. It is multithread client/server network tool that lets you display notes on your desktop and send them through your LAN, Internet or via e-mail to other users. Note color, size, font, paragraph and other settings can be changed. It features an alarm, export and import function, etc.
Mehr…
EarthTime
Version: 5.7.5 | Shareware (20,00 USD)
EarthTime displays the local time and date of any place in the world. It has a built-in database of more than 120.000 cities worldwide but users can add any number of custom locations. Alarms can be set on the local time of any city in the world. Many options allow flexible customization.
Mehr…
Active Desktop Calendar
Version: 7.96 | Shareware (29,90 USD)
Dieses Programm ist ein persönlicher Organizer mit vollständig interaktives Desktop-Interface. Es zeigt Ihre Daten auf dem Desktop und kommt mit Kalender, Notizen, Alarme, Aufgabenliste, Adressbuch und andere wichtige Funktionen für einen Organizer
Mehr…
Bitwerk Terminkalender
Version: 3.5 | Shareware (32,69 EUR)
Übersichtliche Verwaltung von gemeinsamen Terminen, Aufgaben und Kontakten im Netzwerk. Erstellung von Termin- und Aufgabenserien möglich. Behalten Sie den Überblick durch verschiedene Tages-, Wochen- und Monatsansichten. Private Termine, optische u. akustische Erinnerung, Jahres- und Geburtstage, Termintypen, Suchfunktion, Nachrichtenversand. Outlook-Synchronisation. Neu:Umfangreiches Rechtmanagement, Frei definierbare Suchleiste
Mehr…
Quick To-Do Pro
Version: 4.5.1 | Shareware (34,95 USD)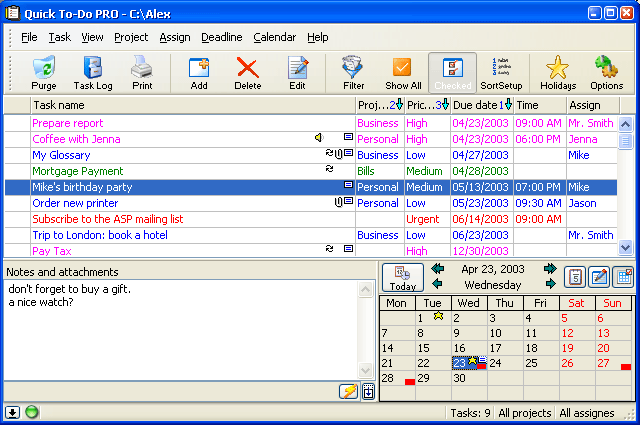 Organisieren Sie sich mit dem PIM mit den eingebauten Projekt-Management Funktionen, planen und verwalten Sie ihre t?glichen Aufgaben. Jeder Aufgabe kann eine Priorit?t zugeordnet werden. Ordnen Sie Aufgaben beliebigen selbst-definierten Projekten oder Personen zu. Das Programm bietet Import/Export und unterst?tzt sich wiederholende Aufgaben, Alarme, Filterm?glichkeiten, Tagesnotizen, Kalender, Passwortschutz und mehr.
Mehr…
Address Book Recovery
Version: 1.2.27 | Shareware (30,00 USD)
Do not worry about the damage of Windows Address Book files anymore, this problem can be fixed by the service of WAB restore, provided by Address Book Recovery application. You may easily prevent the loss of business and personal contacts by applying Address Book Recovery, it is really easy because the analysis of corrupted Address Books does not need good computer skills, you may simply follow the guidelines of Address Book Recovery
Mehr…
Secure Notes Organizer
Version: 3.0.9 | Shareware (29,95 USD)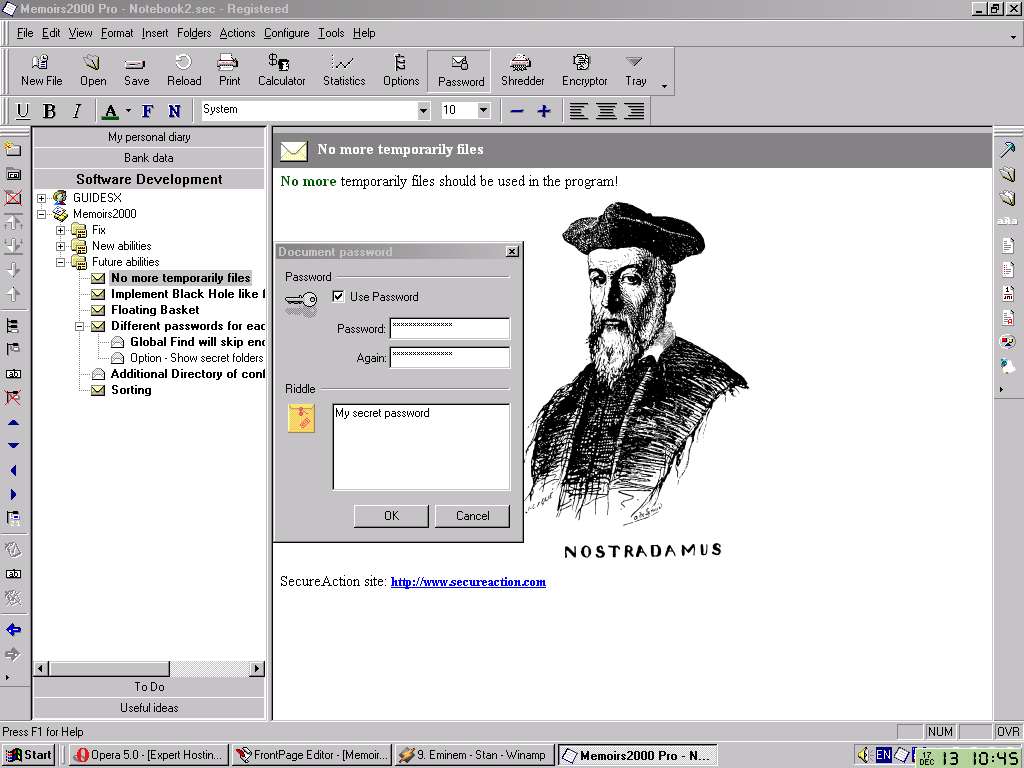 SNO ist ein Organizer der Ihnen eine Strucktur von Ihren Informationen so, wie Sie es nur w?nschen, aufzubauen erlaubt. Sie k?nnen es benutzen um jede art von hierarchischen Informationen unterzubringen, zBs solche wie Erledigungen, Projekte, personale Kontakte usw. Es enth?lt einen leistungsstarken Tagesplaner und kann zum System Tray minimalisiert werden und als Notepad funktionieren.
Mehr…
DeskLook
Version: 3.5 | Shareware (24,90 USD)
DeskLook for Outlook reads tasks, appointments and counts unread messages in selected folders of your Outlook automatically. Then, it shows all information conveniently on the interactive desktop together with a calendar for three months.
Mehr…
Custom Addressbook
Version: 6.0 | Shareware (21,95 USD)
Intuitive, powerful, small, and extremely flexible Address Management program; unique, among the many apparently similar programs, in that it enables you to define your own addressbook fields and categories. Also: encryption, password protection, search (with various options), built-in backup, import from CSV; export to CSV, XML, HTML, TXT; auto-dial, active URLs, minimize to tray, run from floppy, XML, CSV, Asian fonts, Windows XP themes, etc.
Mehr…
TreePad Lite
Version: 4.3 | Freeware
Award winning Tree-structured Personal Information Manager, easy to use, very powerful and fully portable. You can use it to store, edit, organize, browse and search any type of textual information, such as: notes, emails, texts, hyperlinks, etc. TreePad not only is highly intuitive, versatile and powerful, but also small in size and runs directly from USB stick without any installation. Best of all: download and enjoy TreePad 100% Free!
Mehr…
TreePad SAFE
Version: 8.0.1 | Shareware (34,95 USD)
High-security Personal Information Manager with password protection, advanced encryption, search engine, word processor, Website generator and much more. It stores all your notes, texts, etc. and keeps them accessible, safe, encrypted, organized, searchable and always just a few mouse clicks away. TreePad SAFE comes with a huge number of features. Despite its obvious power, the program is fun and easy to use as well as small in size.
Mehr…
TreePad Business Edition
Version: 8.1 | Shareware (44,95 USD)
Multi-featured Personal Information Manager with high-security encryption, search engine, word processor, spellcheck, hyperlinks, bookmarks, agenda/calendar, recycler, Website generator, images, icons, and much more. Store all your notes, texts, etc. and keep them accessible, safe, encrypted, organized, searchable and always just a few mouse clicks away. Despite its obvious power, the program is fun and easy to use as well as small in size.
Mehr…