Kategorie Büro / Projekt Management
Stundenerfassung Grundmodul
Version: 1.7 | Demo (56,84 EUR)
Stundenerfassung von Mitarbeiter- und Projektstunden. Erfassung und Auswertung von Arbeitszeiten nach verschiedenen Kriterien: Projekt, Bearbeiter, Gewerk, Leistungsphase, Tätigkeit, Datum. Integrierte Benutzerverwaltung. Export der Auswertungen nach MS Excel. Lizenz für beliebig viele Benutzer innerhalb einer Firma.
Mehr…
ActiveQuality Iso 9000 Software
Version: 2.7 | Demo (1.320,00 USD)
Open Mind Solutions provides the most flexible and adaptable standards management system software solutions for your business. Quality Management Software, Environmental Management Software, HACCP software, Health and Safety management software, 1 CFR Part 11 Compliant, Business process management software, Capa Software, Compliance Management Software, document management software, internal audit management software,
Mehr…
TaskCapture
Version: 1.02 | Shareware (49,00 USD)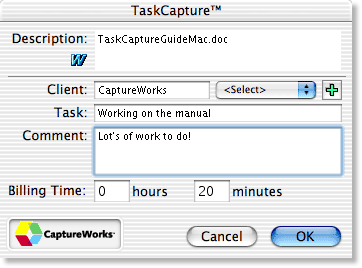 Automatically tracks working time on any document in standard applications such as MS Word, Excel, PowerPoint, Adobe Photoshop, InDesign, QuarkXPress, AutoCAD and more.
Pops a small dialog when a document is closed allowing you to bill to the correct client and specify the activity.
Easily track non-computer activities such as phone calls, meetings, travel, etc.
View, sort, filter, print and export your information for billing and other uses
Mehr…