Kategorie Desktop / Bildschirmschoner: Saisonal
Free Holiday Fireworks Screensaver
Version: 1.0 | Freeware
This blazing screensaver offers an impressive showing of lights and colors delivered to your screen any time of day or year. It is perfect for Halloween, Christmas, Independence Day and other celebrations. The best of the fireworks extravaganza!
Mehr…
Free Thanksgiving Screen Saver
Version: 1.0 | Freeware
Have you made all the preparations for the holiday? Complete your Thanksgiving menu with turkey, stuffing, cranberry sauce and this screen saver and express gratitude for the bounty of blessings we enjoy!
Mehr…
Free Halloween Holiday Screensaver
Version: 1.0 | Freeware
Do you want to arrange the best Halloween party? Download this cute screensaver and set all scary witches, ghosts, goblins and monsters free for this sinister night! This spooky screensaver will make your Halloween complete!
Mehr…
Free Holiday Theme Screensaver
Version: 1.0 | Freeware
If you want to have a great holiday, then this jolly screensaver is just what you need. It will create the atmosphere right on your desktop absolutely free!
Mehr…
Christmas Clock ScreenSaver
Version: 1.1 | Shareware (14,96 EUR)
Picture yourself going into the forest and looking for a fir tree when you encounter a real wonder! Somebody (most likely Santa Claus) has decorated a young snow-covered fir tree with sparkling lights. You do not want to cut it down, but rather you will stand and admire the sight. Install the Christmas Clock screensaver on your desktop and enjoy this picture. Time appears before you, sparkling, as the beautiful antique clock keeps you on time.
Mehr…
Free New Year ScreenSaver
Version: 1.3 | Freeware
In winter, wondrous events take place in the forest - Santa Claus congratulates animals and sings a holiday song to them. After all, New Year's Day is a holiday for Santa's forest mates, too. You can happily join in and sing with Santa. Install the "New Year's night in the forest" screensaver on your desktop and enjoy the enchanting New Year's scenery.
Mehr…
Free American Snowman ScreenSaver
Version: 2010 | Freeware
Imagine that you are standing in the front of your friend's house on New Year's Eve. You glance around at a new year's tree, a sky with shining stars and a patriotic snowman - truly an enchanting place! Do you see smoke wafting from the chimney? This means there is somebody in the house, and you didn't come here for nothing. Happy New Year!
Mehr…
3D Spooky Halloween Screensaver
Version: 1.4 | Shareware (9,95 USD)
The Moon is full! Spooky Halloween is here! Haunted house deep in the woods invites you for a visit. Scary ghosts welcome you from a distance. Witches on broomsticks are rushing across the sky. There is something going on in this house as you see sparks of magic fire shooting out of the chimney. Chilling sounds and devilish Halloween music add to this mood of your darkest nightmare. Are you brave enough to trick or treat around this place?
Mehr…
3D Christmas Clock Screensaver
Version: 4.01 | Shareware (14,95 USD)
Christmas Edition of the 3D Drunken Clock Screensaver is a skinnable analog clock, which randomly and smoothly moves across the screen. The program allows for background changes as well as other appearance and behavior options including support for "skins".
Mehr…
Christmas Time 3D Screensaver
Version: 1.1 | Shareware (19,95 USD)
This terrific 3D screensaver will help you feel the magic of the Holiday Season. You will find yourself in a quiet winter forest with a few cottages scattered around. Everything is covered with snow and the nature is waiting for a miracle to happen.
A huge Christmas tree in the middle of this peaceful setting and the outstanding background music add to this unique holiday mood.
Santa is definitely paying a visit to this place! How about you?
Mehr…
Snowflake 3D
Version: 2.01 | Freeware
Relax with a soothing snowy animation on your desktop with this screensaver. Large and small snowflakes are drawn in 3D which create a beautiful snow image you will have to see to believe. Options include changing the background color, the number of snowflakes active, the speed at which they fall, and much more. Resolution switching, passwords, and mouse filtering are fully supported.
Mehr…
Christmas 3D Screensaver
Version: 1.1 | Shareware (12,95 USD)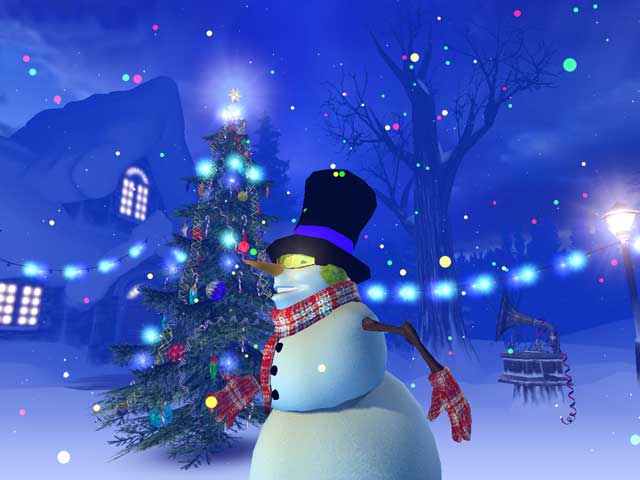 Mögen Sie Weihnachten?Schade, dass es sie nur einmal im Jahr gibt! Hey- wenn Sie wirklich so sehr Weihnachten mögen, wieso sollte man sie nicht jeden Tag haben? Weihnachten 3D Screensaver bringt warme Gefühle und Fröhlichkeit auf Ihr PC Desktop.Teilen Sie diese Gefühle mit Ihrer Familie, und Freunden.Nicht alle Völker können einen echten geschmückten Weihnachtsbaum jedes Jahr aufzustellen. Unser Desktop Weihnachtsbaum veraltert nie! Jetzt holen!
Mehr…