Kategorie Entwicklung / Active X
File Downloader ActiveX
Version: 2.2.3 | Shareware (95,00 USD)
File Downloader ActiveX is an activex component for developers that can download files from the internet.It supports HTTP, HTTPS and FTP protocols, allowing you to simply specify files you wish to download and wait for the download to complete. With this component you can download files directly from the internet to the hard drive, with a progress notification, fast, and easy to use.
Mehr…
Empty Folder Cleaner ActiveX
Version: 2.4.3 | Shareware (60,00 USD)
There might be lots of empty folders in Windows and these might be created either by temporary files or by users for different purpose. Empty Folder Cleaner ActiveX cleans up empty folders in Windows. It can scan for empty folders in your hard disk drives and then you can select the empty folders which you would like to delete. Well, the Empty Folder Cleaner ActiveX is easy to use, easy to integrate into your application.
Mehr…
SkinCrafter
Version: 3.3.1 | Demo (399,00 USD)
SkinCrafter ist eine effiziente ActiveX Bibliothek, die Ihnen erlaubt, einzigartig aussehende Anwendungen, völlig interaktive Benutzeroberflächen und viel mehr zu schaffen. Flexible AktiveX - Kontrollanpassung schließt Resizing, Resharping, Recoloring für alle Windows-Elemente ein, der Totalkontrolle über die Titelleiste, Fenstergrenzen, MDI Anwendungen, Knöpfe, Kästen und andere Elemente ist applizierbar. Erlaubt Semi-Transparenz (Alpha-Kanäle).
Mehr…
DownloadX Activex Download Control
Version: 1.6.8 | Freeware
Eye4Software GPS SDK
Version: 4.0 | Shareware (79,00 EUR)
Toolkit to add GPS functionality to software (GPS API). All NMEA0183 protocol versions are supported, all NMEA 0183 can be filtered by NMEA type and talker ID. Garmin USB Information on GPS status can also be retrieved: GPS fix quality, Satellites used in fix, DGPS beacon ID, Satellites in view, Satellite azimuth, elevation and singnal strengths. Support for map grid and datum tranformation is included. Comes with various programming examples.
Mehr…
Barcode Generator ActiveX/OCX TBarCode
Version: 11.1.2 | Demo (84,00 EUR)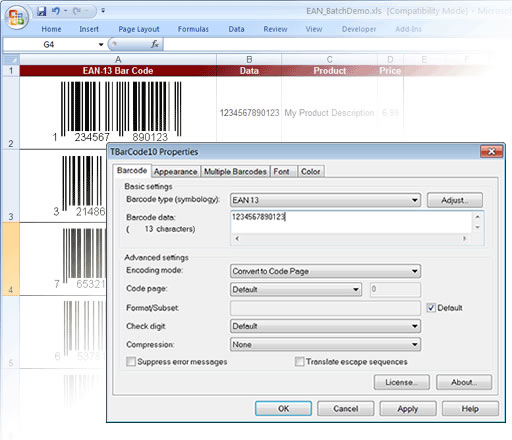 Erzeugen und drucken Sie mehr als 100 lineare und 2D Barcodes mit diesem Barcode ActiveX Control. TBarCode ist ein Multi-Barcode Generator für Office (Word, Excel, Access, InfoPath, ..) und Programmiersprachen (ASP/ASPX, .NET, VB.NET, CSharp, C, CPP,Delphi, ..) mit Druck und Image-Export (BMP, JPG, TIF, EPS, EMF, GIF). Erzeugt perfekte Strichcodes wie Code39, Code128, UPC, EAN, 2of5, PDF417, Data Matrix, QR Code, Semacode, GS1, DataBar, Aztec, ..
Mehr…
Data Acquisition Component TConnector
Version: 2.4.4 | Demo (47,00 EUR)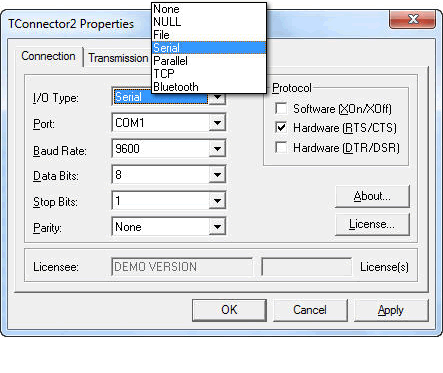 Mit TConnector realisieren Sie automatische Datenerfassungssysteme rasch und einfach. Dieses ActiveX Control bietet synchrone und asynchrone Gerätekommunikation mit nur 5 Funktionsaufrufen. Erfassen Sie Daten direkt mit Internet Explorer, Excel, Access, Word, Visual Basic, Microsoft Visual C/C++, Visual Studio .NET, Delphi, Navision (Microsoft NAV), ... Für RS232 (Serielle Schnittstelle, COM), TCP/IP, USB und Bluetooth (virtuelles serielles Port)
Mehr…
SecureBlackbox ActiveX
Version: 10.0 | Shareware (91,00 EUR)
SecureBlackbox (ActiveX edition) is a comprehensive component collection that adds support for PGP, SFTP, SSH, SSL/TLS, PKI, HTPS, FTPS to your Windows application. SecureBlackbox primary goal is to provide basic technology for the wide range of applications, hiding the details of low-level protocols and algorithms, used by the parties during secure conversations.
Mehr…
Nevron 3DChart for ActiveX
Version: 7.1 | Shareware (689,00 USD)
Nevron 3DChart for ActiveX is a powerful charting component used to create stunning 3D and 2D charts for client applications and web pages using COM or .NET technologies. It uses the OpenGL 3D graphics engine to produce state-of-art still or animated images. 3DChart includes a standalone application for chart template generation, an ASP server configuration utility and a toolbar component.
Mehr…
DownloadX ActiveX Download Control Pro
Version: 1.1.1 | Shareware (49,00 USD)
Web Page SnapShot
Version: 1.6 | Freeware (75,00 USD)

The main purpose is to create a snapshot of a web page with URL. You can set image dimensions and save the image in BMP, Jpeg, GIF and PNG image formats. Also the component gets additional info about the page like Title, its text, links on the page, e-mails, HTML code, real URL. The samples included in the distribution file will let you start creating your own projects immediately.
Mehr…
DownloadX ActiveX Download Control Free
Version: 1.1.1 | Freeware