Kategorie Entwicklung / Sonstige
Visual Build Professional
Version: 9.5 | Shareware (295,00 USD)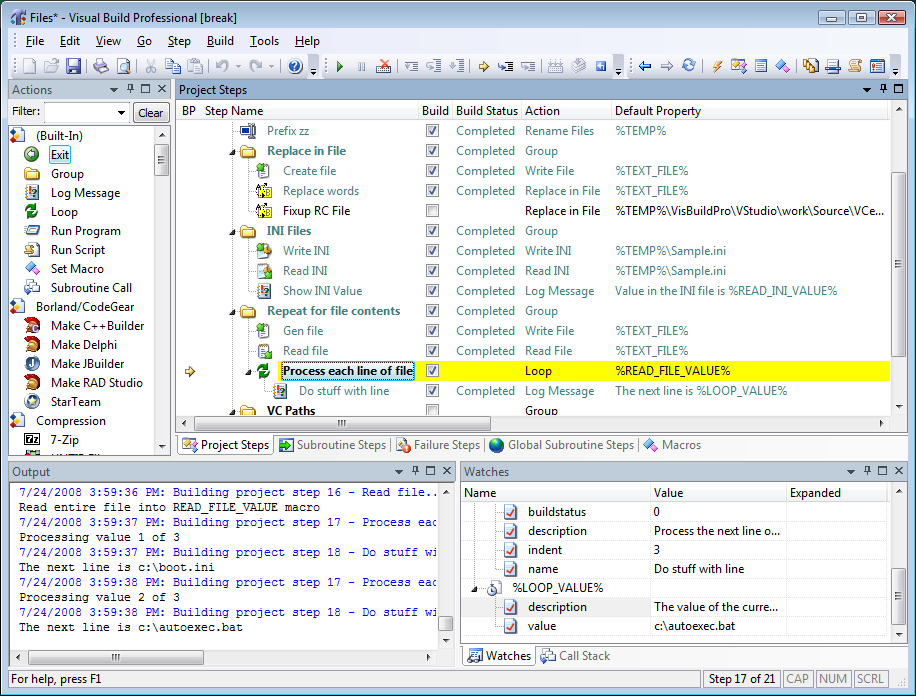 Visual Build Pro is a tool that enables developers, software process engineers, and build specialists to create an automated, repeatable process for building their software. Visual Build provides built-in support for Microsoft Visual Studio .NET/2005, Visual Studio Team System, Visual Basic, Visual C++, SourceSafe, eMbedded Tools, Borland Developer Studio, Delphi, JBuilder, C++Builder, ClearCase and more.
Mehr…
Resource Tuner Console
Version: 2.02 | Shareware (199,00 USD)
This command-line resource editor automates editing of file resources in large numbers of Windows 32 and 64-bit executable files and makes resource editing easier and faster. Using Resource Tuner Console as a post-build task is a great way of creating a repeatable process for updating the file properties: version information, strings, bitmaps, manifests and icons. This lets you make sure your application is always "face-lifted" after a build.
Mehr…
BAT 2 EXE
Version: 1.0 | Demo (29,99 EUR)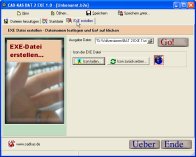 Erstellen Sie aus BAT Dateien (Batch-Stapelverarbeitungs-Dateien), ausführbare EXE Dateien. Sie können so den Quellcode gegen Veränderungen schützen und ein eigenes Icon für die EXE Datei auswählen. Ihr Script wirkt dadurch sehr professionell und lässt sich nicht mehr ohne weiteres von einem "normalen" Kommandozeilen EXE-Programm unterscheiden! Unverzichtbar, wenn Sie Ihre Scripte z.B. im Internet anbieten.
Mehr…
Dis# - .NET decompiler
Version: 3.1.3 | Shareware (399,00 USD)
The typical problem with decompilation is the absence of full source information in the executable file. Dis# is a .NET decompiler which allows you to edit local variables and other names and keep the changes in a project file. The decompiled code is similar to the original source. A trial version is available.
Mehr…
Perl Module Manager
Version: 1.2.0.18 | Freeware
Perl Module Manager hilft Ihnen bei der Installation, Deinstallation und Verwaltung von Perl-Modulen unmittelbar von Online-Sources (CPAN) unkompliziert und intuitiv
Suchen Sie nach Tausenden von Modulen in CPAN-Archiven und deren Mirrors und installieren Sie diese mit einem Mausklick. Alle notwendigen Änderungen in der Datei perllocal.pod werden automatisch vorgenommen. Keine externen Programme notwendig
Das Programm ist Freeware und bleibt so
Mehr…
JRStegano .net component
Version: 3.0 | Shareware (135,00 EUR)
Ist eine .net componente zum verstecken von Texten und Dateien in Grafiken. Diese Technik wird Steganographie genannt.
JR-Stegano erm?glicht es ganze Dateien in einer Grafik zu verstecken, ohne da? deren Qualit?t auch nur im geringsten darunter leidet.
Das Steuerelement erzeugt innerhalb der Grafik ein Filesystem. Es k?nnen beliebig viele Daten, oder Dateien angef?gt werden.
Mehr…
JRFile Viewer Activex
Version: 1.2 | Shareware (93,00 EUR)
JR-FileViewer ist eine FileList mit m?chtigen Funktionen. Sie erhalten mit minimalem Programmieraufwand eine Drive und FileList die keine W?nsche offen l?sst. Alle Funktionen sind abschaltbar, dadurch bestm?gliche Anpassung an Ihre Anwendung
Funktionen:
-DriveList und FileList mit Darstellung von Systemicons.
-Darstellungsarten Icon, SmallIcon, List und Report
-Auto Update Funktion
-Anzeige von System Verzeichnissen
und vieles mehr
Mehr…
CommentMakerPro
Version: 1.2 | Shareware (20,00 USD)
CommentMakerPro (Microsoft Visual Studio Add-In) creates fully customizable template-based class, function and file comment blocks for C++ code. The default settings of CommentMakerPro create comments that are compatible with a popular document generation tool Doxygen, which is used by many software companies. CommentMakerPro uses Visual Studio for the code analysis.
Mehr…
Virtual Serial Ports Driver XP2
Version: 2.0 | Shareware (99,95 USD)
Virtual Serial Ports Driver (VSPD) is a Windows device driver. Using it you can create any number of virtual serial COM ports in your system which will be virtually connected to each other via virtual null-modem cable
Mehr…
Resource Builder
Version: 3.0.2 | Shareware (45,00 EUR)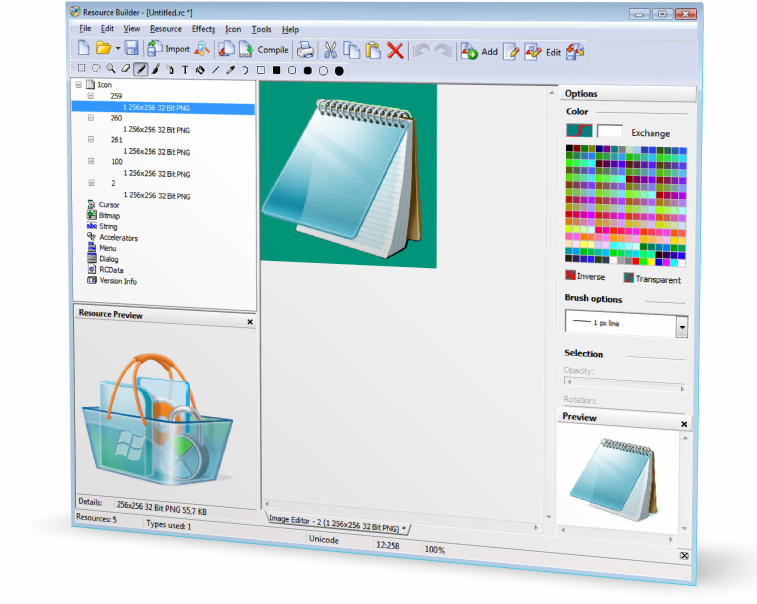 Mighty strong resource files editor for developers. Create, edit, compile and merge RC scripts to build new resource files (.res). Import resources from existing WIN32 executables and 32-bit/16-bit resource files (RES, DCR). Resource Builder supports JPEG and can perform graphics conversion to and from BMP, CUR and ICO files. Moreover, the program also allows updating resources in existing executable modules. Free trial.
Mehr…
Lingobit Localizer
Version: 7.0 | Shareware (495,00 EUR)
Lingobit Localizer ist ein Software-Lokalisierungstool, mit dem Firmen ihre Übersetzungskosten senken können, und somit die Softwarelokalisierung selbst im kleinen Maßstab günstig ermöglichen. Lingobit Localizer ist bekannt für die Vereinfachung der Softwarelokalisation unter .NET (C#, VB.NET), MFC (VC /Win32), Delphi, C Builder und bei Java-Anwendungen; kann direkt auf DLL- oder EXE-Dateien arbeiten.
Mehr…
3D Stacked Horizontal Bar Graph Software
Version: 4.1 | Shareware (49,95 USD)
Web Enabled solution for creating Stacked Horizontal Charts & Graphs. Versatile components for web authors and developers to easily build and publish dynamic and interactive bar graphs.
With a free trial and Money Back guarantee, try it out today.
Mehr…