Icecream Image Resizer
Dieses Programm wird Ihnen präsentiert von:
Icecream Apps
3, Kyriacou Matsi 3 Roussos Limassol Tower 6th floor
3040 Limassol
Cyprus
| | |
| --- | --- |
| Kategorie: | Grafik / Editoren |
| Version: | 2.10 |
| Release-Datum: | 20.05.2020 |
| Größe: | 8 MB |
| Betriebssystem: | Win XP / Vista / 7 / 8 / 10 |
| Anforderungen: | 1.33GHz processor, 512MB of RAM, 250MB of free disk space |
| Sprachen: | Deutsch, Englisch, Sonstige |
| Downloads: | 0 im Mai / 214 insgesamt |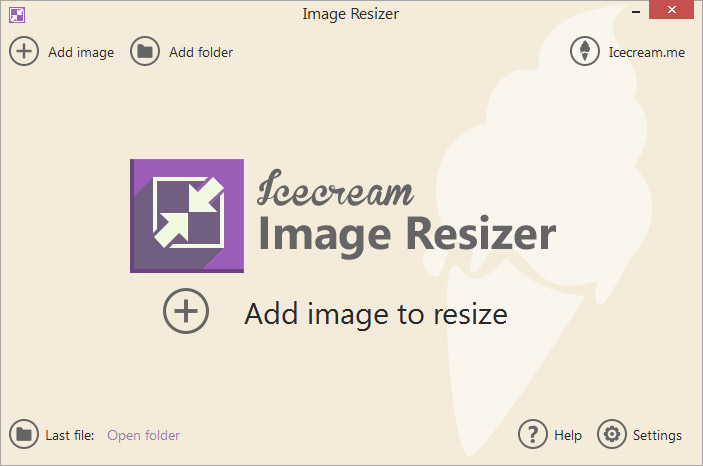 Icecream Image Resizer is a tool for changing the parameters of your photos by using custom or preset profiles. The program also features additional options to give you more control over the output files.
Batch resizing support gives you an opportunity to change several photos at a time instead of repeating the process for each single file. You can also add the entire folder to resize all the photos stored in it. The program sets no limitations for maximum files quantity and you can add and resize as many images as you want within the same session.
Users can opt for preset profiles for different tasks (email, desktop, HD 1080p, HD 720p, and 320x200, iPhone 5, 6 and 6 Plus) or set the parameters manually.
Icecream Image Resizer also allows keeping original aspect ratio to avoid breaking the original ratio and end up having a stretched image. Besides, you can enable the vertical image recognition option to work with vertical photos.
Drag and drop support helps you add files directly from where they are stored without searching for them with Windows Explorer.
Icecream Image Resizer is a smart tool that managed to combine extended capabilities, stable performance and simplicity within the same interface. The good news you do not have to pay for this application, use additional installation software or request activation keys.
Hier können Sie die Update-Infos für dieses Programm abonnieren. Sie erhalten dann zukünftig eine Benachrichtigung per Email, sobald ein Update zu diesem Programm eingetragen wurde.
Um die Update-Infos zu abonnieren, tragen Sie nachfolgend Ihre E-Mail-Adresse ein. Sie erhalten dann eine E-Mail mit einem Link, über den Sie das Abo bestätigen müssen.
Sie können die Update-Infos jederzeit wieder abbestellen. Hierzu finden Sie am Ende jeder E-Mail mit Update-Infos einen entsprechenden Link.
Dieser Service ist für Sie vollkommen kostenlos.
Kommentare zu Icecream Image Resizer
Bisher gibt es keine Kommentare zu diesem Programm.
Selbst einen Kommentar schreiben