Kategorie Grafik / Gallerie- & Katalog-Tools (Filter: Shareware)
Guck mal
Version: 16.0 | Shareware (12,95 EUR)
Guck mal stellt eine breite Palette von Funktionen rund ums digitale Bild bereit. Dabei verhilft die unkomplizierte Bedienung schnell zu professionellen Ergebnissen.
Mehr…
Photozig Albums Premium
Version: 1.0 | Shareware (39,99 USD)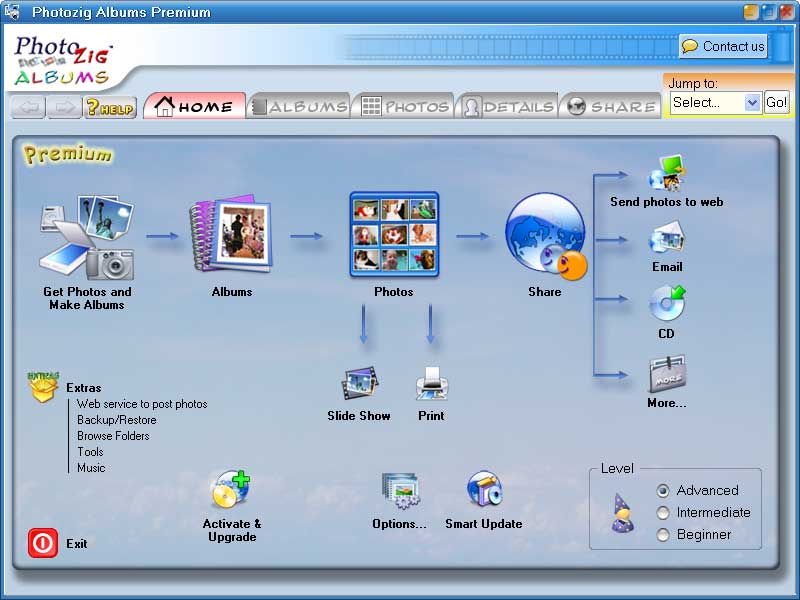 Easily copy pictures and video from your digital camera to your computer, organize into albums, and share with your family and friends. Create your own screensavers, slideshows, and publish photos to your own web page or blog (free web site included). Make web albums and email photos. Let Photozig Albums Premium make every picture look perfect with our "Quick Fix" option. Integrated backup support protects and archives your digital library.
Mehr…
MAGIX Foto Manager deluxe
Version: MX | Shareware (49,99 EUR)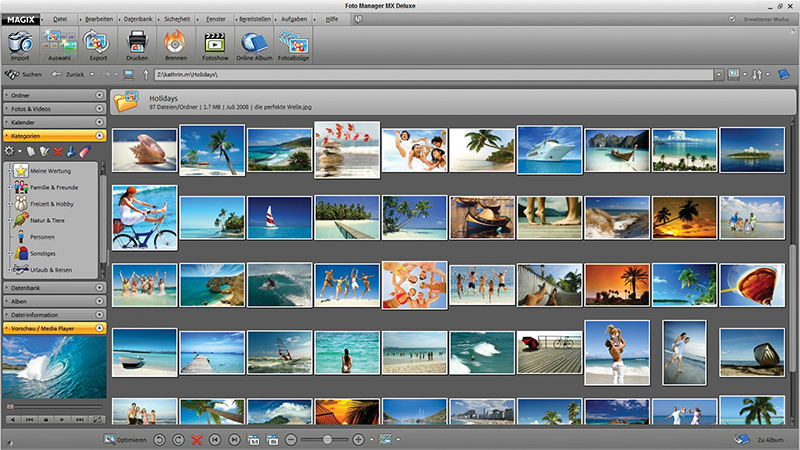 Der schnellste Weg, Ihre Bilder zu optimieren, präsentieren, verwalten und zu archivieren. Seien Sie von der Aufnahme bis zum fertigen Bild bestens organisiert! Die leistungsstarken Funktionen von MAGIX Foto Manager MX Deluxe (Version 11) erleichtern und beschleunigen alle Aufgaben rund um Ihren digitalen Fotografie-Workflow.
Mehr…
Mypikyload
Version: 1.01 | Shareware (9,95 EUR)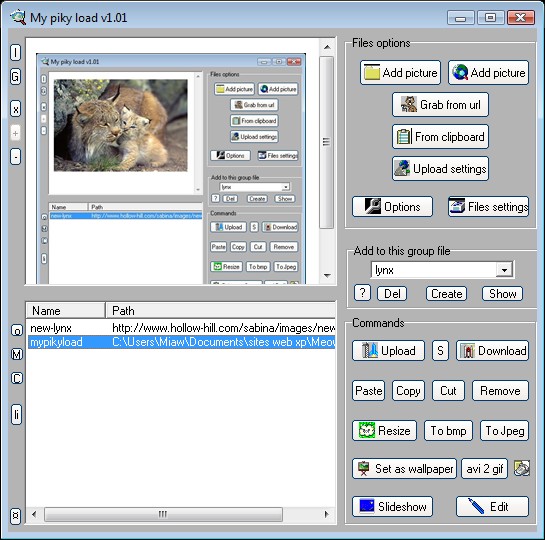 Mypikyload is a photo editor which will allow you to upload your favorites pictures in a fast way. This tool is done to manage easily these animations and pictures you're using often on the web.
It is as well a good option to convert avi files to gif, make thumbnails fast, and extract links, bookmark your wallpapers)
Customize the software with browser integration and other features.
Mehr…
Photo Sorter
Version: 1.2.0.68 | Shareware (19,95 EUR)
Pictures you can't find are JUST AS USELESS as pictures that are completely lost! So, it is important to think about a system for naming pictures and picture folders. Prograce Photo Sorter takes a fresh approach into managing your photos by re-arranging the folder structure to logical folder structure with descriptive names. Supports for EXIF, IPTC, RAW standards.
Mehr…
Pictigal
Version: 1.12.1 | Shareware (12,95 EUR)
Mit Pictigal lassen sich Bildergalerien für Internetseiten erzeugen, die sich an ein bestehendes Design bzw. Layout anpassen lassen. Bilder können sortiert und verkleinert werden. Für Übersichtsseiten werden Miniaturbilder (Thumbnails) generiert. In die Bilder können Copyright-Hinweise und Logos eingefügt werden, auch als durchscheinende Wasserzeichen. Schließlich werden alle nötigen HTML-Dateien erzeugt. Mit Funktion zum Erstellen von Collagen!
Mehr…
CatStudio Catalog Publishing Software
Version: 3.2.2 | Shareware (92,00 USD)
CatStudio provides a features-rich environment to create Product Catalog in HTML, Movie or PDF format. Besides the product information, it allows to add different types of content, includes: Flash animation, images, text, and others. The Web Catalog generated can be burnt into CD directly as an autorun HTML CD. The movie catalog output can be converted to VCD format easily. The PDF catalog is a portable output, which can be distributed freely.
Mehr…
Pics Organizer
Version: 1.6 | Shareware (9,99 USD)
If you feel lost in too many pictures, then Pics Organizer may assist you to organize on hard disk and prepare for store on your preferred media your collection of photos acquired with a digital camera. Bulk resize,find duplicates, advanced exif filters, batch rename photos files, create folders and subfolders, move or copy pictures to auto created organized folders structure, are just a few features that makes Pics Organizer a very powerful tool
Mehr…
ReaGallery - HTML photo album generator
Version: 3 | Shareware (24,95 USD)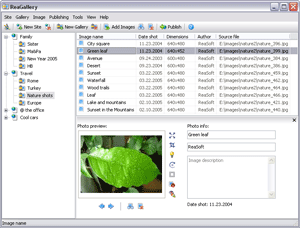 ReaGallery is a powerful and easy-to-use tool for creating great looking web albums with just a few mouse clicks.
ReaGallery now provides photo editing functionality - most popular image effects, including transparent watermark and red eye correction tools. Plus intuitive organizing and sharing capabilities.
Mehr…
CoffeeCup Photo Gallery
Version: 6.0 | Shareware
CoffeeCup Photo Gallery is an easy-to-use photo gallery creator for your Website. It supports all major image formats, including GIF, JPG, PNG, BMP, and more. And guess what: no HTML or Flash knowledge is required! Simply point the program to photos on your computer, and you're all set. Photo Gallery will automatically optimize your images and upload them with sliding thumbnails.
Mehr…
Collectorz.com Photo Collector
Version: 2.0 | Shareware (39,95 EUR)
Catalog your digital photo files automatically, just let Photo Collector scan your harddisk for images. Acquire images directly from your camera or removable media (memory cards). Catalog photos by Location, Event, Category, Subject, Keywords, etc... then browse the photo album to view images and create full-screen slideshows. Edit and print photos, export your album to HTML for sharing them online. Read/write EXIF&IPTC.
Mehr…
PicaJet FX
Version: 2.6.5 | Shareware (49,95 EUR)
PicaJet Photo Organizer ist eine Bilddatenbank, in die bequem Bilder aus verschiedenen Quellen importiert und detailiert archiviert werden konnen. Eine Ubersicht mit Thumbnails bietet einen schnellen Uberblick uber den Datenbankinhalt. Die Bilder konnen nach Rating, Jahr, Importdatum oder einfach in einer Ordner-Ansicht lokalisiert werden. In der linken Spalte befinden sich die Kategorien, die Sie angelegt haben.
Mehr…