Kategorie Grafik / Screen Capture
Jet Screenshot
Version: 3.1 | Freeware
Jet Screenshot ist ein tolles Programm, mit dem ihr in wenigen Sekunden Screenshots via Internet mit anderen teilen könnt. Es erlaubt euch, schnell einen Bildschirmschnappschuss anzufertigen, ihn zu bearbeiten und ins Web zu stellen, so dass ihr sofort einen Link zu dem gerade gefertigten Bild anderen zur Verfügung stellen könnt.
Mehr…
Screencorder
Version: 5.054 | Shareware (289,00 USD)
ScreenCorder 5 captures and records all your desktop activity in minutes - ideal for creating training and support videos or powerful demonstrations! Enhance recordings with step-by-step audio instructions and graphic speech bubbles. Easily correct audio and video or add new material to existing recordings. Adding one or more webcam (PIP) recordings will help you personalize your video. Export to multiple video formats including WMV and Flash(R)!
Mehr…
Xilisoft DVD Snapshot for Mac SE
Version: 1.0.28.0821 | Shareware (20,00 EUR)
Xilisoft DVD Snapshot for Mac SE ist ein einfaches u. vielseitiges Bilder Snapshot Tool für Mac-System, mit dem man Bild einzeln oder Bildergalerie aus DVD u. DVD-Ordner erzeugen kann. Nicht nur normale Snapshot können Sie als JPEG, PNG, GIF und BMP usw. speichern, auch Bilder in Animation oder HTML Seite exportiert das Programm ohne Probleme. Bei den vielen Einstellmöglichkeiten ist es praktisch, dass Sie die Bilder nach Ihren Wunsch erfassen.
Mehr…
1AVCenter
Version: 2.4.0.10 | Shareware (75,95 EUR)
1AVCenter ist ein Medium Programm, das erlaubt Sie dazu einzufangen, Satz, Rundfunksendung und Anteil Audio,Video und Fotos, überwachen Sie den webcam oder den Desktop während Ihrer Abwesenheit, Griff überprüft Schüsse und eine Menge mehr. Es ist eine perfekte Wahl für einen Medienbenutzer.
Mehr…
ACA Capture Pro
Version: 5.60 | Shareware (39,95 USD)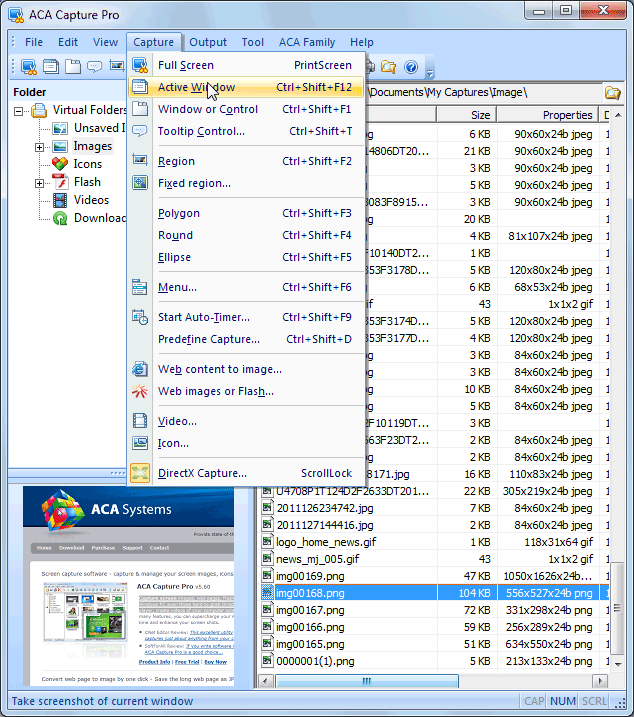 ACA Capture Pro is an award-winning screen capture software. It captures screen from desktop programs and even those hard-to-grab DirectX, Direct3D mode games, and it have many enhanced features: capture all flash files from web page, create videos of your computer screen, capture any icons whatever from a file, a directory, or whole harddisk on your computer. More info, vist: <a href=http://www.acasystems.com > http://www.acasystems.com </a>
Mehr…
Captus
Version: 3.01 | Shareware (19,99 USD)
Captus ist eine elegante und handliche Schirmgefangennehmensoftware mit schneller Nachbearbeitung der gefangengenommenen Bilder. Vollständigen Schirm, Fenster, Schirmregionen gefangennehmen. Cursor, Schatten, Rand und andere Effekte addieren. Heißschlüssel für unterschiedliche Sicherung Drehbücher verwenden. Nachbearbeitung Effekte werden am Bild nach Sicherung wird getan und kann im Captus Graphikeditor geändert werden angewendet.
Mehr…
GetColor! - Color Picker
Version: 1.01 | Freeware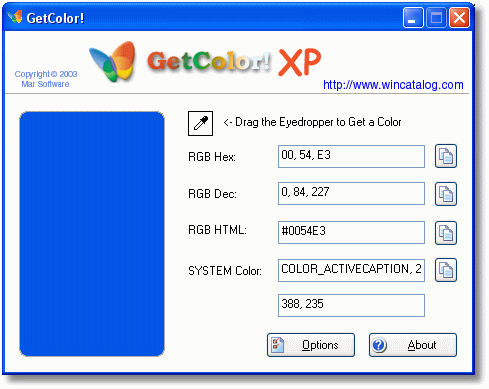 GetColor! allows you to retrieve the color of any pixel on your desktop easily: just move the eyedropper tool into any place of your desktop and GetColor! will show you the color value!
This handy color-picker tool helps you to know the exact value of any color on your desktop. The color value is diplayed in 4 main forms: RGB, HEX, HTML and WinAPI constant (COLOR_*), and you are able to copy one or all of them to clipboard.
Mehr…
HauteCapture
Version: 2.1 | Shareware (39,00 EUR)
Mit HauteCapture wird das Erstellen von Bildschirmabzügen zum Kinderspiel: Sie benötigen nur eine aktive ActiveSync-Verbindung zwischen PC und Gerät. Starten Sie HauteCapture und machen Sie Ihre Screenshots. Die aufgezeichneten Bildschirme befinden sich anschließend dort wo Sie sie benötigen - auf Ihren PC! Speichern Sie sie in eine Datei oder fügen Sie sie ein in eine Applikation Ihrer Wahl (Textverarbeitung, HTML-Editor, Email-Programm, ...).
Mehr…
Easyscreen
Version: 3.15 | Shareware (18,95 USD)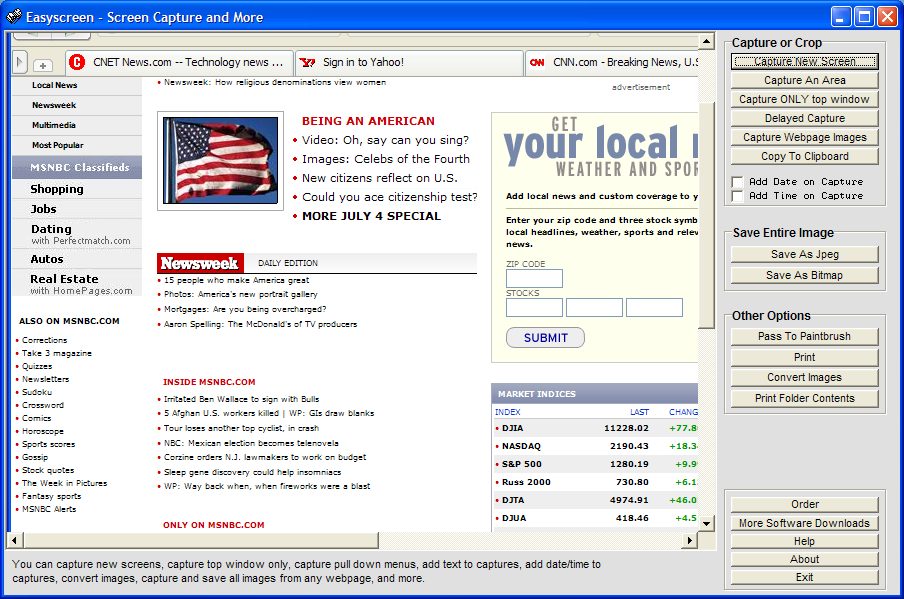 Capture and save any screenshots, pictures, or text on your computer, capture parts of screens, convert images to JPEG images, download all images from any website, embed text messages directly into images, add date/time to your capture, and print any screen. You can also capture pull down menus on other applications, use delayed captures to capture screensavers, capture and convert images to grayscale, and convert an entire folder of images.
Mehr…
Screen Capture + Print
Version: 1.20 | Freeware
Screen Capture + Print ist ein Freeware-Programm für Windows? und kann den Inhalt des Bildschirms oder eines Teilbereiches davon in die Zwischenablage kopieren, direkt ausdrucken oder als Bild abspeichern.
Mehr…
VMN Toolbox
Version: 4.25 | Freeware
VMN Toolbox is a lightweight application that provides you with handy utilities designed to make your life easier on the Web. Screen Capture Tool: Capture anything on your screen in a snap. Sticky Notes Tool: Place sticky notes anywhere on your desktop. Color Picker Tool: Capture a fancy color on your screen. Magnifier Tool: Just select your magnification at 2x, 4x, 8x, and even 10x. Virtual Rulers:Quickly measure anything on your screen
Mehr…
Capturemation
Version: 3.01 | Shareware (39,00 USD)
Do you need to capture a screenshots series according to a certain scenario? What if you have to make dozens (or hundreds) of screen captures? Ever need to add a screen capture ability to your application, written on Visual Basic, C++, Delphi? Are you using batch files to automate the routine tasks and wish you could add a "screen capture" command to your .bat files? Capturemation is here now.
Mehr…