Kategorie Grafik / Sonstige (Filter: Shareware)
Fotowerkzeuge 2
Version: 2.1 | Shareware
Unsere Fotowerkzeuge bieten Ihnen eine umfassende Fotoverwaltung mit zahlreichen Funktionen und Filtern zur Bildbearbeitung. Häufig wiederkehrende Aufgaben lassen sich komfortabel erledigen, wie das Importieren von Fotos von einer Kamera, einer Speicherkarte oder einer CD/DVD oder das Umwandeln mehrerer Bilder auf einmal. Die Fotowerkzeuge können auch von einem USB-Stick aus auf verschiedenen PCs eingesetzt werden.
Mehr…
ClickCharts Pro Edition
Version: 2.15 | Shareware (49,99 USD)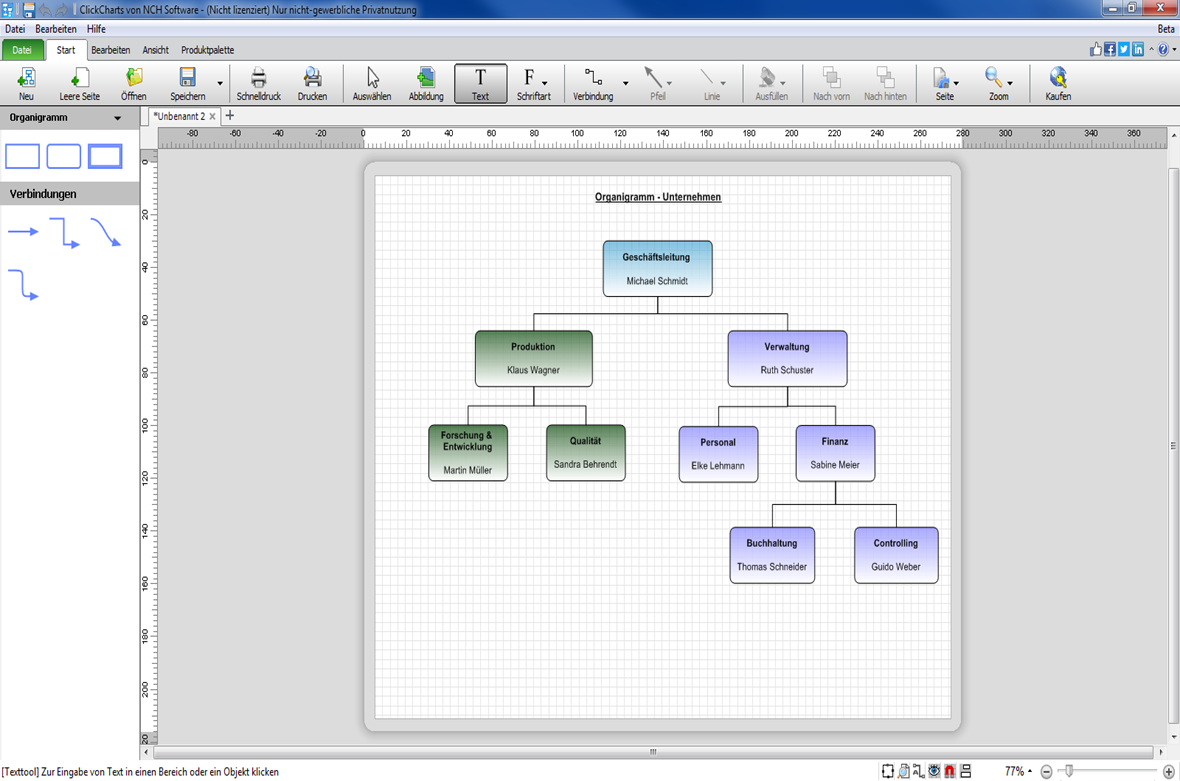 Mit der ClickCharts Pro Edition k
Mehr…
Sib Mobile Imager
Version: 2.01 | Shareware (16,95 EUR)
Sib Mobile Imager will benefit anyone who wants to expand the picture collection on a cell phone. Using this powerful utility you can transfer images you like to any mobile. Sib Mobile Imager supports various connection types, including Bluetooth, IRDA and WAP. It can also cut out a picture fragment to fit it to the size of your phone's screen, supports animated GIF files and converts images to various formats, including JPEG, BMP, WBMP and GIF.
Mehr…
ImageIron
Version: 2.10.0 | Shareware (69,00 EUR)
ImageIron kann Abbildungsfehler von Digitalkameras mit höchster Präzision erfassen und entfernen (Verzeichnung, Vignettierung). Deutliche Aufwertung von Aufnahmen mit Billig-Objektiven. Automatische Berechnung der Kalibrationsparameter anhand von Kalibrationstafel-Aufnahmen. Daher geeignet für alle Kameras und Objektive. Stapelverarbeitung durch EXIF-Unterstützung (inkl. 16 Bit). Mit zusätzlicher Lizenz Analyse der Kalibrations-Daten möglich.
Mehr…
ADG Panorama Tools Pro
Version: 5.4 | Shareware (99,00 USD)
ADG Panorama Tools Pro combines a series of individual photos. Panorama automatically aligns, stitches images together to form High Quality panoramas and even creates a web page for you in seconds. No plug-ins required. ADG Panorama Tools supports ADG, QTVR, JPEG output formats, TWAIN-32 import from scanners and digital cameras. Javascript control enabled. Contains Hotspots GUI for Virtual Tour creation. Batch Processing supported.
Mehr…
Cardio Calipers
Version: 3.3 | Shareware (49,50 USD)
The Cardio Calipers from Iconico.com provide a fast and accurate way to measure electrocardiograms on a computer screen with pixel perfect accuracy.
The Cardio Calipers allow measurement of any EKG, no matter what format the EKG image is in. Simply open up your EKG in any image viewer application and move the Cardio Calipers into place with the mouse.
Mehr…
TimeToPhoto
Version: 2.6 | Shareware (29,95 USD)
Most digital cameras don't add datestamps to digital photos. TimeToPhoto helps you to see the date and time when you snapped your photos. TimeToPhoto allows you to add datestamps or memory labels to selected photos with one mouse click.
Mehr…
CD Label Designer
Version: 7.0.1 | Shareware (19,95 USD)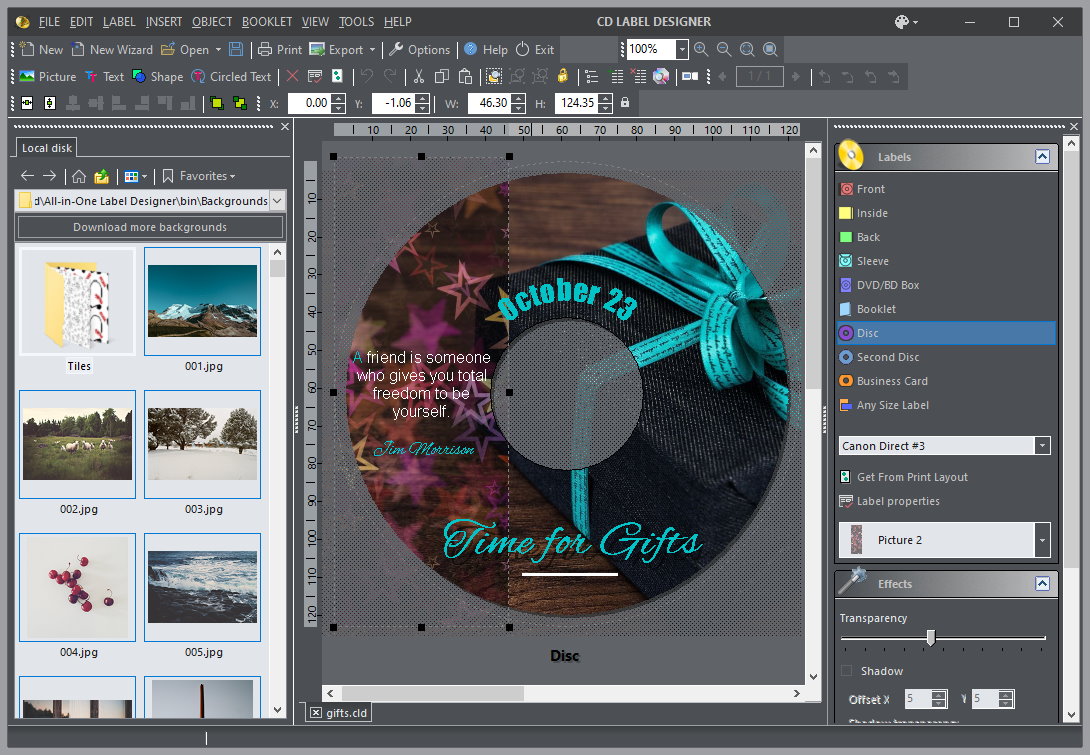 CD Label Designer is application that will help you to design and print CD jewel case and DVD box labels, booklets, sleeves/envelopes, round and business card disk labels. It supports images, RTF, circled texts and shapes allowing you to arrange, change size, angle and transparency of objects. You can read directory and file structure, CDDB audio CD database or define own lists to include them on labels, and you can customize printout positions.
Mehr…
ADG Panorama Tools
Version: 5.3 | Shareware (39,99 USD)
Zum Erstellen und Anzeigen von 360-Panoramen. Als Quelle dient dem Programm eine beliebige Anzahl von Einzelbildern, die zu einem klassischen Panorama zusammengesetzt werden. Als besonderes Feature bietet das Tool die Moglichkeit, interaktive 360 Grad-Bilder zu erstellen. Allerdings benotigen diese Bilder die Installation des ebenfalls kostenlosen ADG Java Viewer. Der Viewer erlaubt die Prasentation von interaktiven Prasentationen im Internet.
Mehr…
PhotoEchoes
Version: 3.10.3 | Shareware (24,50 EUR)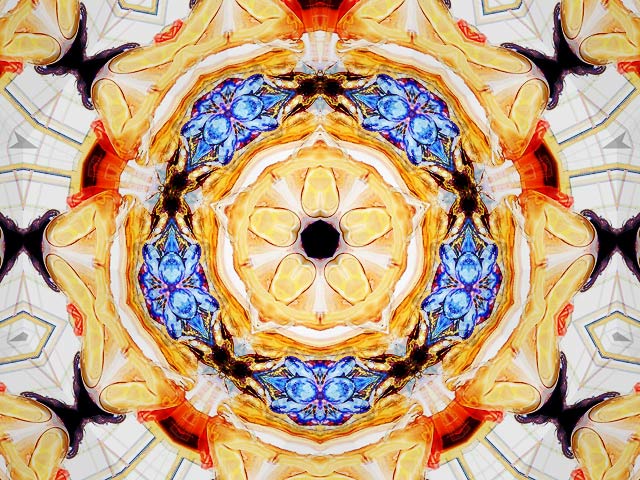 PhotoEchoes is a digital Kaleidoscope that generates awesome animated images based on photographs stored in your computer. It can run as a stand alone program (windowed or full screen) or as a screensaver. With the ability to capture and save at high resolution the images and tileable patterns it creates either to a file or directly as the Desktop Wallpaper. Also with Video recording produces AVI files for other devices (tv sets, phones)
Mehr…
PDF Create
Version: 3 | Shareware (49,00 USD)
PDF Create! is the fast, reliable and affordable way to turn all of your PC documents, drawings and images into industry-standard PDF files. Now you can instantly create PDF documents that are compact and easy to e-mail, can be universally viewed on the Web, and that print just as if they came from the original application. PDF Create! also gives you all of the advanced features you need, including compatibility with all PDF file types.
Mehr…
SF Karte
Version: 6.00 | Shareware (9,90 EUR)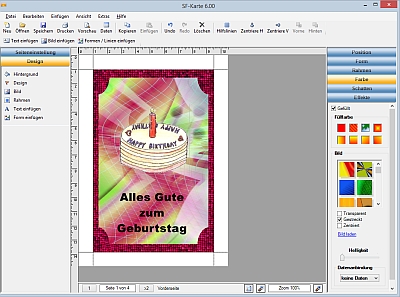 SF Karte druckt verschiedene Arten von Glückwunschkarten, Urkunden, Schilder etc. Mit wenigen Klicks werden anspruchsvolleKarten erstellt. Für eine professionelle Nachbearbeitung stehen komfortable und umfangreiche Funktionen zur Verfügung. Die Karten können auch als Bilddatei oder Mail exportiert werden.
Mehr…