Kategorie Grafik / Viewer (Filter: Freeware)
Coolutils EPS Viewer
Version: 1.0 | Freeware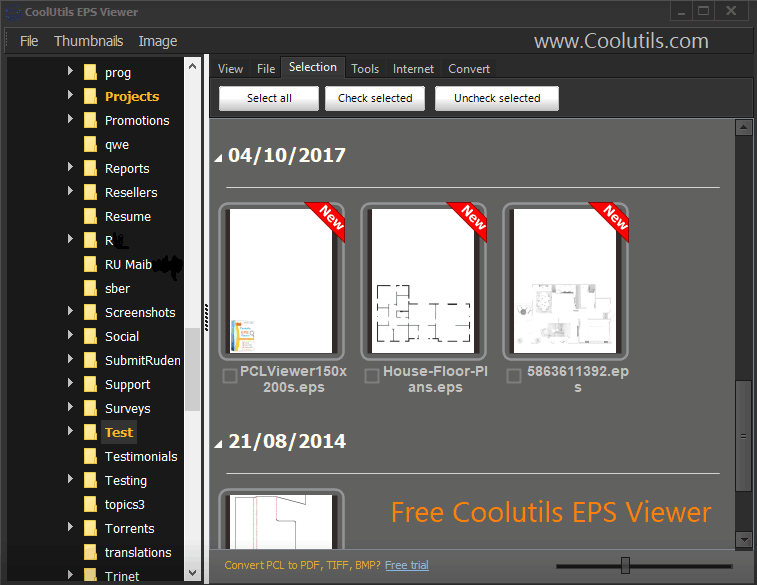 Can't open EPS files? Try a new free EPS viewer from Coolutils. It deals with EPS files fast. One file or a hundred of them in several folders, you will get acces to all of them. View EPS files absolutely free! CoolUtils EPS Viewer helps you to view your EPS files with with just a click of a button without having to make any unnecessary compromises on file. Download your copy now.
Mehr…
Diji Album Viewer
Version: 7.0 | Freeware
Software for displaying Diji Album files (*.alb). Diji Album files can be created with the Diji Album Editor, free download at http:/www.xequte.com/dijialbum/index.html Diji Album files resemble real photo albums and are just as fun and almost as easy to create.
Mehr…
WIDO Bildbetrachter
Version: 2.7 | Freeware
WIDO Bildbetrachter. Maximum Comfort bei Minimum Bedienung. JPG, GIF und andere Formate. Zeitgesteuerte Diashow. Vergr?ssern, Verkleinern, Verschieben. Direktes Kopieren in andere Verzeichnisse. Direktes L?schen. Setzen von Bildern als Desktop-Hintergrund, schnelles Verlassen mit ESC-Taste. Mausrad - Unterst?tzung. Start mit einem Parameter (Verzeichnis) m?glich. Beim Speichern von bmp die Konvertierung von bmp in jpg m?glich.
Mehr…
i-Fun Viewer
Version: 8.0 | Freeware
i-Fu. Other features include: Ability to assign text descriptions to images, Twain Scanner and digital camera support
Mehr…
Metainfoviewer
Version: 1.0 | Freeware
Jede moderne Digitalkamerakamera schreibt Informationen ?ber technische Details eines Fotos wie Blende, Belichtungszeit etc.aber auch andere Informationen wie Digitalisierungsdatum und vielses mehr in die JPG-Datei. Das Programm Metainfoviewer erm?glicht das Auslesen und Anzeigen dieser IPTC- und EXIF-Daten in JPG-Bildern.
Mehr…
XnView
Version: 2.42 | Freeware
Mit XnView k?nnen Sie schnell und komfortabel Fotos und Bilder betrachten, bearbeiten und konvertieren. Das Programm liest mehr als 400 Dateiformate, darunter JPG, GIF, PNG, BMP, TIFF, MPEG und viele andere mehr.
Neben Bildbetrachtung und Bildbearbeitung mit zahlreichen Effekten bietet XnView au?erdem Features wie die Erstellung von Webseiten, Kontaktabz?ge, Stapelverarbeitung, Dia-Shows, Fotoalbum auf CD, Bildschirmabz?ge und Twain-Support.
Mehr…
PRIMA Pure Image Display
Version: 2.0 | Freeware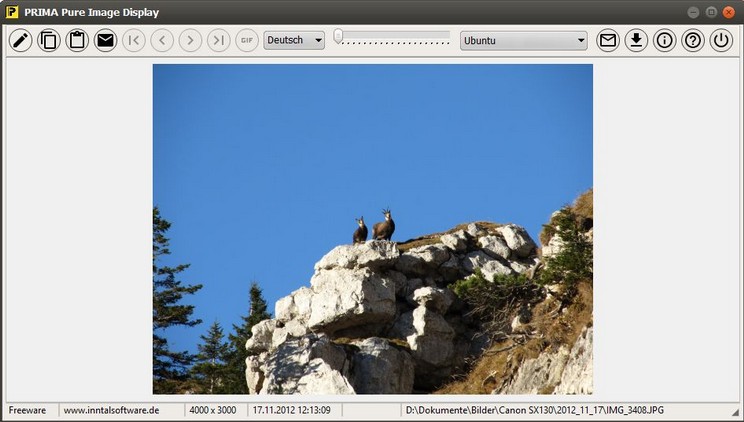 Ein schneller, reiner Bildbetrachter, portabel nutzbar. Benutzerunabhängige Einstellungen.
Mehr…
PDF Previewer for Windows 10
Version: 1.02 | Freeware
The free PDF previewer enables Windows 10 users to see the contents of a PDF document without opening it. When you're looking for a PDF file or you just need a bit of information from one, to preview PDF documents in a fast preview window is easier than opening files. Simply browse and click on any PDF document, and its content is shown in the preview pane of Windows Explorer or Microsoft Outlook. PDF preview in icon level is also available.
Mehr…
Classic PDF Reader for Windows 10
Version: 1.01 | Freeware
Open and view two or more PDF files side by side, and convert PDF to TXT, BMP, JPG, GIF, PNG, WMF, EMF, EPS, and TIFF for free. Snip your desired text or graphics out of PDF document. Classic PDF Reader lets you feel home just the same way as you read PDF documents on Windows 7. As an alternative to Microsoft PDF Reader or Adobe Reader, Classic PDF Reader is extremely fast and responsive when you scroll your mouse between PDF pages on Windows 10.
Mehr…
PRIMA Image Racer
Version: 4.0 | Freeware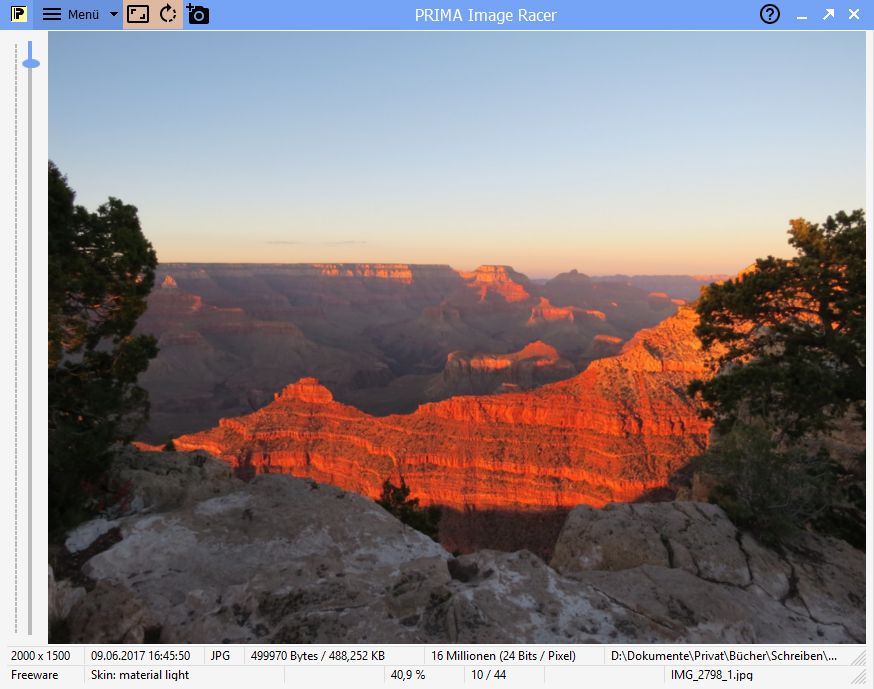 Ein kleiner, flotter Bildbetrachter, der auch portabel nutzbar ist mit minimalem Funktionsumfang. Die wichtigsten Funktionen: Einzelbildanzeige, Anzeige aller Bilder eines Ordners als Thumbnails mit Vorschau, Speichern-unter-Funktion mit Formatänderung (z.B. aus .tif in .jpg), Bilder als Mailanhang versenden, Bilder in die Zwischenablage kopieren, animierte Gif-Dateien abspielen, Bilder drehen oder spiegeln, Farbbilder in Grautonbilder umwandeln
Mehr…
ORPALIS Virtual Barcode Reader
Version: 1.0.4 | Freeware
The ORPALIS Virtual Barcode Reader makes your bacode scanning processes simpler!
Mehr…
Small Object Viewer
Version: 5.9 | Freeware
Small Object Viewer (SOV) is a useful utility for both novices and professionals working in the graphics API Direct (X) environment. The program is able to view some of the formats of 3D models popular among game developers, such as X, 3DS, DBO and MDL (2,3). The program enables you to change the texture of the object, adjust the lighting in the scene and to determine how best to configure the object to export it to the game.
Mehr…