Kategorie Kommunikation / E-Mail Clients
BirthdayMailer Standard
Version: 3.60 | Freeware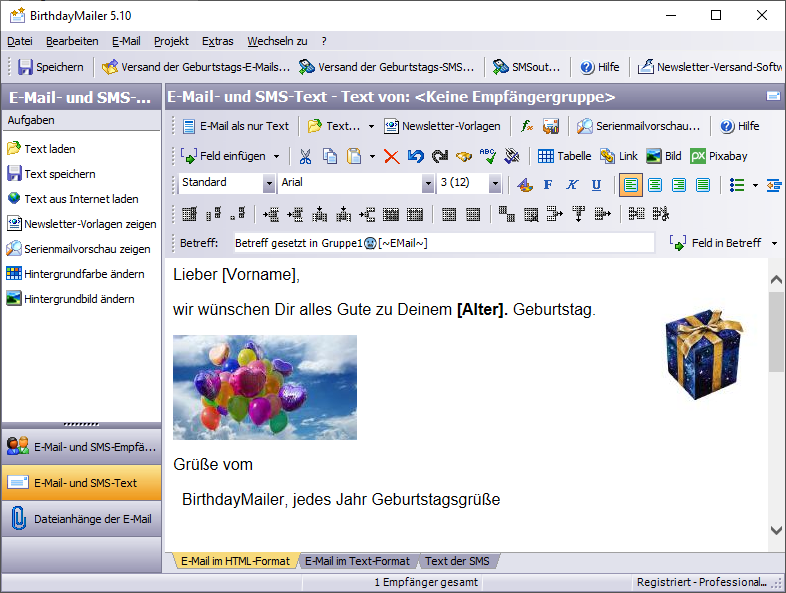 Die Software kann vollautomatisch personalisierte Geburtstags-E-Mails/SMS im Text- oder HTML-Format inklusive Bildern, Sounds und Dateianhängen am Geburtstag des Empfängers versenden. So kann niemals der Geburtstag von Freunden, Bekannten und Kunden vergessen werden. Der Import der Empfängerdaten ist aus verschiedenen Quellen leicht möglich. Für den Versand der Nachrichten verwendet es einen SMTP-Server, Microsoft Outlook oder einen MAPI-Client.
Mehr…
WikMail
Version: 1945 | Shareware (39,95 EUR)
Wikmail ist Kompatibel mit POP3, SMTP, IMAP4, WebMail Konten. Untertuezt HTML-Mails. Mit Spam-Erkennung, digitale Signatur und Verschlueselungs- funktion. Eine weitere Besonderheit stellt das Starcenter dar, von dem aus auf die wichtigsten Funktionen einschliesslich dem Abrufen von Mails zugegriffen werden kann, ohne gleich das gesamte Programm zu oeffnen. Neben dem Mail- Versand und -Empfang enthaelt das Programm eine Ordnerveraltung.
Mehr…
MAPILab NNTP for Outlook
Version: 1.50 | Shareware (24,00 USD)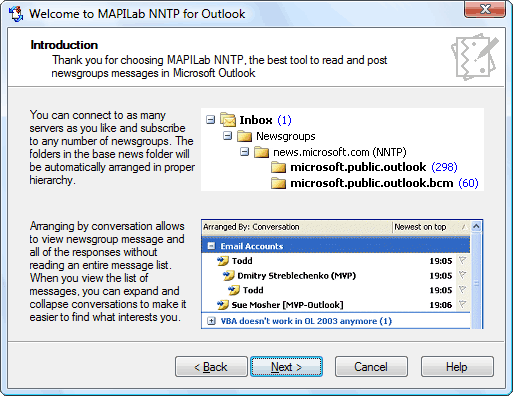 MAPILab NNTP allows you to read and post to newsgroups from Microsoft Outlook. This product is a MAPI transport. This means that a news server account works the same as an account for Exchange Server or POP3/SMTP, supports remote mail headers and is managed through the Send/Receive menu. Supports all formats (plain text, RTF, HTML) and encodings which are supported by Outlook; public folders and newsgroups sharing.
Mehr…
Contacts Clinic for Microsoft Outlook
Version: 3.0 | Shareware (49,00 USD)
Update MS Outlook Contacts Automatically without manual typing,and in 3 steps, saving great deal of time and manual effort. Users can extract emails from Internet Explorer (IE) webpages and add to Outlook Contacts, Extract emails from Outlook mails, Scan bounced emails and remove invalid Contacts, Remove duplice Contacts,Import Mass emails, Backup Contacts. Contacts Clinic is 100% Risk Free,because it involves no 3rd Party data handliing.
Mehr…
Rich Mailer
Version: 3.1 | Shareware (69,00 USD)
Maintain subscribal mailing lists and broadcast personalized email messages with Rich mailer. Easy and fast subscription based email mass mailer. This mass mailer is handy for various internet professionals and on-line store owners to notify their customers of significant events or promote new products. Almost no configuration is necessary. It can either works directly with the mailing boxes or via outgoing server.
Mehr…
FastTrack Mail Light
Version: 8.80 | Freeware
FastTrackMail bietet umfangreiche Möglichkeiten der Filterung und Bearbeitungsmöglichkeiten für einlaufende Korrespondenz und Anfragen, bereitet Eingangs- und Ausgangsarchive gibt die Möglichkeit von personalisierten Mitteilungen für eine grosse Zahl von Empfängern.
Mit Hilfe dieser Software ist es möglich, grosse Gruppen von Empfängern ebenso einfach zu erreichen, wie eine einzelne Adresse.
Mehr…
Turbo Email Answer & Autoresponder
Version: 2.1.20 | Shareware (24,90 EUR)
Diese Software beschleunigt die interaktive E-Mail-Beantwortung mittels intelligenter Textbausteine. Der eingebaute selektive Auto-Responder ermöglicht ebenso automatische Antworten, Weiterleitungen und Filterungen. TEA reduziert die Kosten für E-Mail-Support erheblich und optimiert die gesamte E-mail-Kommunikation mittels fein abgestufter Automatisierungsmöglichkeiten. Unterstützt MS Outlook, Outlook Express, MAPI, direktes POP/SMTP, IMAP u.a.
Mehr…
Mail Commander Pro
Version: 10.61 | Shareware (119,95 USD)
Mail-Commander Pro ist ein superschnelles E-Mail Programm mit allen erforderlichen Funktionen - vom täglichen Versenden und Empfangen von E-Mails bis zur Verwaltung von Mailinglisten und Kundenanfragen. Eine Auto-Antwort Funktion ist inbegriffen. Sie erstellen einfach eine Regel und wenn eine eingehende Mail darauf zutrifft, erzeugt Mail Commander automatisch eine Antwort.
Mehr…
RSS Captor
Version: 3.05 | Shareware (19,95 USD)
RSS Captor is an easy-to-use RSS client that allows you to receive and manage news feeds in a searchable database. It can check your feeds automatically and notify via sound when new items arrive. Watches, a special filtration mechanism, can filter messages you are interested in and put them into special folders. Newsbins allow to store your favorite message. To simply read full versions of articles you can use user-friendly tabbed web browser.
Mehr…
Febooti Command line email
Version: 5.2 | Shareware (89,00 USD)
Utility to send email from command prompt; send attached files, SSL encryption, SMTP authentication type auto detection, EML file support, plain text or HTML (with embedded pictures). Supported - TO, CC (Carbon Copy), BCC (Blind Carbon Copy), alternate text for HTML messages, message text encoding. Works on Microsoft Windows (98 / Me / NT / 2000 / 2003 / XP / Vista / Windows 7 / 2008).
Mehr…
Public SyncTool
Version: 1.2 | Shareware (38,94 EUR)
Public SyncTool: Synchronisation in Outlook zwischen Notebook und PC. Public SyncTool unterstützt die konstante Synchronisation von Kalendern, Terminen, Mails, Kontakte und Aufgaben. Zwischen einem PC und einem Notebook direkt in Outlook, inklusive einer Konfliktabfrage, wenn beide Seiten (PC und Notebook) des gleichen Eintrags geändert worden sind, oder wenn Sie Einträge gelöscht haben.
Mehr…
Atomic Mail Sender
Version: 8.55 | Shareware (69,85 EUR)
Atomic Mail Sender is a feature-rich mass mailing and corporate broadcast software capable of sending of unlimited number of e-mail messages to unlimited number of recipients within very short period of time. The amazing speed is achieved by utilizing every existing bit of your Internet connection via multiple threads delivery technology. Messages are delivered using the built-in SMTP server that connects directly to recipients' mail service!
Mehr…