Kategorie Kommunikation / Telefon
Voicent Predictive Dialer
Version: 9.0.5 | Freeware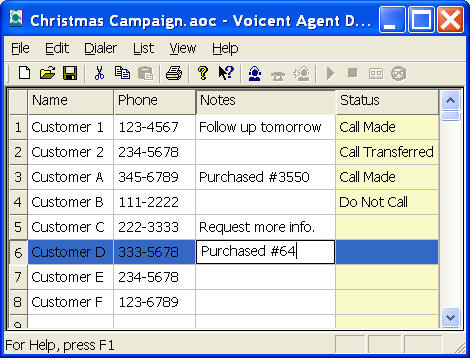 Voicent Agent Dialer is a predictive dialer and a semi auto dialer combined. It assists marketing or sales agents for telemarketing campaigns. Agent Dialer supports SIP based VOIP, Skype, and traditional phone services. Automatic dialing can play audio messages, transfer calls, and record conversations, all by the press of a key. It helps you to generate leads, reduce work load, save your voice, and increase productivity.
Mehr…
easyvoiprecorder
Version: 1.2 | Shareware (19,99 USD)
EasyVoipRecorder Its a small computer application to record VOIP softphones conversations.This is a Skype Recorder, Google Talk Recorder, VoipCheap Recorder, VoipStunt Recorder,VoipBuster Recorder, 12Voip Recorder, Yahoo Messenger Recorder, MSN Live Messenger Recorder,Xten Recorder, X-lite Recorder, Firefly Recorder tool.Its the perfect tool for record store, organize and share yours voip conversations.
Mehr…
3CX Phone FREE VoIP Phone
Version: 4.0 | Freeware
Free VOIP / SIP phone (softphone) for Windows. Use your PC as a phone. Works with popular VOIP providers and SIP PBX's (including 3CX Phone System). The interface is easy to use and similar to that of popular Smartphones. 3CXPhone is compact and easy to install across a network. Features include Call Transfer, Call Recodrding, Hold, Headset support, Call History. Full version, not a lite version! Free download from http://www.3cx.com
Mehr…
AsnomTAPIduo
Version: 1.12.02.01 | Shareware (19,99 EUR)
COMIREL bietet TAPI Service Provider für bis zu 2 SNOM VoIP Telefone. Folgende Dienstleistungsmerkmale werden unterstützt: Anwahl - Annehmen - Beenden - Makeln - Halten - Wiederaufnahme - 3er Konferenz - Nachfragen - Verbinden - Weiterleitung nach Bedingung. Alle aktiven VoIP Profile werden als TAPI Lines zur Verfügung gestellt. Stellt die Anbindung an das Tool ActiNOTIFY (Groupware Integrat) zu Verfügung. SNOM Firmware V8
Mehr…
Express Talk Kostenloses VoIP-Softphone
Version: 4.32 | Freeware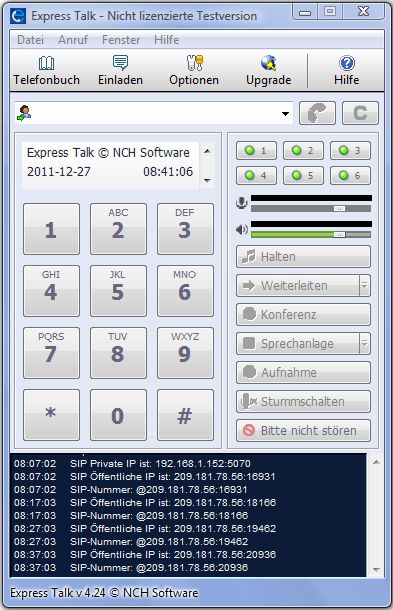 Express Talk ist ein Programm, das wie ein Telefon funktioniert, damit Sie von Ihrem PC aus telefonieren können. Mit Express Talk können Sie jede Person im Internet anrufen, die Express Talk installiert hat (oder jedes andere SIP-VoIP-Softphone). Anrufe sind kostenlos. Sie können auch gewöhnliche Telefonnummern überall auf der Welt anrufen, wenn Sie sich bei einem Gatewaydienst registrieren. Mit den meisten großen VoIP-SIP-Anbietern kompatibel.
Mehr…
TRx Professional Phone Call Recorder
Version: 4.33 | Shareware (57,96 EUR)
TRx is a personal phone line recorder program for Windows. TRx lets you manually record telephone calls on a phone line connected to the voice modem (or other telephony card) of your computer.TRx also works as a caller number ID display system and lets you put calls on-hold (and plays on-hold music and messages).
Mehr…
Quorum Pro Call Conference Software
Version: 2.03 | Shareware (100,72 EUR)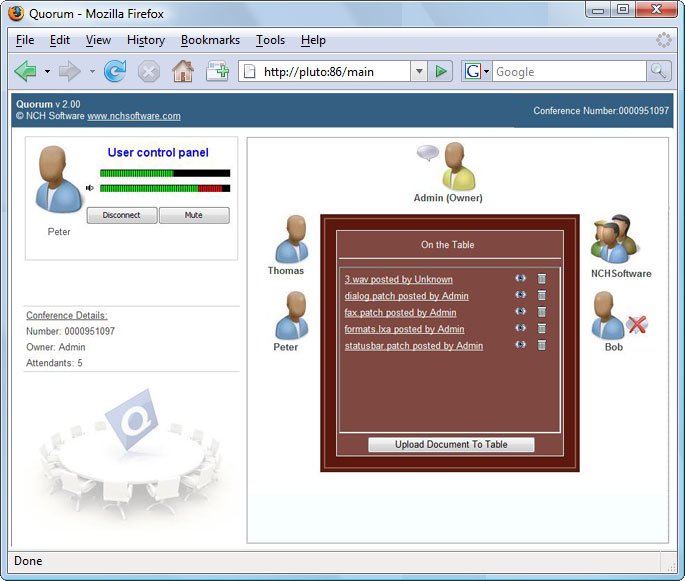 Quorum is software which runs as a phone conference server on any Windows PC. Callers dial into the server to join telephone conferences. Callers can connect to a conference call using either standard or VoIP lines on external telephone numbers or through an office phone system. The number of people who can join a conference call is limited only by your bandwidth.
Mehr…
IVM Telephone Answering Attendant
Version: 5.12 | Shareware (69,99 USD)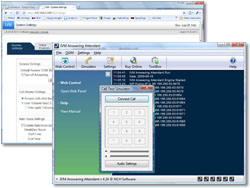 IVM can be used for a wide range of solutions from a simple computer answering machine to running a sophisticated telephone interactive response system. Just run the install file and IVM will be ready to answer calls.
Mehr…
Voicent IVR Studio
Version: 9.0.5 | Freeware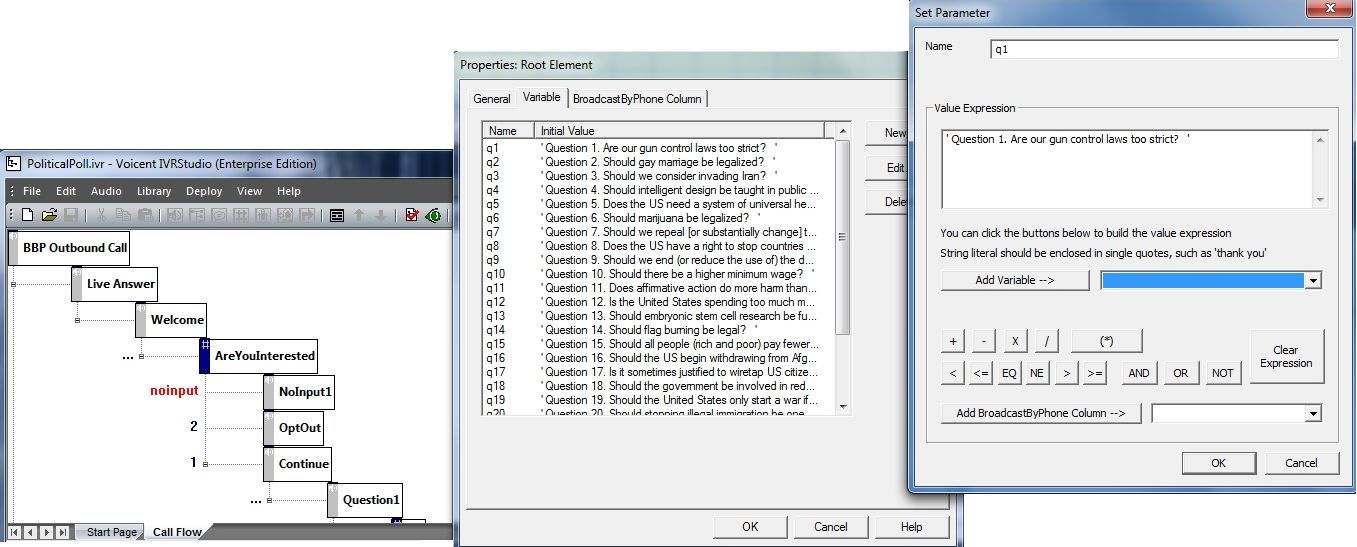 IVR Studio for easy development of interactive voice response systems. Quick development and deployment of music on hold, voicemail, auto attendant, voicemail to email, and other inbound call applications. Voicent IVR solutions offers point-and-click call flow design, ease of installation, and lower cost of ownership. Design IVR applications for SIP, VOIP, SKYPE, and PSTN services.
Mehr…
CT Developer Studio
Version: 2.0 | Demo (99,00 USD)
Implement a professional voice response system into your business quickly and efficiently. CT Developer Studio helps you develop and host automated call handling systems which can be tailored to individual needs. Develop complex IVR software or implement a simple inbound call center, set up automatic dialing or create a fully automatic call management system in Windows.
Mehr…
Dekart SIM Explorer
Version: 1.4 | Demo
Dekart SIM Explorer ist ein intelligentes Werkzeug zum Bearbeiten von SIM Karten, das den Inhalt von GSM SIM, 3G USIM oder CDMA R-UIM Karten anzeigen und bearbeiten kann. Es gestattet es, die Rohdaten zu lesen und zu bearbeiten und bietet eine bequeme Möglichkeit, Informationen anzuzeigen. Darüber hinaus kann das Programm SIM Karten untersuchen, um unbekannte Dateien aufzufinden.
Mehr…
Rander
Version: 5.0 | Shareware (299,95 EUR)
Rander ist die CTI-Software, die mit Panasonic PBX integriert ist. Die Arbeitseffizienz Ihrer Firma kann effektiver ausfallen, da Rander Ihnen die Funktionalitat eines CTI-Call Centers gibt. Rander bringt zusammen zwei wichtigsten Kommunikationstools - PC und Telefon. Ihre Mitarbeiter konnen mehr Anrufe in derselben Zeit erledigen, somit wird die Kundenbetreuung verbessert.
Mehr…