Kategorie Lernen / Lehrer & Training Tools (Filter: Demo)
Quick-Type
Version: 1 | Demo (7,95 GBP)
You can turn into a speed typist INSTANTLY with Quick-Type, the world's only typing automation tool.
Quick-Type can automate your typing for you. You simply give Quick-Type all the common pieces of text you type, along with a keyword for each of them. Then whenever you type that keyword in future, it gets replaced with your text... literally saving you DAYS every single month!
Mehr…
Talking Dictionary
Version: 12.8.0 | Demo (4,95 GBP)
Encyclopedic talking dictionary and thesaurus. Uses built in speech or existing screen reader. Contains 250,000 word entries and is browsable. Database includes place names, historical figures, slang and jargon. Updated with over 8500 new words. Can be used with other programs or as a standalone program. CD version supplied with 4 free useful and fun talking products. Now at half price for a very limited time!
Mehr…
ListeningEarTrainer
Version: 1.26 | Demo (29,50 USD)
Listening Ear Trainer offers two systematic methods to improve your pitch recognition skills. The first method The Singing Funnel Method presents you randomly notes that you have selected for the exercise. Your task is to sing the notes with increasing precision. With the Octave Anchor Pitches Method you don't have to sing. You listen to a few selected notes and grow your repertoire by adding notes.
Mehr…
Papier Lineal drucken
Version: 1.0 | Demo (9,99 EUR)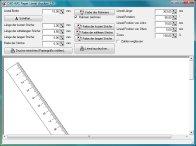 Brauchen Sie kostengünstiges Lineal? Z.B. für eine ganze Schulklasse? Drucken Sie es einfach auf Papier. Sie können das Aussehen frei wählen. Farben, Schriftart, Größe usw. können Sie anpassen. Sie können das Lineal auf Papier drucken oder sogar auf Folie, um es durchsichtig zu machen. Sie könnten auch die Zahlen weglassen, dann sehen Sie ob die Schüler es wirklich verstanden haben, oder nur die Zahlen ablesen.
Mehr…
SamePitchPlease
Version: 1.0 | Demo (9,90 USD)
Ear training is very important to understanding music. Keeping the tonic of a piece in the mind helps to better analyze a piece while listening. Unlike other programs (e. g. Listening-Singing-Teacher), that use a growing melody to improve your musical memory, SamePitchPlease concentrates on learning to keep a single note in your mind. The goal is to learn to produce the same pitch after a longer period of silence with precision.
Mehr…
InstantStretch
Version: 3.1 | Demo (97,00 USD)
Fully Automated Stretching Routine Software with an easy-to-use interface to quickly and easily create an unlimited amount of stretching routines. Create, Print, Save and Email stretching routines for 37 different sports and 119 different muscles from a database of 135 different stretching exercises. Create stretching routines for yourself or for your clients with easy to follow high quality photographs and detailed instructions.
Mehr…
Rationale
Version: 1.5.4 | Demo (59,95 USD)
Rationale is the first high-quality "argument processing" software. Use Rationale to create "argument maps", diagrams of reasoning and argument. Rationale will help students learn the fundamentals of good reasoning, critical thinking, and argumentative essay writing.
Mehr…
Schul-Office
Version: 5.7b | Demo (189,00 EUR)
Schüler- und Schulverwaltungsprogramm mit Klassen- Lehrer-, Gremien- und Kurslisten, Unterrichtsverteilung, Stunden- und Vertretungslänen, Zeugnisdruck, Zeuignisübersichten, Wochen- und Förderplänen, Schülerbeobachtungsbögen, Adressen- und Lernmittellisten, Projektwochenorganisation, Budget- und Fördervereinsverwaltung, integrierter Benutzerverwaltung. Datenübergabe an Landesstatistikprogramme bzw. Landesdatenämter in allen Bundesländern.
Mehr…