Kategorie Lernen / Lehrer & Training Tools (Filter: Freeware)
PitchGridTest
Version: 1.00 | Freeware
The Pitch Grid Test is a relative pitch test that evaluates your ability to discriminate pitch-distances. For the test, the notes are laid out in form of a grid: There are 4 rows of octaves starting from C2 to C5. The number of columns depends on the selected the grid sensitivity. E.g. 100 cents correspond to 12 columns (chromatic scale); 33 cents correspond to 36 columns. In this way pitch-distances beyond half-step precision can be tested.
Mehr…
Word2007 Lehrgang
Version: 2.0 | Freeware
Word2007 Lehrgang mit integrierten Übungen und kommentierten Lösungen. Der Autor bringt seine jahrelange Erfahrung in der Word-Ausbildung ein, verweist auf häufig beobachtete Fehler, Schwachstellen und Mißverständnisse. Der lehrgang ist für Anfänger und Fortgeschrittene geeignet.
Mehr…
Memorization Master
Version: final | Freeware
Memory and attention development/testing software. Now anyone who claims that he can memorize things can be tested by our "Memorization Master". The program tests: Memorization volume, Memorization reliability, Memorization speed. These characteristics are automatically summarized in the "Memorization skill increase" index (as compared to the norm).
Mehr…
Combine a sentence game
Version: 1 | Freeware
Combine a sentence by using words. Take a Look at these free online speed reading techniques. Ability to concentrate on the problem is one of the constituent parts of the successful mental work. Combine a sentence by using words. Ability to concentrate on the problem is one of the constituent parts of the successful mental work.
Mehr…
Free A+ Certification Exam Study Guide
Version: 2.2.1 | Freeware
ProProfs FREE A+ Certification Exam Study Guide. This CompTIA A+ study guide covers hardware (core) exam objectives. Our notes serve as a+ certification exam study guide covering all hardware topics on just 4 pages. Study for the A+ hardware exam anytime and anywhere with these portable A+ notes. ProProfs A+ Cheat Sheets list all important points on the core exam in short notes. Download these Free A+ hardware cheat sheets now.
Mehr…
Free CompTIA A+ Practice Exams: ProProfs
Version: 2.2.1 | Freeware
ProProfs FREE A+ Practice Exams includes A+ practice tests and practice questions. Provides a free dynamic A+ practice exam engine to ensure that you are fully prepared for the A+ cert test. The software aids training for CompTIA A+ (A Plus) Cert through an interactive testing based A+ certification study program. This A+ practice tests software includes explanations, custom A+ practice exams, A+ certification exam tips, flashcards and reports.
Mehr…
Das LernSpiel - Elektrotechnik 2010
Version: 2010.1.3.1 | Freeware (36,95 EUR)
Die Elektrotechnik - Lernsoftware nicht nur für Meisterschüler, sondern für die: Ausbildung, Weiterbildung, Fortbildung, das Studium und für alle Elektrotechnik interessierten. Wollen Sie Spaß beim Lernen, suchen Sie eine Herrausforderung oder glauben Sie, dass Sie schon alles Wissen, dann ist 'Das LernSpiel - Elektrotechnik' das richtige Programm für Sie. Es ist ausgelegt zum Lernen & festigen von Wissen aus allen Bereichen der Elektrotechnik.
Mehr…
MM3-TeachingMachine - Lernen mit dem Handy
Version: 2017-283 | Freeware
Lernen Sie mit Ihrem Handy und eigenen Lektionen, wann und wo immer Sie möchten. Die Lernmaschine ist Ihr persönlicher Vokabeltrainer. Wählen Sie zwischen kurzzeitigem Lernen für eine Prüfung oder dem dauerhaften Speichern der Fakten in Ihr Langzeitgedächtnis. Damit gestalten Sie Ihren Lernprozess effektiv und höchst effizient. Fragen+Antworten können Sie einfach selbst am PC erstellen. Nebenbei bauen Sie sich Ihr persönliches Faktenwissen auf.
Mehr…
Memoriad Competition Simulator
Version: 1.0 | Freeware
Prepare and exercise for Memory Olympiads (Memoriad), World Memory Championships, Mental Calculation World Cups and Photographic Speed Reading Contests. Learn to memorize thousands of numbers, playing cards, and learn to remember names and faces; Use your brain as human calculator (mental calendars, mental additions, mental multiplications and mental square roots, etc.); Learn photographic speed reading techniques.
Mehr…
Rapid Typing Tutor
Version: 4.6.5 | Freeware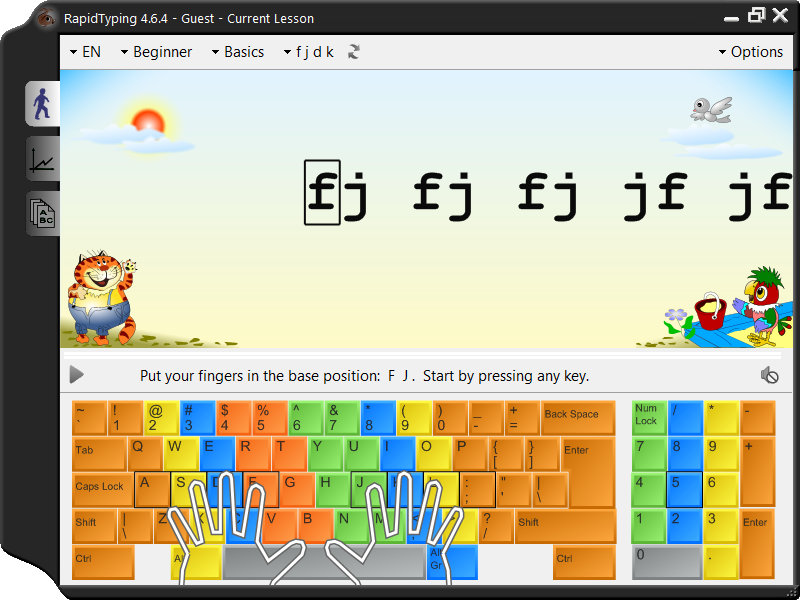 Kindgerechtes Tastaturtrainingprogramm im Aquarium-Look und mit Spielcharakter: je hoher der Level, desto mehr Unterwasserbewohner kommen zum Vorschein; mit Statistiken uber Tippgeschwindigkeit, Fehlerquote und Tipprhythmus; keine Installation erforderlich;
Mehr…
Portable Rapid Typing Tutor
Version: 4.6.5 | Freeware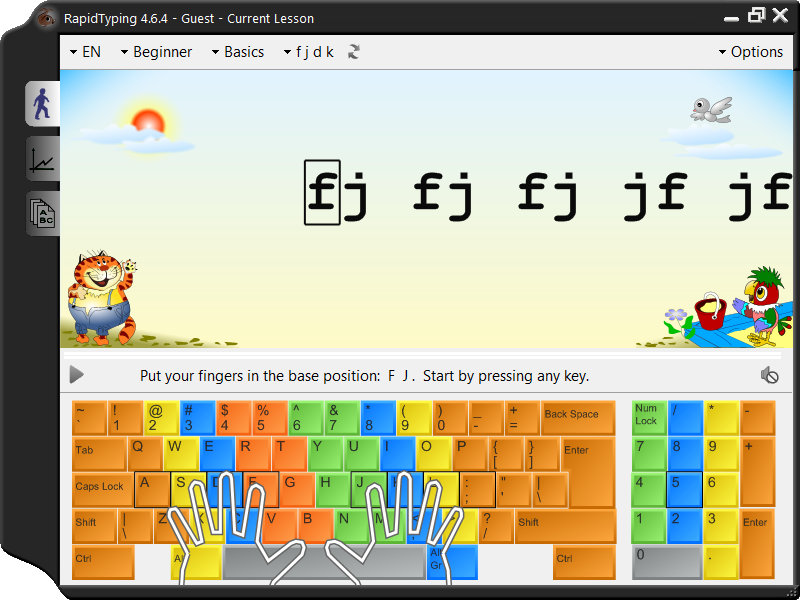 Rapid Typing Tutor is the latest and greatest in typing software. With this innovative and easy-to-use software, you can learn how to touch type like a professional in little time. This release is the portable edition of the esteemed Rapid Typing Tutor typing software, meaning that you don't need to install it and it will simply run immediately, from a USB flash disk or any other sort of media. The software is also completely free to use.
Mehr…
Rapid Typing Tutor
Version: 4.6.5 | Freeware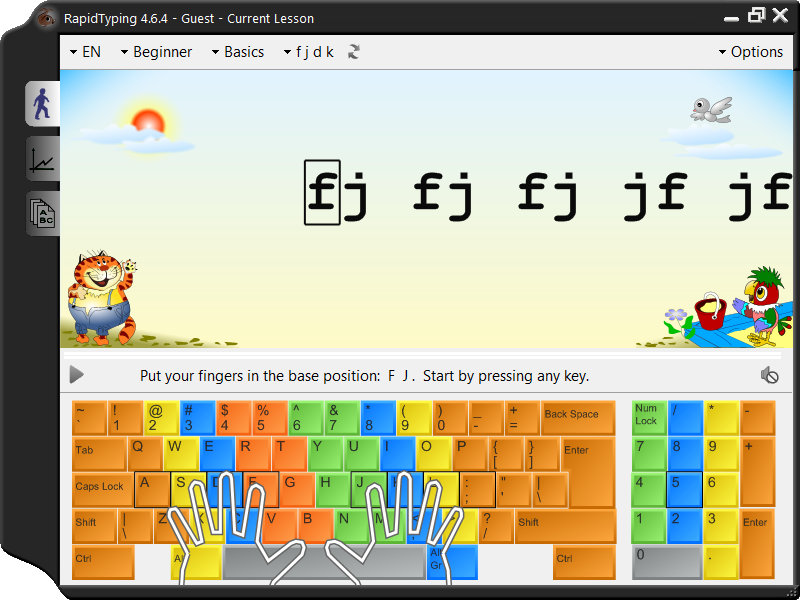 Kindgerechtes Tastaturtrainingprogramm im Aquarium-Look und mit Spielcharakter: je hoher der Level, desto mehr Unterwasserbewohner kommen zum Vorschein; mit Statistiken uber Tippgeschwindigkeit, Fehlerquote und Tipprhythmus; keine Installation erforderlich;
Mehr…