Icecream Ebook Reader
Dieses Programm wird Ihnen präsentiert von:
Icecream Apps
3, Kyriacou Matsi 3 Roussos Limassol Tower 6th floor
3040 Limassol
Cyprus
| | |
| --- | --- |
| Kategorie: | Lernen / Sonstige |
| Version: | 5.07 |
| Release-Datum: | 09.10.2017 |
| Größe: | 28 MB |
| Betriebssystem: | Win XP / Vista / 7 / 8 / 10 |
| Anforderungen: | 1.33Ghz Intel®, AMD or any other compatible processor / faster processor for netbooks; 512MB of RAM |
| Sprachen: | Deutsch, Englisch, Sonstige |
| Downloads: | 1 im August / 234 insgesamt |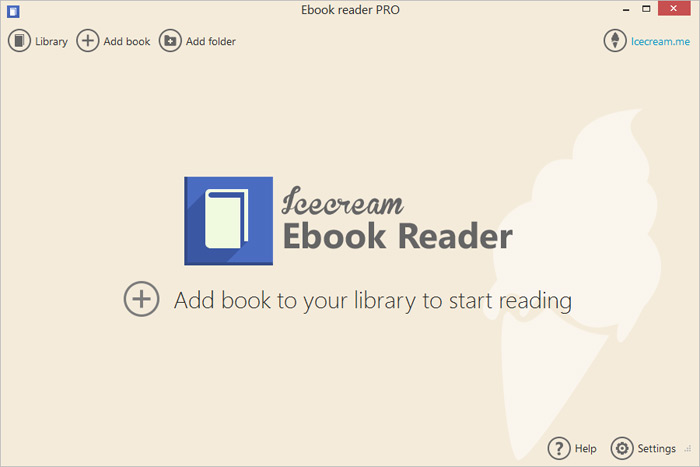 Icecream Ebook Reader is a simple yet effective application for building and organizing digital libraries and reading ebooks on PC. It supports books in such formats as EPUB, FB2, CBZ, CBR, MOBI and PDF.
The program helps create ebook libraries and view a full list of books in Book Shelf or Table View modes. Users can add custom categories for effortless organizing of the books added to the program.
User can filter the contents by the offered categories that are recently read books, favorites, all books. Added ebooks can be also filtered by formats. Search through the Library is also supported by the program.
Icecream Ebook Reader gives you a great reading experience thanks to special features, such as Full screen, Window, and Book modes, quick access to the table of contents and list of bookmarks, bookmarking tool, font size tools, and quick access to the profiles (Day, Night, and Sepia) depending on the time of the day and lighting conditions. Users can also customize the text alignment, background and workground colors. The books can be read in double and single layout.
Tracking of reading progress of each book is featured in this software as well - there are statuses and reading progress in percents that correspond to each ebook added to the Library.
It's possible to copy, translate and search text of the ebooks along with highlighting of the text and adding of notes. The notes can be exported and saved as HTML file. Users can also search through the added notes, edit and delete them.
Navigation scrollbar will help you to navigate the book and browse through the pages of the books easier. Search within a book by text of page number is supported by Icecream Ebook Reader.
The Library of a user can be exported and imported so that the progress can never be lost.

Hier können Sie die Update-Infos für dieses Programm abonnieren. Sie erhalten dann zukünftig eine Benachrichtigung per Email, sobald ein Update zu diesem Programm eingetragen wurde.
Um die Update-Infos zu abonnieren, tragen Sie nachfolgend Ihre E-Mail-Adresse ein. Sie erhalten dann eine E-Mail mit einem Link, über den Sie das Abo bestätigen müssen.
Sie können die Update-Infos jederzeit wieder abbestellen. Hierzu finden Sie am Ende jeder E-Mail mit Update-Infos einen entsprechenden Link.
Dieser Service ist für Sie vollkommen kostenlos.
Kommentare zu Icecream Ebook Reader
Bisher gibt es keine Kommentare zu diesem Programm.
Selbst einen Kommentar schreiben