Kategorie Netzwerk & Internet / Browser Tools
4IE iMacros Web Macro Recorder
Version: 6.0 | Freeware
The Web browser is probably the most frequently used software today, and many tasks are highly repetitious. iMacros relieves the repetition of checking on the same sites every day, remembering passwords and filling out web forms. Web professionals can use the software for functional testing and regression web testing of web applications. It can be used to automate web data extraction, for example online stock quotes or web store prices.
Mehr…
IE Contacts Spy
Version: 2.22 | Shareware (29,85 EUR)
IE Contacts Spy automatically extracts and saves contact information from every web site visited. The contacts include e-mail addresses, telephone and fax numbers, ICQ, Yahoo Messenger, AOL Instant Messenger and MSN Messenger ID numbers. The program works as a plug-in for MS Internet Explorer and builds itself into IE shell. The program comes with filtering and data export options that make managing contact information easy. Download now!
Mehr…
WebSurfing History
Version: 2.1 | Shareware (29,95 USD)
WebSurfing History allows you to store a visual web surfing history, independently from the Internet Explorer history data. It stores detailed information about each web site you have visited and automatically captures a screenshot of every web page. The program works in background and can be stopped or started at any time. You can easily locate a Web site you visited any days ago.
Mehr…
Capture Text
Version: 13.5 | Shareware (29,95 USD)
Recognizes and saves any text that normally cannot be saved or printed. You can select text with the regular (rectangular) selection tool and let the character recognition solution do the rest! In less than a second Capture Text automatically scans the selected area, recognizes the text and saves it to the clipboard. All you need to do then is to paste it into any document! You don't need to re-type the text you see on the screen.
Mehr…
Surfpack
Version: 2.0.135 | Shareware (29,99 USD)
Surfpack is an RSS reader that shows all content as a normal Web page inside Internet Explorer, Firefox and Opera. You can also use Surfpack to access your top favorites, search engines, latest downloaded files, and auto-generated lists of most popular sites right from your home page. Since Surfpack resides locally on your computer, it loads instantly and frees you from corporate-sponsored content and ads.
Mehr…
Bookmark Buddy
Version: 3.9.1 | Shareware (19,95 USD)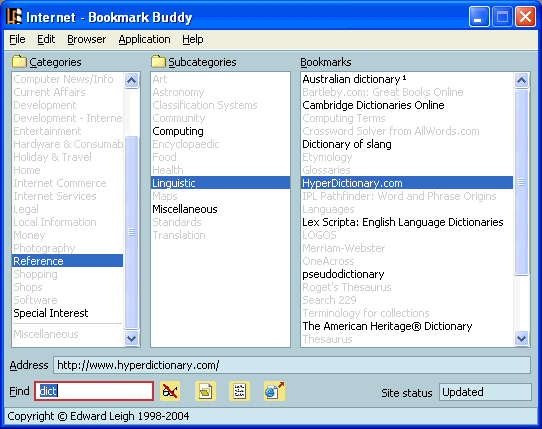 Organize your bookmarks/favorites, shortcuts and logins simply, securely and reliably with this intuitive, feature-rich bookmark and login manager: Find bookmarks with fast free-text searching and filtering. Store logins (encrypted) and fill out login forms with one keystroke. Keep notes. Schedule visits. Find and remove duplicates. Validate bookmarks. Encrypt bookmark collections. Use any web browser. Export bookmarks in any format.
Mehr…
URL Organizer Two
Version: 2.4.17 | Shareware (4,95 USD)
Compact, fast, simple bookmark manager to store, organize, annotate, copy and backup large and/or multiple collections of Internet bookmarks/favorites and also shortcuts to programs, documents and folders. Innovative, intuitive and highly-customizable. Three clicks or free text search to find any URL. Powerful organizing tools. Import/export tools for Internet Explorer, Netscape and Opera. Also imports AOL Favorite Places.
Mehr…
1st TurboRun Internet
Version: 1.0 | Freeware
Too many favorites? Not a problem anymore! You don't have to launch your browser and look through endless Favorites menu just to visit your favorite web site. Just type a few letters of the desired web site title and then press Enter to open it. This program narrows down the list of matching favorites as you type. Also, you can find all recently saved favorites in seconds, even if you forgot their names!
Mehr…
ActiveURLs Check&Get - Web-Monitor, Bookmark Manager and Web-Page Archiver
Version: 3.4.0.11 | Shareware (39,95 USD)
Professioneller Bookmark Manager, Web-Monitor und Offline Browser. Überprüft Websites auf Änderungen, erkennt unterbrochene und doppelte Links. Import, Export und Synchronisation mit dem Browser (Internet Explorer, Mozilla, Netscape, Opera). Speichert automatisch ein Vorschaubild der Webseite und sie können ihre Lieblingswebseiten offline betrachten. Konvertiert die Lesezeichen in eine HTML-Datei. Ein unentbehrliches Tool für jede Web-Recherche.
Mehr…
MyProxy
Version: 9.3 | Shareware (9,95 EUR)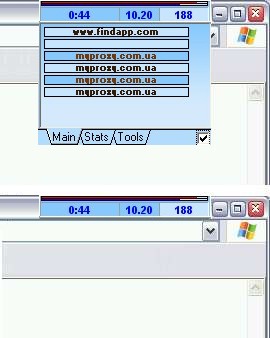 High quality web accelerator with powerful ad blocker and cache will save your time, money and nerves. MyProxy allows you to optimize your Web connection. Browse the Internet without having to deal with ad banners and pop-up ads. Keep track of the traffic amount and money you have spent for Internet.
Mehr…
Advanced URL Catalog
Version: 2.36 | Shareware (20,00 EUR)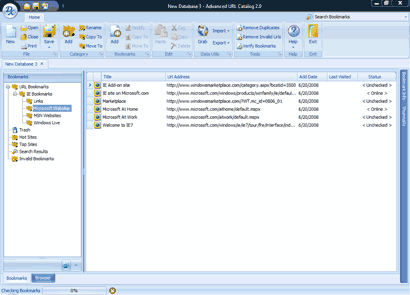 Advanced URL Catalog is a complete bookmark management solution that will allow you to manage, organize, synchronize, remove duplicates and validate your favorite internet pages. Powerful integration with all browsers (Internet Explorer, Firefox, Opera, Netscape) and with online social bookmarking services like Del.icio.us. You can import, export and synchronize your bookmarks between different browsers and del.icio.us in a few easy steps.
Mehr…
Navier
Version: 1.03 | Demo (19,00 USD)
Navier adds a checkbox near every link on a web page so that a user can select multiple hyperlinks to be opened simultaneously. The selected links are opened in new windows or all stocked up in a single page, which is much more convenient when the web sites contain relevant content in the same format, as in catalogs. The Navier's way to open link makes sense, saves time and is incredibly convenient. Get your copy now!
Mehr…