Kategorie Netzwerk & Internet / File Sharing | Peer to Peer (Filter: Shareware)
Acritum Femitter HTTP-FTP Server
Version: 1.042 | Shareware (29,95 USD)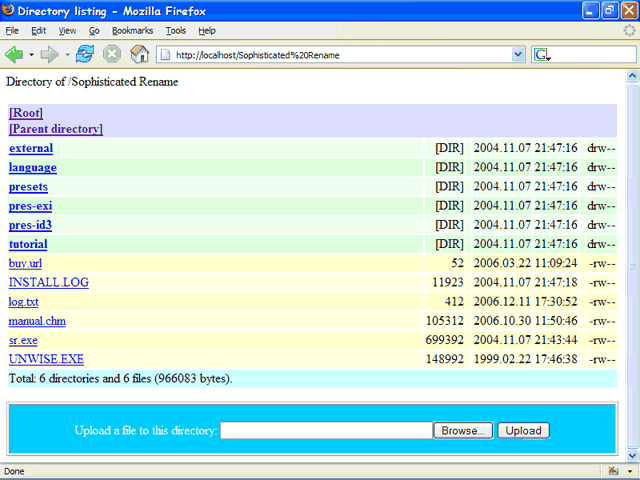 Easy-to-use HTTP and FTP server is at your service. You don't have to be a system administrator to understand how it works, simply press a button and your friends will be able to visit your computer via the net. They will be able to read your notes, find some info that you published for them, download your files. The server may be accessible to anyone or only to those who have their login and password. The server can work even with dynamic IPs.
Mehr…
P2P Share Spy
Version: 4.0 | Shareware (19,95 USD)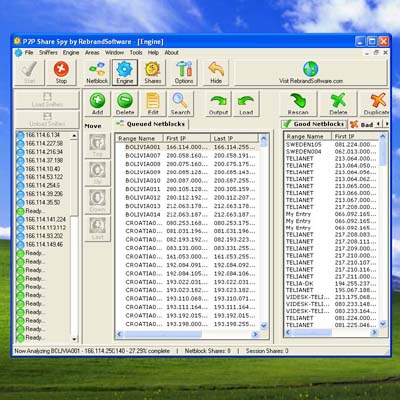 Scan the internet for computers with shared files! Browse/download files from remote computers all over the world! Can handle any file type: MP3, MPG, AVI, DIVX, JPG, Etc!
Mehr…
1AVShare
Version: 1.7.9.60 | Shareware (34,95 EUR)
Veröffentlichen Sie Ihre eigene, sichere Webseite direkt von Ihrem PC aus und nutzen Sie Fernzugriff auf Ihre Bilder, Dokumente, Videos und Musik oder greifen Sie auf sichere Weise gemeinsam mit Ihren Freunden, Ihrer Familie und Ihren Kollegen auf diese zu.
Mehr…
AD File Transmitter
Version: 1.5.2 | Shareware (49,00 USD)
AD File Transmitter is an application, allows you to automate frequent file transfer operations between different offices or different computers and process data replication tasks. The files anf group of files can be sent thru the local area network (file copy tasks), sent by e-mail, recieveing from e-mail or download from FTP servers.
Mehr…
Ares Vista
Version: 3.1.0.4188 | Shareware (19,95 USD)
Ares ist ein Ebenbürtiger, Dateienteilenprogramm zu gucken, das Verbrauchern erlaubt, irgendeine digitale Datei einschließlich Bildnisse zu teilen, Ton, Video, Software, Dokumente usw. Sie dürfen jetzt leicht Ihre Dateien durch den Ares haben dezentralisiert Netz herausgeben. Als können ein Mitglied von der tatsächlichen Gemeinschaft, Sie suchen und können so ziemlich irgendeine Datei laden, die von anderen Verbrauchern geteilt wird. Mit Ares...
Mehr…
SYNCING.NET
Version: 5.0 | Shareware (49,99 EUR)
Real-time, bidirectional syncing for Outlook and files between multiple PCs. Sync e-mails, calendars, contacts and tasks as well as documents of any type and size between your desktop and laptop, or create complete data exchange networks for the entire office. Automatic, background functionality and secure, peer-to-peer technology make this program the complete data exchange solution for SMBs and professionals on the move.
Mehr…
Enstella OST PST Software
Version: 6.2 | Shareware (92,00 EUR)
Make use of Enstella OST PST Software which is really a famous solution to repair corrupt OST file and recover OST file into PST file in well manner. Through Enstella OST PST converter tool you can efficiently convert OST to PST, EML, MSG and HTML formats with whole mailbox folders-Inbox, Sent Items, Notes, Task, Calendar, Contacts and reminder etc. This OST PST conversion Program nicely works on all OST file versions-97 up to 2016
Mehr…
LAN Viewer
Version: 2.3 | Shareware (29,95 USD)
Checking shared folders on the local network and notifies when it changes. The program will make it itself and will notify you about new and modified files, e.g. video, music, photos, documents, etc. You can set the program to monitoring within regular intervals of time, e.g. daily, weekly, at days of week. For each new task the individual rule of checking.
Mehr…
Web file manager for educational and Active Directory users
Version: 1.5 | Shareware (149,00 USD)
HTTP Commander is a web file manager that is really popular among a lot of educational organisations. This solution allows students and teachers to access their files remotely using only a web browser or a smartphone. The application can be installed on the Windows server easily and the access to existing folders of the network of an educational organization (general or private folders) for the Active Directory users is provided.
Mehr…
Quickeo
Version: 1.2.0.0 | Shareware
Quickeo is for people who want to share their digital Photos, Videos and Music with their friends, family and community - not the whole world. Quickeo is private file-sharing via an easy email-like interface. Quickeo lets you create rich multimedia newsletters in a matter of minutes.Quickeo is the only sharing service that lets you create a rich multimedia gallery of several videos.
Mehr…