Kategorie Netzwerk & Internet / FTP Clients (Filter: Freeware)
Fling Kostenlose Dateiuebertragung
Version: 3.02 | Freeware
Fling ist ein FTP-Programm, das Ihnen beim Automatisieren vom Hochladen oder Uebertragen von Dateien hilft. Es wird oft dazu verwendet, eine Webseite auf einem remote gehosteten Server zu pflegen oder um die Sicherung von Dateien zu automatisieren. Die Software unterstuetzt sowohl das Dateiuebertragungsprotokoll (FTP), als auch Netzwerkdateiuebertragung.
Mehr…
CrossFTP
Version: 1.97.9 | Freeware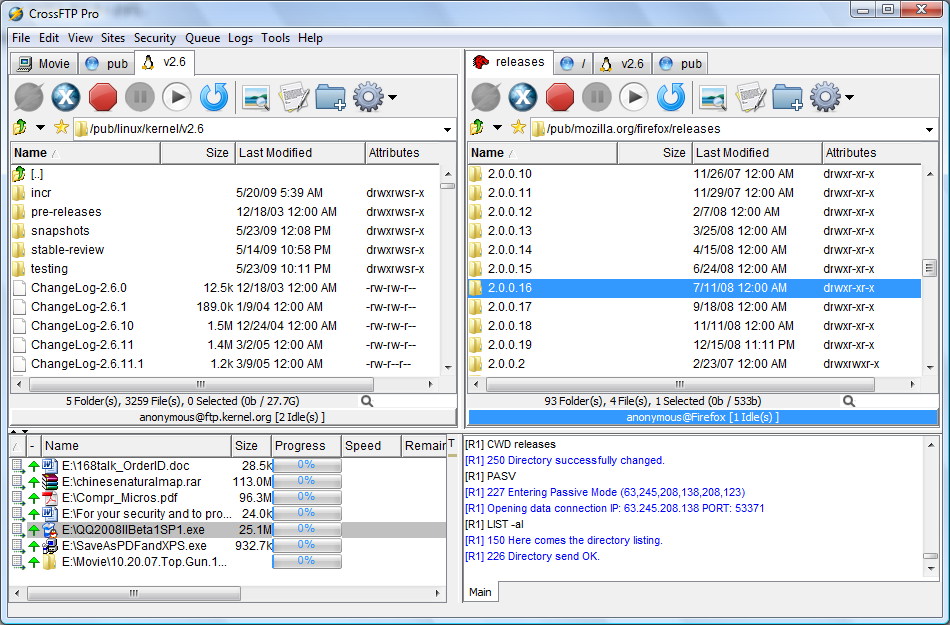 CrossFTP is a FTP and Amazon S3 client. CrossFTP Pro is a FTP client supporting SFTP, FXP, WebDav, iDisk, Amazon S3, Amazon Glacier and Google Storage. CrossFTP features user-friendly two-pane explorer-like interface, and supports: multi-tab navigation; archive browsing; anti-idle; filter; FTP server launcher; and more. CrossFTP Pro further features: multi-protocol; multi-thread engine; synchronization; proxy; remote editing; and much more.
Mehr…
EngInSite DataFreeway
Version: 1.0.5.154 | Freeware
DataFreeway ist ein Freeware SSH (SSH1,SSH2,SFTP), WebDAV, FTP, FTPS Client für Windows.
EngInSite DataFreeway erlaubt Ihnen ein Zugriff auf verschiedenen Servertypen innerhalb einer und diesselben Anwendung. DataFreeway ist ein neuartiges Plug-in basiertes Client mit der Unterstützung verschiedenen Netzwerkprotokole. Die Benutzeroberfläche bietet Ihnen eine einfache, protokolunabhängige Möglichkeit zur Datenaustausch in WAN.
Mehr…
CoffeeCup Free FTP
Version: 4.5.2014 | Freeware
CoffeeCup Free FTP is a fast, no-frills FTP program that makes it easy to drag and drop files to and from your Website. It supports multiple server profiles, resumes broken uploads and downloads, and can transfer files in binary, ASCII, or auto-mode. Free FTP works with any server and is so easy to set up. Just enter your username and password and click Connect. Free FTP remembers your server information, so reconnecting to your site is a snap.
Mehr…
FilenameToFTP
Version: 1.20 | Freeware
FilenameToFTP benennt Dateien zum Zwecke eines nachfolgendes FTP-Uploads so um, da? ung?ltige Zeichen durch einen Unterstrich ("_") ersetzt werden. Deutsche Umlaute (?, ?, ?, ?) werden durch "ae", "oe", "ue" bzw. "ss" ersetzt. Zudem wird der Dateiname in Kleinbuchstaben gewandelt und die Datei erh?lt das heutige Datum, um eine Unterscheidung zu bereits upgeloadeten Files zu erleichtern.
Mehr…
FTPShell Client
Version: 5.22 | Freeware (59,95 USD)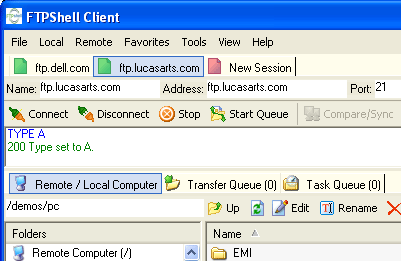 Secure File transfer solutions to simplify your work. Automate repetitive tasks with FTPshell scripts. The personal edition is now available as freeware. Offers task scheduling, comparison and synchronization of files, server to server transfers, remote file search, and more!
Mehr…
AutoFTP Client
Version: 4.5.5.0 | Freeware
AutoFTP bietet Multi-Threading, blitzschnelle, benutzerfreundliche Bedienung, individuelle Planung und bequemes Reporting. Schneller als FileZilla, nutzerfreundliche und bessere Berichterstattung. Es hat eine Terminplanung, während FileZilla diese nicht besitzt. CuteFTP ist schneller aber kostet 60$. AutoFTP übertrifft CuteFTP: Sehr benutzerfreundlich, bessere Berichterstattung und Terminplanung.
Mehr…
SolarWinds TFTP Server
Version: 10.4.1 | Freeware
Multi-threaded TFTP server commonly used to upload and download executable images and back up configurations for routers and switches. TFTP Server is the most robust, widely-trusted, and easy-to-use free TFTP solution available. TFTP Server Highlights: Upgrade IOS images and firmware on your network devices Back up configuration files for your critical routers and switches Upload or download configs to multi-vendor network devices.
Mehr…
AceFTP 3 Freeware
Version: 3.80.3 | Freeware
Visicom Media's AceFTP 3 Freeware is the easiest-to-use free FTP client software available for transferring files over the Internet. Its cool, uncluttered drag-and-drop interface, designed in a Windows XP fashion, lets you transfer files quickly and efficiently and navigate with ease between folders, both on Web sites and on your computer.
Mehr…
Staff-FTP
Version: 3.04 | Freeware
Staff-FTP ist ein einzigartiges FTP-Programm welches einfach zu bedienen ist. Es beherrscht TLS, SSL und FXP. Der integrierte Glftpd manager macht dieses Programm zu einem Muss für Administratoren. Viele weitere Eigenschaften und Optionen werden Sie in keinem anderen Programm finden.
Mehr…
Advanced FTP & Download
Version: 2.2.0.6 | Freeware
Transfer files easily using this intuitive and powerful FTP client for both advanced Web developers and novice users alike. FtpRight is a FTP client for Windows that lets you update a Web site with a single mouse click, resume interrupted downloads or uploads. It features an Explorer-like interface, supports drag-and-drop functions, directory synchronization, transfer queue, smart reconect, overwrite prompts, passive transfer mode, and much more!
Mehr…
Free FTP and Download Manager
Version: 7.1.0.1 | Freeware
Ftp and download manager Transfer files with ease using this intuitive and powerful FTP client. Ftp and download manger is a multithreaded FTPhelper for Windows that's easy for beginners to use and has enough features to be useful to power users as well. Using its intuitive drag-and-drop Explorer-like interface, Ftp and download manger lets you update a Web site with a single click and resume interrupted downloads or uploads.
Mehr…