Kategorie Netzwerk & Internet / FTP Clients (Filter: Shareware)
FTPGetter Professional
Version: 5.97.0.165 | Shareware (85,00 USD)
Manual tasks at the office can always be annoying because they waste valuable time. Moving files through an FTP client the old way is a great example. With FTPGetter Professional, at least those tasks can be streamlined and carried in a more effective manner. The software lets workers automate FTP and SFTP transfers by setting up tasks and scheduling them using innovative built-in wizards that make the program straightforward to learn.
Mehr…
FTP Synchronizer
Version: 7.0.15 | Shareware (49,95 USD)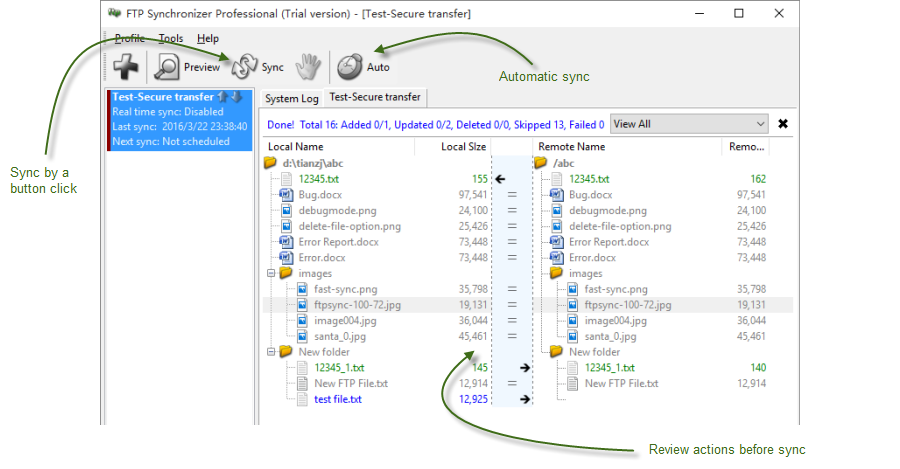 Secure and high performance FTP file sync product * Secure FTPS (FTP over TLS/SSL) and SFTP (SSH) connection * Unique Real Time and Block-Level FTP sync feature * Synchronize multiple files or sites at the same time * Flexible schedule options, you set-it-and-forget-it
Mehr…
BulletProof FTP Client
Version: 2010.75.0.76 | Shareware (34,95 USD)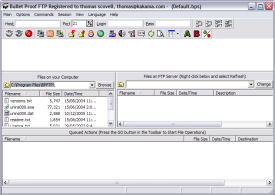 BulletProof FTP is an automatic FTP program. It automatically reconnects and resumes file transfers right from where it left off if the connection is lost, or no data is received for a specified period of time. You can download files in any order, from any directory on an FTP site. Browse the FTP site from the cache while off line or transferring - this does not open another connection to the FTP server.
Mehr…
FTPGetter Standard
Version: 5.95 | Shareware (55,00 USD)
Such repetitive tasks as web site uploading and mirroring, the backing up of large amounts of data to remote locations, downloading of updated packages (and more) are very time consuming and can significantly slow down Internet connections during work hours. FTPGetter is a automatic download and upload ftp transfers manager and scheduler. There's no need to write complicated scripts or batch files! Define tasks with a visual Wizard
Mehr…
FTP Dialog
Version: 3.0 | Shareware (29,00 EUR)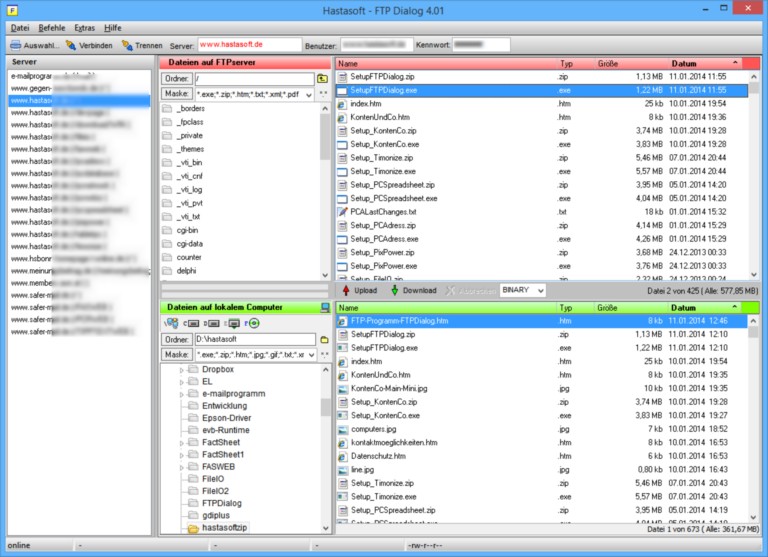 Effizientes, selbsterklärendes FTP-Progamm zum Upload oder Download der eigenen Homepage vom Heimcomputer auf den Webserver oder umgekehrt. Wiederaufnahme von Downloads, verschlüsseltes abspeichern der Webdaten. Es können mehrere Webserver verwaltet werden. Erzeugen oder Löschen von Ordnern auf dem Webserver, umbenennen von Dateien.
Mehr…
SynchronEX File Sync/FTP/DAV for Linux
Version: 4.0.5 | Shareware (34,90 EUR)
Flexibles Werkzeug zum Synchronisieren von Dateien und Verzeichnissen in Anwendungen wie Laptop/Server-Synchronisation, Backup auf lokalen Pfaden und über Netzwerk, inkrementeller FTP-Upload von Web-Sites, DAV/WebDAV, verteiltes Arbeiten auf synchronen Datei-Bäumen mit Kollisionserkennung. Optimiert für Automatisierung und 1-Klick-Betrieb aus dem Windows-Explorer heraus. Zahlreiche Zusatzfunktionen wie Skripten und Auffinden von doppelten Dateien
Mehr…
FTPCaptain
Version: 1.01 | Shareware (12,50 USD)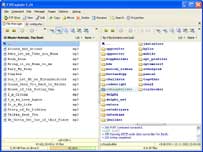 Make your FTP work effortless. Handy FTP Client with a huge set of
features. If you frequently upload or download web pages or data to
the
Internet, you need the new FTPCaptain. FTPCaptain has some exclusive
features. Now you can edit files or view images thanks to
FTPCaptain's
built-in viewer. FTPCaptain is compatible with all types of servers.
Mehr…
SecureFX
Version: 8.1.4 | Shareware (59,95 USD)
SecureFX is a secure file transfer client for SFTP, FTP/TLS, SCP, and FTP. SecureFX combines an easy-to-use interface with advanced features like site synchronization, relentless file transfers, public-key, Kerberos v5 (GSSAPI) and X.509 certificate authentication, and a FIPS 140-2 validated cryptographic library. Drag and drop files file between the desktop and remote servers, or perform unattended file transfers with SFXCL command-line utility.
Mehr…
CoffeeCup Direct FTP
Version: 6.9.2014 | Shareware (39,00 USD)
Webmasters love Direct FTP because it's so easy to make quick changes and updates to their Websites. Just drag a file to the Edit window to make changes and click save when you are done. Direct FTP saves the changes directly to your Website! Preview images right from the server too! One of the best features is the ability to make a backup ZIP file of your Website with just one click.
Mehr…
FTP Navigator
Version: 8.03 | Shareware (29,95 USD)
FTP Navigator is vereinfacht den Datenaustausch via FTP durch eine vergleichende Darstellung der Dateistrukturen von lokalem Rechner und FTP-Server in Fenstern. Sie können alle Möglichkeiten des FTP nutzen, ohne in die Tiefen der FTP-Funktionen eintauchen zu müssen. Innerhalb der Fenster können Sie Dateiverwaltungsfunktionen wie z.B. Dateien umbennen oder löschen, Ordner erstellen und natürlich Uploads und Downloads vornehmen.
Mehr…
Abacre Web Site Uploader
Version: 1.3 | Shareware (24,99 USD)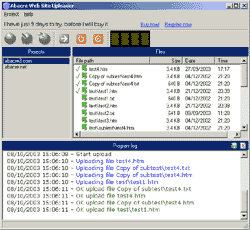 The powerful utility will automate your web site upload and synchronization process. It's extra features include scheduling, the ability to use multiple threads for faster file uploading, and additional FTP functions. It is small and powerful, easy to set up, and easy to use. A great time-saver for web site administrators, webmasters, home, and corporate users.
Mehr…
Site Publisher
Version: 2.6.125 | Shareware (24,95 USD)
This intelligent FTP client will help you to manage local and remote files of your web site. It automatically detects changes and uploads only modified or new files and removes outdated files. It supports transfer resuming and multisession transfers. Unique Files Preview mode can be used to control synchronization process and to create Profiles for every of your web site. After that you will be able to sync files with just a single mose click!
Mehr…