Kategorie Netzwerk & Internet / FTP Clients
Classic FTP Plus für Mac
Version: 3.05 | Shareware (25,36 EUR)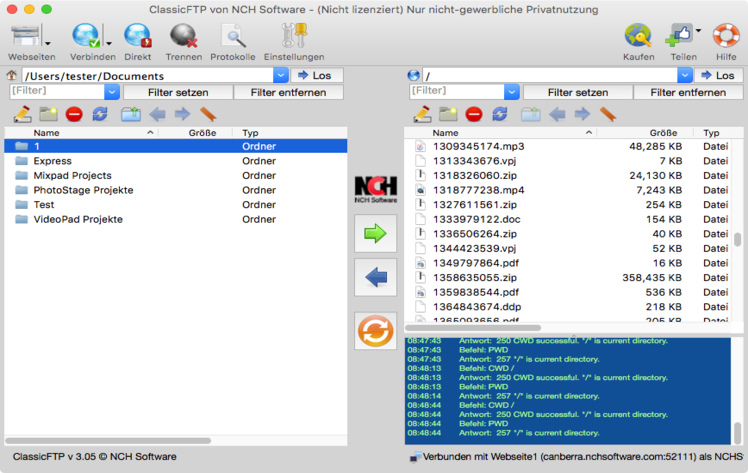 Classic FTP Plus für Mac OS X ist ein bedienerfreundliches FTP-Programm, mit dem man Dateien von einem Netzwerk oder einer Webseite anzeigen, bearbeiten, hoch- und herunterladen und löschen kann. Wie der Name schon sagt, wurde Classic FTP speziell wie ein typischer FTP-Client aufgebaut. Da die gleichen Funktionen wie bei andere FTP-Software geboten werden, ist Classic FTP perfekt für sowohl erfahrene als auch neue Webseiten-Administratoren.
Mehr…
AutoFTP Client
Version: 4.5.5.0 | Freeware
AutoFTP bietet Multi-Threading, blitzschnelle, benutzerfreundliche Bedienung, individuelle Planung und bequemes Reporting. Schneller als FileZilla, nutzerfreundliche und bessere Berichterstattung. Es hat eine Terminplanung, während FileZilla diese nicht besitzt. CuteFTP ist schneller aber kostet 60$. AutoFTP übertrifft CuteFTP: Sehr benutzerfreundlich, bessere Berichterstattung und Terminplanung.
Mehr…
Classic FTP FTP-Clientsoftware
Version: 2.48 | Shareware (25,36 EUR)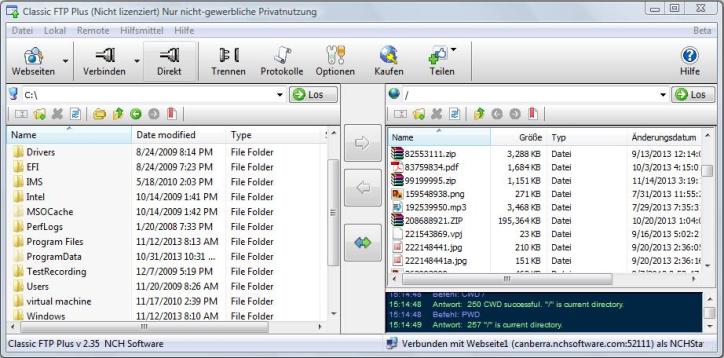 FTP-Client, um Dateien von einem Remote-Server hochzuladen, herunterzuladen und zu löschen. Mittels ?Spiegeln und Hochladen? einen gewählten lokalen Ordner durchsuchen und alle Dateien hochladen, die nicht im gewählten Remote-Ordner sind. Kann auch die Navigation von lokalen Ordnern mit Remote-Ordnern synchronisieren, um das Risiko zu vermindern, den falschen Ordner hochzuladen.
Mehr…
FilterFTP pro
Version: 3.0.0 | Shareware
Intelligenter FTP mit Filter Funktionen für den Transfer, löschen, suchen, suchen und ersetzen auf dem Server. Zur Verfügung stehen Filterkriterien wie Dateinamen, Ordnernamen, Dateierweiterung, Dateidatum und Dateigröße. Weiter Funktionen sind: Ermittlung des benutzen Speicherplatzes auf dem Server, ausführliche Transfer-Diagramme und Statistiken, integrierter Editor mit Syntax Highlighting, Account Import aus verschiedenen anderen FTP-Clients.
Mehr…
SolarWinds TFTP Server
Version: 10.4.1 | Freeware
Multi-threaded TFTP server commonly used to upload and download executable images and back up configurations for routers and switches. TFTP Server is the most robust, widely-trusted, and easy-to-use free TFTP solution available. TFTP Server Highlights: Upgrade IOS images and firmware on your network devices Back up configuration files for your critical routers and switches Upload or download configs to multi-vendor network devices.
Mehr…
Vicomsoft FTP Client
Version: 5.0.2 | Shareware (25,00 USD)
Robust, powerful, yet easy to use FTP client for Mac OS X, FTP Client 5.0 represents the culmination of over 15 years experience in FTP transfers on the Mac platform. Extreme performance and unrivaled reliability, married with a sleek and intuitive user interface is the result. Who better to transfer your precious files than a name you can trust, and a devoted Mac developer since 1997...
Mehr…
Sysax FTP Automation
Version: 6.23 | Shareware (197,00 USD)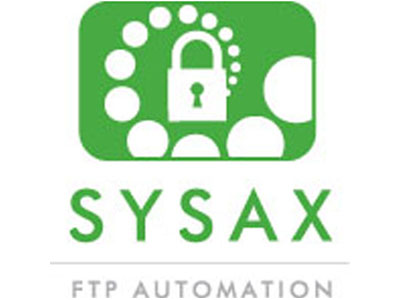 Secure file transfer automation and synchronization program with support for FTP, SFTP and FTPS. Other features include email notification, task scheduling, command line secure ftp, file (de)compression, transfer status monitoring, and OpenPGP Encryption. The program has an integrated script development and debugging environment with a built-in script generation wizard and provides a complete solution for securely automating file transfers.
Mehr…
FTP Synchronization Software
Version: 7.0 | Shareware (19,99 USD)
This software offers a solution for users who want to update files automatically by synchronizing a local folder with an FTP server. The user enters the required details for the FTP server and can test the connection before continuing to choose the local and FTP folders. The application will then compare the two folders and the user can check/uncheck files in the resulting list before synchronizing files.
Mehr…
AceFTP 3 Freeware
Version: 3.80.3 | Freeware
Visicom Media's AceFTP 3 Freeware is the easiest-to-use free FTP client software available for transferring files over the Internet. Its cool, uncluttered drag-and-drop interface, designed in a Windows XP fashion, lets you transfer files quickly and efficiently and navigate with ease between folders, both on Web sites and on your computer.
Mehr…
JaSFtp
Version: 11.14 | Shareware (129,95 USD)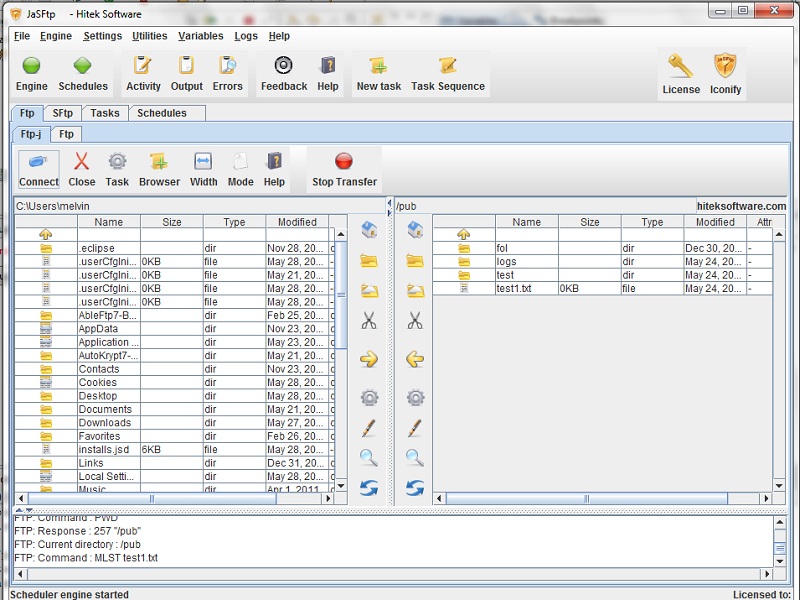 SFTP client (secure FTP) designed for automation of SFTP, FTP and related tasks. Run 1000+ tasks on a schedule. Goal is to create advanced SFTP and FTP tasks that can be scheduled automatically or run instantly. Supports a very flexible wildcard system to transfer multiple files at once. Supports subdirectory transfers. Includes powerful and flexible task scheduler. Email Notification of task failure.
Mehr…
AbleFTP
Version: 11.14 | Shareware (99,95 USD)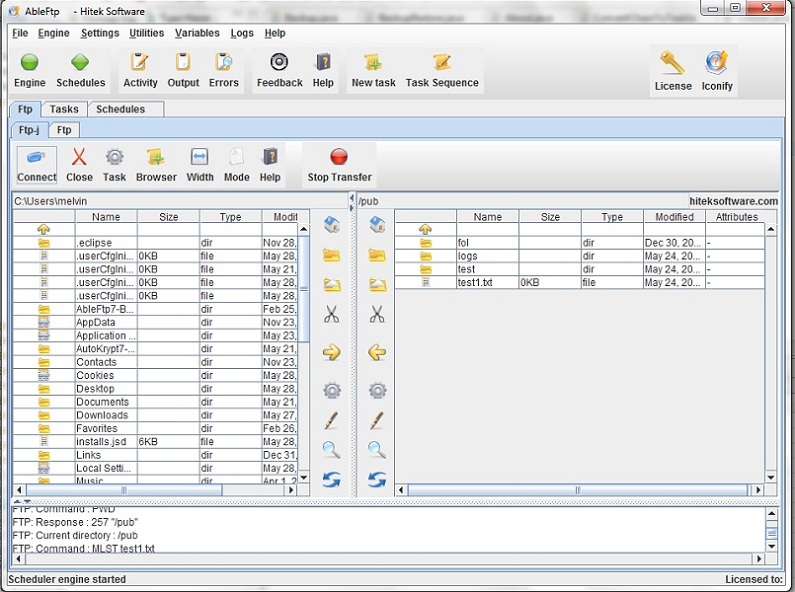 AbleFtp - FTP client designed for automation. Run 1000+ FTP tasks a day. You can create advanced ftp tasks that can be scheduled or run instantly. Supports a very flexible wildcard system to transfer multiple files at same time. Supports subdirectory transfers. Can automatically save files based on date/time or customized names. Includes powerful and flexible task scheduler. Email Notification of task failure. Easy to use. No programming.
Mehr…
HS FTPExplorer
Version: 4.12 | Shareware (19,00 USD)
With this easy-to-use software, it is possible to upload and download files and directories from/to your website or an ftp server . Simply, dropping files or directories into the program window will copy the files into the web server. Copying files from windows explorer to the clipboard and pasting them into the software is also possible with this handy tool. (CHMOD) of files/directories, making default directories are supported.
Mehr…