Kategorie System Utilities / Datei- & HDD-Management
Apple Mac Recovery Software
Version: 12.05.08 | Shareware (139,00 USD)
Quick Recovery for Apple Macintosh Data Recovery Software quickly recovers your deleted Mac data from Mac partition such as HFS & HFS+. Data Recovery Software for Mac recovers and restores lost Mac data from corrupt or formatted partition of Mac volumes. The storage media is susceptible to damage due to many reasons such as a virus attack, bad sectors in hard drive or a physical damage.
Mehr…
Deleted Windows Partition Recovery
Version: 12.08.06 | Demo (69,00 USD)
Get back deleted files and folders by using our advanced Quick Recovery for Windows Data Recovery tool. Best Deleted Windows Partition Recovery software easu to fix windows partition table and restore all the files/folders in just few clicks. Our Deleted Windows Partition Recovery Software supports to recover deleted data from corrupt Windows FAT/NTFS partition.
Mehr…
Recover Data for Novell NSS
Version: 1.0 | Shareware (229,00 USD)
Recover Data for Novell NSS is a Novell NSS data recovery software which recovers formatted, deleted data and files from the Novell NSS Volumes. Software restores nss data, files and folders which gets corrupted due to virus attack, power surges or due to human errors, accidental deletion of novell nss files, unexpected system shutdown, formatted nss volumes, bad sectors in the novell operating based hard disks.
Mehr…
Recover Data for FAT
Version: 1.0 | Shareware (49,00 USD)
Recover Data for FAT is an advanced FAT Data Recovery & Partition Recovery Software to restore, retrieve & recover lost, deleted, formatted, corrupted data from FAT12, FAT16 and FAT32 Partitions of Windows Operating System. Recover Data for FAT is an effective tool to recover lost data from FAT Partitions of crashed or damaged hard disks based on Windows Operating System.
Mehr…
Easy Filesplit
Version: 1.6 | Freeware
A high performance filesplit with CRC32-Check and with filecrypt TWOFISH 256 bit keysize
Mehr…
PDir Clean
Version: 1.0.0 | Freeware
Mit diesem Programm kann man Verzeichnisse auf bestimmte Dateien wie Backups, temporäre Dateien etc. durchsuchen und diese löschen. So kann viel Platz auf der Festplatte freigemacht werden. PDir Clean richtet sich zwar hauptsächlich an Programmierer und Entwickler, die ihre Projektverzeichnisse reinigen wollen, kann aber problemlos von jedermann benutzt werden.
Mehr…
ViceVersa PRO
Version: 2.0 | Shareware (59,95 USD)
File Sync, File Replication and Backup Software for Windows, ViceVersa PRO delivers an easy way to backup, mirror, replicate, sync files and folders. ViceVersa works with any type of storage media on laptop, desktop, servers. Other features include encryption, compression, bandwidth control, archiving, password protection and more. Synchronize, replicate, mirror, backup files and folders with ease.
Mehr…
EasyRename
Version: 1.11 | Freeware
Kennen Sie das Problem, mehrere Dateien immer wieder nach dem selben Schema umbenennen zu müssen? Mit dem Windows-Explorer ist dies sehr mühsam und dauert recht lange. Mit EasyRename erledigen Sie diese Arbeit in Sekundenschnelle. Dabei bietet das Programm Features, wie z. B. verschiedene Umbenennungsregeln für Dateien und Endungen, Durchnumerieren von Dateien, Umbenennen ganzer Verzeichnisbäume, volle Drag and Drop Unterstützung und mehr.
Mehr…
Better File Rename
Version: 5.0 | Shareware (19,95 USD)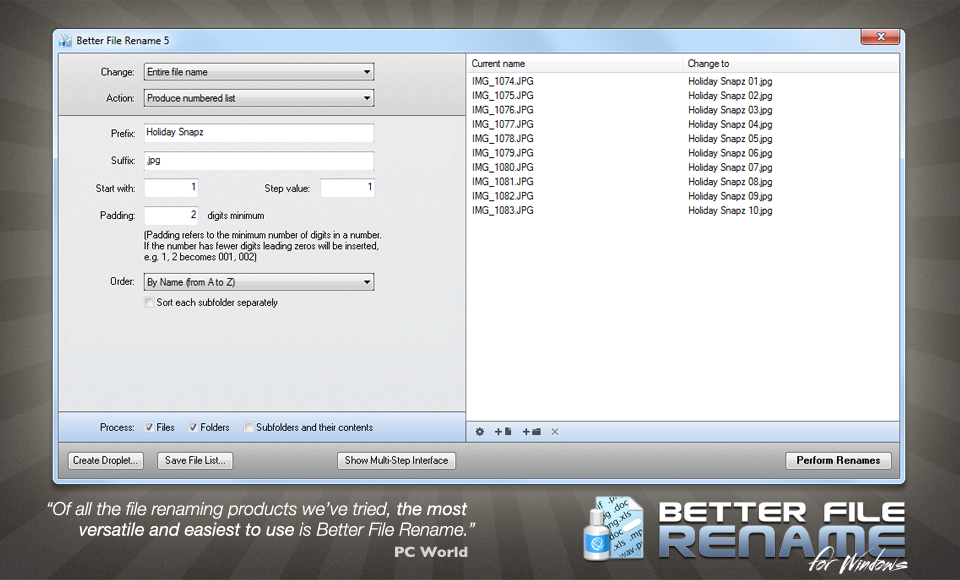 Better File Rename 5 is a comprehensive batch file renamer that transforms the tedious and time-consuming task of changing multiple file names into a simple matter of seconds. The tool offers an intuitive and friendly user interface that previews the new file names as you type or change options. Ideally suited for digital camera owners, web masters, and graphics professionals.
Mehr…
PDF Repair Program
Version: 1.0 | Shareware (48,00 EUR)
Repair damaged PDF files using PDF Repair Program. Try using PDF Doctor a PDF Repair Program that help users to repair damaged PDF files & rebuild damaged PDF files instantly. Repair PDF Files in just few seconds with PDF Doctor Tool. PDF File Repair tool enable users to reuse, rebuild & repair damaged PDF document. Make your damaged PDF files created Adobe Acrobat version up to 9.0 readable and working with PDF Repair Program.
Mehr…
File Rules
Version: 1.0 | Shareware (49,95 USD)
File Rules just uses keywords to organize and store any kind of files and documents. Is a new kind of file manager that totally replaces traditional hierarchical tree structures normally used to organize and categorize files.
Mehr…