Kategorie Audio & Multimedia / Audio Datei-Recorder
Boilsoft Audio Recorder for Mac
Version: 2.21 | Shareware (29,95 USD)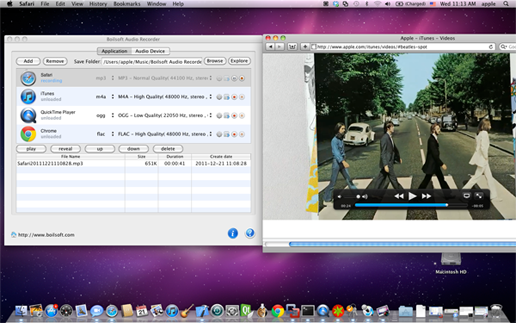 Boilsoft Audio Recorder for Mac is a powerful sound recorder and audio editor program. It can record sound from applications including Safari, Firefox, Chrome, iTunes, QuickTime, VLC, any IM software like Skype, iChat and line-in devices such as Mic, CD player. The generated audio file can be stored to MP3, WAV, AIFF, AAC, AC3, AU, FLAC, M4A, M4R, MATROSK and OGG.
Mehr…
AimOne Ringtone Maker for Mac
Version: 1.01 | Shareware (24,95 USD)
Ringtone maker for Mac,as a stable and easy-to-use Mac mobile ringtone converter software, AimOne Ringtone Maker for Mac can convert your favorite music or video soundtracks into ringtones for almost all mobile phone types. It can make ringtones from any popular video (even HD) and music format likeAVI
Mehr…
Tau Audio Recorder
Version: 1.2 | Shareware (19,95 USD)
Tau Audio Recorder is a compact, affordable and fully-functional audio recorder that supports both digital and analog inputs. It records sound from your microphone, any other default input device (MIDI, telephone, internet audio streaming, CD) and converts it directly into the selected output format without creating temporary files. With Tau Audio Recorder, you will understand that recording can be truly affordable, fast and easy as 1-2-3!
Mehr…
Call Recorder and Auto Answer for Skype
Version: 1.2 | Demo (25,00 USD)
This is MP3 Recorder for Skype Conversations and Auto Answer for Skype. May be used to record any type of Skype calls: PC-to-PC, SkypeOut, SkypeIn, conference calls. Calls may be recorded to MP3 files with CBR (48; 56; 64; 80; 96; 128; 192; 256; 320 kbit/s) or VBR. Send text message to partner on start/finish recording. Ability to mute microphone for auto answering machine. Please note: Requires Skype v5.6 or latest!
Mehr…
HiFi Recorder
Version: 3.3 | Shareware (19,95 USD)
HiFi Recorder is a mp3 recorder of getting the original sound recorded, which can record sounds from all kinds of sound devices, eg, Microphone, Line In, System sound. Besides, it can highly maintain the original scene sound by calculation.
HiFi Recorder supports MP3 and WMA, your can directly record to MP3 or WMA files.
Mehr…
Phone Call Recorder
Version: 3.5.1.3 | Shareware (34,95 USD)
This program taps telephone conversations as well as Caller ID information. Records are stored as regular WAV files. There is a convenient Caller ID popup window, so you will know who is calling you before you pick up the call. An answering machine mode will turn the program into a powerful and easy-to-use telephone assistant.
Mehr…
Sound Card Recorder
Version: 1.4.1.5 | Shareware (39,95 USD)
Sound Card Recorder does not have Start/Stop buttons. All recordings are done in automated mode. The program monitors your sound card(s) and decides when to start and stop recording. Records can be stored in almost any format (MP3, WAV, GSM, etc.) Multiple sound cards are supported as well. Users can make quick text notes for each record. Recorded files can be automatically emailed to specified e-mail addresses.
Mehr…
Any Sound Recorder
Version: 2.93 | Shareware (24,95 USD)
An audio software built in recording, editing and coverting sounds to MP3, WAV, OGG popular music format file. Typically it allows you to record sound from various input sources, edit audio files as you desired by cutting, copying, pasting, trimming and various DSP effects, save audio in popular WAV/MP3/OGG music formats. The program also supports voice activation and silence detection, track spliter smart and schedule features.
Mehr…
DeGo Free Audio Voice Recorder
Version: 1.2.6 | Freeware
Dego Audio Recorder kann Sound aus beliebigen Audio-Anschlüsse wie Mikrophonen, Linie-in Audio-, Streaming Audio aus dem Internet und Audio von Winamp, Windows Media Player, QuickTime, RealPlayer, Flash und Spiele. Unser Audio Recorder aufzeichnen und exportieren keinen Ton hören Sie ohne irgendeine Qualität zu verlieren, und bieten Ihnen die Möglichkeit, den Ton direkt in MP3, WMA, AAC, OGG, M4A und WAV-Dateien aufzeichnen.
Mehr…
Skype Recorder
Version: 3.0 | Shareware (25,95 USD)
Skype Recorder is a surprisingly easy-to-use tool for recording Skype audio conversations. Skype Recorder can record Skype calls automatically. The software has a number of additional handy features such as an automatic record encoding into MP3/WMA/OGG/WAV format, all Skype versions support, conversations in either single or dual audio track recording, hidden mode work, a built-in audio player, a built-in FTP-client and an easy-going interface.
Mehr…
MP3 Express
Version: 1.0 | Shareware (9,95 EUR)
Audio Notes Recorder
Version: 6.5 | Shareware (19,90 USD)
This voice notes program records from microphone and all other sound sources. Its key features include support for scheduled recordings, voice operated recording, transcription playback, export to MP3/WAV/OGG/EXE, changeable skin and message editor.
Mehr…