Kategorie Audio & Multimedia / Audio Encoder | Decoder
YouTube Music Converter
Version: 1.1 | Freeware
With this program you can easily extract music from YouTube video clips. Just copy the address, paste into the program, download it and convert. You can convert to any popular audio format, including MP3, FLAC, M4A, MID, MKA, WV, TTA, AAC, WAV, OGG. The program is very easy-to-use, because the interface is divided onto two separate windows - the first is Downloader, and the second is Converter.
Mehr…
Clip to MP3 Converter
Version: 1.0 | Freeware
With this program you can easily extract music tracks from YouTube clips, video files and DVD movies. In addition to MP3 format, you can convert video clips to FLAC, WAV, MKA, WAV, AC3, AAC, WMA, OGG, AU. Clip to MP3 Converter also has several editing tools. You can trim and merge music, edit tags and configure advanced parameters, such as bitrate, sample rate, number of channels and codec.
Mehr…
Clone2Go Audio Converter Free Version
Version: 2.5.0 | Freeware
Clone2Go Free Audio Converter is a powerful tool in audio extraction and conversion. With this tool, you can easily extract the unprotected sound tracks from video clips such as AVI, WMV and MPEG and convert the audio to different formats as you like such as WAV, WMA, OGG, MP3 and AAC, which can be played by your portable devices such as MP4 player, iPod, iPhone, Sony PSP, Microsoft Zune, Mobile Phone (e.g. Nokia N-Series), Pocket PC etc.
Mehr…
TuneClone Audio Converter
Version: 2.20 | Shareware (34,95 USD)
TuneClone Audio Konverter ist eine kinderleicht zu benutzende Software, welche iTunes M4P, WMA Musik-Dateien in MP3 konvertiert. Es hilft Ihnen dabei,die von DRM-geschützter Musik und verschiedene Audio-Dateien in ungeschützte MP3, WMA und andere MP3-Player Dateiformate mit hoher Geschwindigkeit und CD-Qualität umzuwandeln. Mit TuneClone lassen Sie die gekauften Musik-Dateien über ein virtuelles CD-Brennen zu konvertieren und DRM verhindern.
Mehr…
3Kast
Version: 1.04 | Shareware (789,00 EUR)
3Kast is a multi-format transcoding and content distribution solution that modifies MPEG TV broadcasts so that they can be distributed over the Internet and viewed on the TV, PC and Mobile - the 'three screens'. The 3Kast platform converts and manages the distribution of MPEG2 broadcasts into all popular video and audio formats. Support for live streaming to the iPhone is standard.
Mehr…
Skype Spy Agent
Version: 1.1.0.14 | Shareware (29,95 USD)
Skype Spy Agent is software for monitoring, recording and storing of Skype calls. Skype Spy Agent automatically detects the start of a call, records it in the .mp3 format and sends the recorded file to a specified email address. The software serves for remote storage of your own calls, control of your PC when it is used by other people, parental control and for other legal purposes.
Mehr…
Shuangs Audio Joiner
Version: 2.5 | Freeware
Shuangs Audio Joiner is a free audio file join tool. It can combine WAV, MP3 and WMA which are in various formats, frequencies and tracks into a file.
Mehr…
AudioCutPad
Version: 1.10 | Shareware (14,95 USD)
Cut your favorite piece of sound from your audio files in two clicks. AudioCutPad opens almost any audio formats available including MP3, WMA, ACC (M4A files), OGG and other less known one. As simple as possible interface with ability to scroll and zoom, select, play and save selected part of you audio track.
Mehr…
Exchange 2007 Server Recovery
Adware
Exchange 2007 Server recovery tool to export mailbox from Exchange 2007 to PST
Mehr…
Magic FLAC to MP3 Converter
Version: 3.72 | Shareware (19,95 USD)
Magic FLAC to MP3 Converter is a powerful FLAC batch converter that can convert FLAC file(Free Lossless Audio Codec) ,to MP3 and WMA,WAV files. The program is very easy to use, just select the files and output format.
Mehr…
Xilisoft iPhone Klingelton Maker for Mac
Version: 1.0.11.0317 | Shareware (9,95 EUR)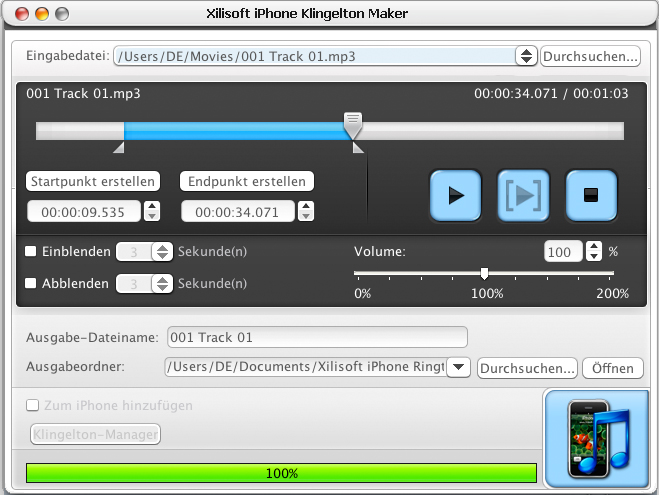 Xilisoft iPhone Klingelton Maker for Mac ist ein schneller und einfacher zu benutzen Mac iPhone Klingelton Converter for iPhone Benutzer, der nicht nur Audios wie z.B. WMA, WAV, RA, M4A und MP3 in M4R iPhone Klingelton umwandeln, sondern auch Videos wie z.B. AVI, WMV, DivX, MP4, H.264/AVC, AVCHD, MKV, RM, MOV, XviD, 3GP, und MPEG in M4R iPhone Klingelton umwandeln kann.
Mehr…
AEDTools Pro
Version: 1.13 | Shareware (35,00 USD)
Plug-in based universal audio converter. List of formats supported has more than 20 algorithms (WMA, MP3, Ogg, RealMedia, etc..) and could be enlarged adding a regularly updated plug-in. Product has an addition support of the modules for the popular WinAMP player. If you can play an audio file on yo your PC that means that you can convert it!
Mehr…