Kategorie Entwicklung / Debugging (Filter: Freeware)
Free Serial Port Monitor
Version: 3.31 | Freeware
Freier Schnittstellemonitor der Software, COM Rs232 Sauganleger mit Kommunikation Paket-Datenanalysator. Dieses überwachendienstprogramm kann ausspionieren, gefangenzunehmen, anzusehen, analysiert, die Test-COM Tortätigkeit, die COM Portanschluß und Verkehrsauswertung durchführt
Mehr…
Test Management Software Zeta Test Management
Version: 4.0.12.0 | Freeware
Test Management Software for test plans, test cases with integrated test management environment that enables you to perform black-box tests, white-box tests, regression tests or change management tests of software applications. Zeta Test Management helps you to plan, perform, log, monitor and document the tests, and then to evaluate the test results. Test your software with test scripts that you created with Zeta Test Management.
Mehr…
COM Port Data Emulator
Version: 2.7.4.1205 | Freeware
As a software or hardware engineer, you may often face situations when you need information about the ability of communication ports on a typical end-user system to handle large flows of data. If looking for a reliable and affordable COM port testing and analysis tool, look no further than COM Port Data Emulator! It was created for emulating a COM or Ethernet device, generating a data stream and sending it to a specific serial (COM) port.
Mehr…
COM Port Stress Test
Version: 1.4.4.630 | Freeware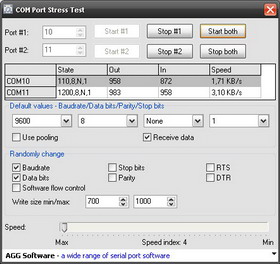 If you are puzzled by having to stress-test COM/RS232 ports and see no easy way to do that, make sure you don't miss COM Port Stress Test, as it does exactly what you need! COM Port Stress Test is a compact and affordable tool for testing COM, RS232 and RS485 (with converter) ports that generates an extremely fast data stream with alternating baud rate, flow control, RTS and DTR states. Try this software now and you won't be disappointed!
Mehr…
JIRA Client Lite
Version: 2.0 | Freeware
Jira Client Lite ist ein freies Desktop Front-end für 10-User Starter Edition von Atlassian JIRA Bug Tracking System. Er bietet zeitsparendes Benutzerinterface mit leistungsfähigen Such- und Analysewerkzeigen und auch mit einer Möglichkeit Issues offline zu bearbeiten. Die wichtigsten Eigenschaften sind: (a) Offline Modus. (b) Schlaue Suche. (c) Screenshot Werkzeuge und Editor. (d) Zeiterfassungstool als Widget.
Mehr…
Free Virtual Serial Ports
Version: 2.01.00.0165 | Freeware
Free Virtual Serial Ports is an user mode driver based software with Virtual COM port rs232 null modem cable emulator. Application provides an easiest way to use virtual serial devices on the computer running Microsoft Windows operating system. Product allows created virtual COM port to connect it to the named pipe (to be shared with other application running on the same or even another computer) or used with a pair of files for input and output
Mehr…
File Generator
Version: 1.0 | Freeware
Allows you to generate test files of any size with any type of random data
Mehr…