Kategorie Grafik / Gallerie- & Katalog-Tools
PhotoOnWeb Album Creator
Version: 0.9.6.1 | Freeware
PhotoOnWeb is a software to create your own photo album with digital pictures and host it on the internet. The software offers quick and easy creation and customization of the album (more than 20 different templates to match the theme of your pics). Sort your photos in multiple albums, pick a template and click on the Publish button. PhotoOnWeb does it all for you, resizes the photos, builds the website and publishes it on the Internet.
Mehr…
Kalimages photo
Version: 2.1.2 | Shareware (39,30 EUR)
Documentez vos photos en ajoutant des legendes incluses dans les fichiers images. Recherchez et naviguez dans vos collections par mot cle affichant les photos sur un meme theme, un auteur, un lieu ou tout autre des nombreux champs disponibles en IPTC ou XMP. Identifiez les doublons potentiels par nom de fichier, taille, largeur, metadonnees identiques. Copiez la photo ou la vignette vers le presse papier, nommez la selection ou exporter en XML
Mehr…
Acritum Exif2htm
Version: 1.079 | Shareware (19,95 USD)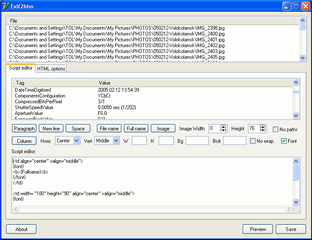 Exif2htm is a powerful tool allowing you to generate nice and fully customizable HTML tables and webalbums using EXIF metadata taken from JPEG and TIFF files. This information includes date and time when the photo was taken, aperture value, shutter speed, ISO, flash state, focal length and other camera settings. Exif2htm is also capable of generating simple TEXT files and comma-separated CSV files, which are compatible with Microsoft Excel.
Mehr…
Auto Photo Organizer
Version: 2.4.739 | Shareware (19,95 USD)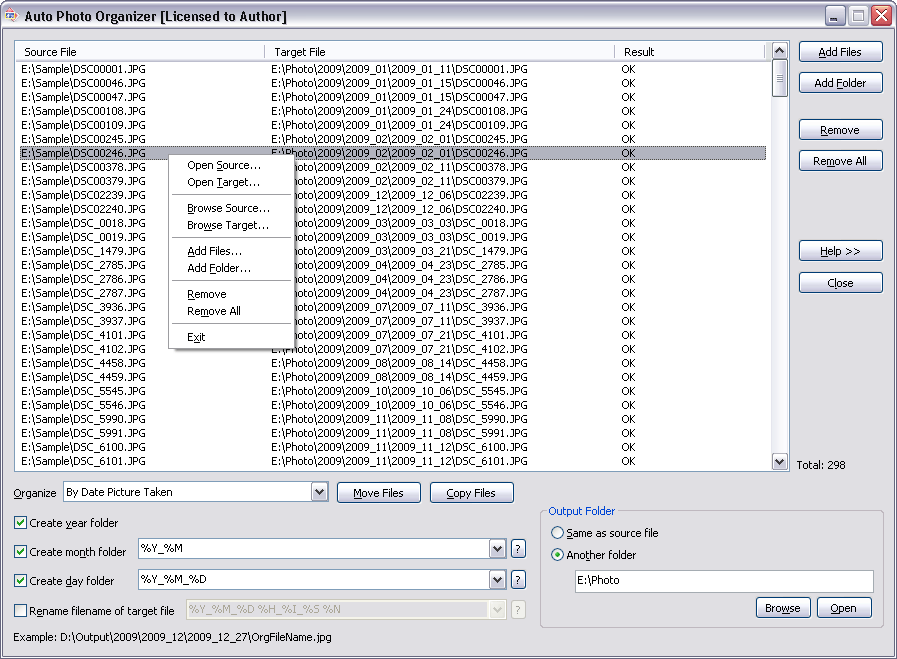 Auto Photo Organizer organizes and renames digital photos by date picture taken, date modified, date created, and extension. The software creates year, month, day, and extension folders and then copy or move photos or files to corresponding folder automatically. The software is compatible with photos taken by major digital cameras, for example, Canon, Nikon, Sony, Pentax, Olympus, and so on. And it is full compatible with Vista and Windows 7.
Mehr…
Easy Website Photo Gallery
Version: 1.1 | Shareware (34,95 USD)
Easy Website Photo Gallery is an easy-to-use web album generator which allows you to quickly and easily upload your photos to the Internet. It is highly useful for anyone who has an online shop, photographers or anyone else who wants to publish large numbers of photos on the Internet. The program has many built-in gallery templates, special effects for your photos and allows creating web slide shows and using Lightbox in your galleries.
Mehr…
Total Icon Organizer
Version: 1.4 | Shareware (29,90 USD)
Total Icon Organizer lets you search your collections of icons with ease. You can search your icon collection by various criteria (file type, name, height, width). Besides, you can exclude certain icons from search. Total Icon Organizer supports ICO, BMP, JPG, PNG, and GIF. If you are a designer or developer grab your free trial copy now - you will find it a great relief to search icons with Total Icon Organizer.
Mehr…
Easy Photo Manager
Version: 1.3 | Shareware (19,95 USD)
The Photo manager is intended for a wide audience - for all people owning cameras and mobile phones with cameras. Automates routine operations - automatically sorts and in large quantities renames photos.
Mehr…
Diashow XL 2
Version: 13.0.2 | Shareware
Erstellen Sie mit Diashow XL in nur 4 Schritten faszinierende Fotoshows für PC, DVD, TV. Erwecken Sie mit nur wenigen Mausklicks Ihre Bilder zum Leben und gestalten Sie professionelle Diashows mit über 170 tollen Überblendeffekten, Ihrer eigenen Musik und Ihren Texten. Mit dem integrierten Brennmodul geben Sie Ihre Diashow komfortabel auf CD oder DVD weiter. Holen Sie das Optimum aus Ihren Bildern mit der enthaltenen Bildbearbeitung heraus.
Mehr…
Hide Photos (Encrypted Photo Album)
Version: 1.4 | Shareware (49,95 USD)
Hide Photos stores protected images in an AES-encrypted secure container that is easily accessible with an Explorer-like interface. It displays full-color thumbnail previews of the protected pictures, and conveniently organizes your collection with tags and comments for quick search. Hide Photos employs the industry-standard AES encryption with 256-bit keys for guaranteed security. Protect your digital pictures against the curious eye!
Mehr…
ACDSee Pro Foto-Manager
Version: 3.0.355 | Shareware (124,99 EUR)
Machen Sie sich bereit, Ihren Fotografie-Workflow mit ACDSee Pro 3 zu beschleunigen. Verwalten, betrachten, verarbeiten und veröffentlichen Sie Ihre besten Arbeiten mit beispielloser Geschwindigkeit und Kontrolle. Sie profitieren von organisierten Dateien, optimierten Fotos und mehr Zeit hinter der Kamera.
Mehr…
Duplicate Photo Finder
Version: 3.6 | Shareware (34,95 USD)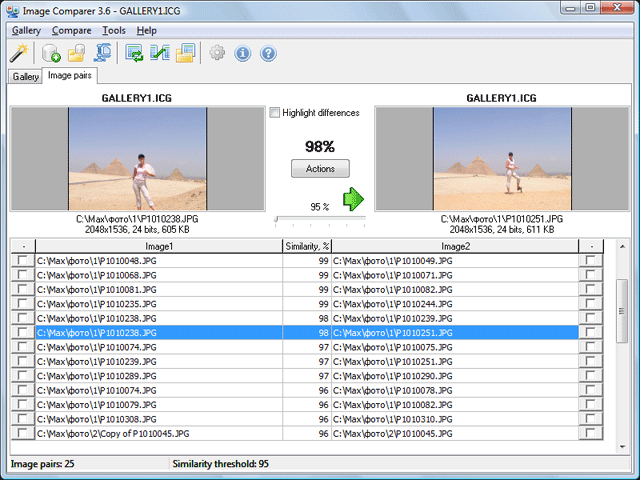 Automatically compare digital photos, find duplicates and determine the best shot. Have you tried showing a set or a large collection of digital snapshots to a friend or relative? Weren't they underwhelmed and a little bored by the number of all too similar shots of the same subject? Get rid of such phot duplicates automatically! Duplicate Photo Finder will identify and remove them with Formula-1 speeds and you do not need to do it manually.
Mehr…
Visual LightBox
Version: 4.8.3 | Freeware
Visual LightBox ist ein kostenloses Hilfsprogramm, mit dem Sie ganz einfach Fotogalerien mit modernem LightBox-Effekt für das Internet erstellen können. Sie brauchen keinerlei Programmierkenntnisse. Mit nur wenigen Mausklicks gestalten Sie effektvolle Bildergalerien. Sie lassen ganz einfach per "Drag&drop" die entsprechenden Bilder in das Fenster der Visual LightBox fallen, klicken auf "Veröffentlichen" und kurz darauf können Sie Ihre eigene.
Mehr…