Kategorie Grafik / Gallerie- & Katalog-Tools
Duplicate Image Finder Pro
Version: 3.6 | Shareware (34,95 USD)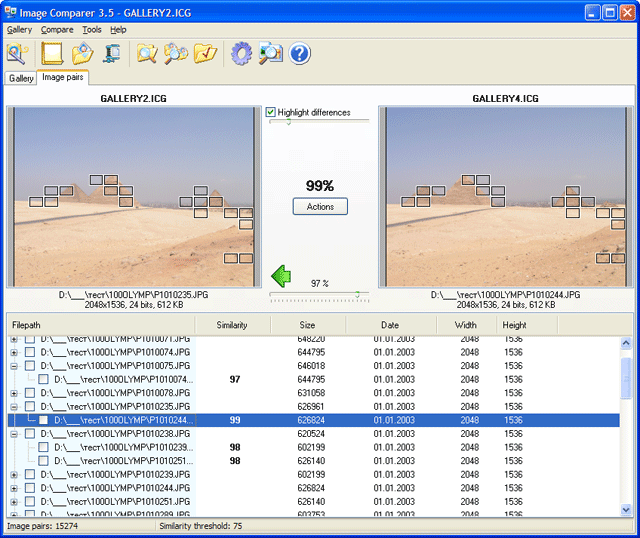 Duplicate Image Finder Pro acts like a human eye, allowing you to quickly locate duplicates and similar looking photo images in your collection. Just tell the program where your images are and get a list of duplicates. Duplicate Image Finder Pro allow you to compare found similar images side-by-side with differences highlighted. Don't miss the opportunity to refine your image collection with Duplicate Image Finder Pro!
Mehr…
Alamoon Watermark
Version: 4.7 | Freeware
Every webmaster or photographer knows that if you are publish photos, especially if you will be sending them to public place on the web or emailing them, you can't imagine how people use your photos. Someone could take the photos for their own use, and you might never even know! Alamoon Watermark lets you to create custom watermark (copyright text) to your photos.
Mehr…
GSA Photo Manager
Version: 1.4.2 | Shareware (19,00 EUR)
Mit dem Programm ist die Auswahl Ihrer Favoritenbilder ein Kinderspiel, sei es zur Organisation von Diaschauen oder einfach zur Sichtung und Auswahl Ihrer Fotos. Treffen Sie Ihre Wahl schnell und elegant im Einzelbilddurchlauf oder lassen Sie sich bei Ihrer Entscheidung in einer Mehrfachbild-Vorschau unterstützen. Ihre Bilder können in neue Formate gespeichert werden, zur Webseite verarbeitet werden (incl. FTP-Upload) und vieles mehr.
Mehr…
Image Comparer
Version: 3.8 | Shareware (34,95 USD)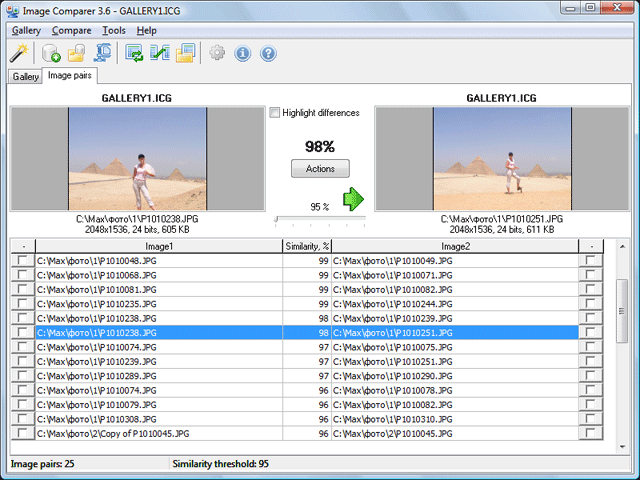 Image Comparer analysiert Eure digitalen Bilder und wählt automatisch das mit der besten Qualität. Somit braucht ihr nur ein Paar Klicks, um doppelte Bilder zu editieren oder zu löschen. Image Comparer bietet Euch inhaltsorientierte Bildersuche. Im Vergleich zu ähnlichen Produkten bietet das Programm nicht nur eine Suchfunktion für Duplikaten, sondern erkennt und analysiert Bildinhalte und gruppiert Bilder, die Ähnlichkeiten vorweisen.
Mehr…
Photo! 3D Screensaver
Version: 1.2 | Freeware
With Photo! 3D Screensaver you can see your favorite photos in an exciting environment of 3D virtual galleries. The program offers a large collection of fabulous 3D galleries. Now you can download new cool templates right from the application, as well as create your own. The new version features photo playlists option and can extract photos from Flickr(TM) photo service. Installation file also includes Photo! 3D Album.
Mehr…
Glenlay Gallery
Version: 2.4 | Freeware
Mit dieser Software können Sie in nur drei einfachen Schritten Fotogalerien erstellen. Diese eignen sich hervorragend um sie ins Internet zu stellen. Zum Erstellen der virtuellen Alben Ihrer Fotos werden keine HTML Kenntnisse vorausgesetzt.
Mehr…
Keseling Web Fotoshow
Version: 1.5.2 | Shareware (19,95 EUR)
Erstellen Sie beeindruckende selbstablaufende Diashows aus Ihren eigenen Bildern. Durch das Flash-Format (SWF) kann die Show nicht nur von CD, DVD und Festplatte sondern auch auf Ihrer Internetseite abgespielt werden. 38 Übergangseffekte zwischen den Bildern geben der Fotoshow ein professionelles Aussehen. Funktionen wie Hintergrundmusik (MP3/WAV), endloses Abspielen, Zeitanzeige und eine Ladefortschrittsanzeige runden Ihre Präsentation ab.
Mehr…
Digital Photo Suite
Version: 6.0.46 | Shareware (99,95 USD)
SoftOrbits Digital Photo Suite product line provides data solutions for resizing, convertion, protecting and publishing your digital photos. Includes Batch Picture Resizer, Batch Picture Protector, Private Photo Album and Html Web Gallery Creator utilites.
Mehr…
Image to HTML Converter
Version: 1.3.8 | Shareware (29,95 USD)
Do you have pictures that you would like to show to people all over the world and you just don't know how to put them on the internet and create a links to all of them? Image to HTML Converter is the right thing for you. Program creates friendly web pages on which it puts your photos. Every page has a link to the previous picture and the next picture, and to the main index file that Image to HTML Converter generates for you.
Mehr…
Automatic Photo Sorter
Version: 2.13 | Shareware (19,95 USD)
Stop wandering through endless digital pictures, and organize your collection for fast, intuitive browsing completely automatically with just a few mouse clicks! Automatic Photo Sorter creates chronological folders and places your pictures there with no human interaction. Simply select a folder with your original photo collection, and specify a new folder where a new, organized collection will be created immediately once you hit Sort.
Mehr…
FirmTools Duplicate Photo Finder
Version: 1.1 | Shareware (29,95 EUR)
Many people enjoy photography, and thanks to digital cameras, all photos can now be stored on your hard disks. Say goodbye to heavy and dusty photo albums and thousands of folders containing unidentifiable weirdly named pictures. Keeping track of your photo collection will be a lot easier with Duplicate Photo Finder, a handy utility for finding and managing duplicates. Optimize your everyday photo tasks with this easy-to-use program!
Mehr…
Kalimages PRO
Version: 1.0.9 | Shareware (250,00 EUR)
A professional tool for digital image management to capture metadata from photos or other digitalized contents loading the extracted information into a relational database for sql specialized functions and full text image search. Kalimages PRO application has IPTC/IIM, IPTC Core and XMP support including support for any xmp customized data you may have. It is designed to scan large image or photo folders.
Mehr…