Kategorie Grafik / Konverter & Optimierer
PDF to Image command line
Version: 4.6 | Shareware (49,90 USD)
AP PDF to Image Batch Converter is a useful pdf tool, it can create multifarious raster image documents such as bmp, jpg/jpeg, tif/tiff, gif, png, pcx and so on, the converter produces fully functional image documents with text, pictures, graphics etc, using the original PDF document formatting. It does not need any software support, such as Adobe Acrobat, Acrobat Reader, etc.
Mehr…
AyeConvert
Version: 1.20.901 | Shareware (29,95 USD)
AyeConvert is a batch image converter, enables you to convert your bmp cur dcx emf fmf g3f g3n gif ico jpeg jpg j2k j2c jp2 jpc pcx pgx png pnm pgm ppm ras tif tiff wbmp wmf to bmp tiff jpeg png pcx dcx tga ras, etc, in batches. AyeView is more smaller in size, no other plug-ins or ocx.
Mehr…
PDF-Creator
Version: 1 | Demo (16,95 GBP)
PDF files are the most popular file format in the world. But can YOU create them? PDF-Creator allows you to create your own professional-looking PDF files from ANY document. Simply open your file, such as a Word document, and click File & Print. Select the PDF-Creator printer and you're done. It'll create your PDF for you!
Mehr…
Quick Image Resizer
Version: 2.7.3.1 | Shareware (29,00 USD)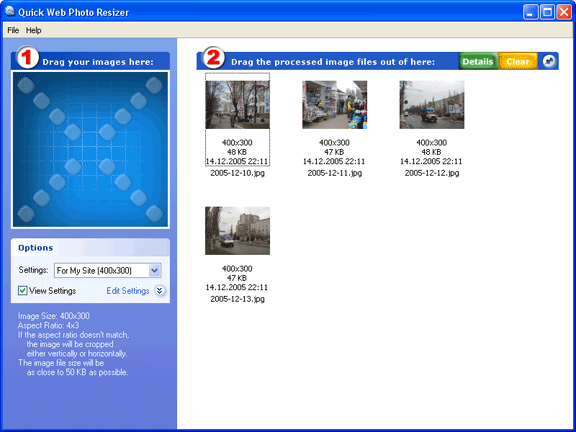 Quick Image Resizer bietet eine neue Methode, Fotos für Webseiten zu optimieren. Ein Foto muss nur auf das blaue Symbol im Programmfenster gezogen werden und wird dann automatisch mit den eingestellten Parametern bearbeitet. Danach kann das fertige Bild in ein Verzeichnis, eine e-Mail oder auf einen Webserver gezogen werden.
Mehr…
Konvertor
Version: 5.04.17 | Shareware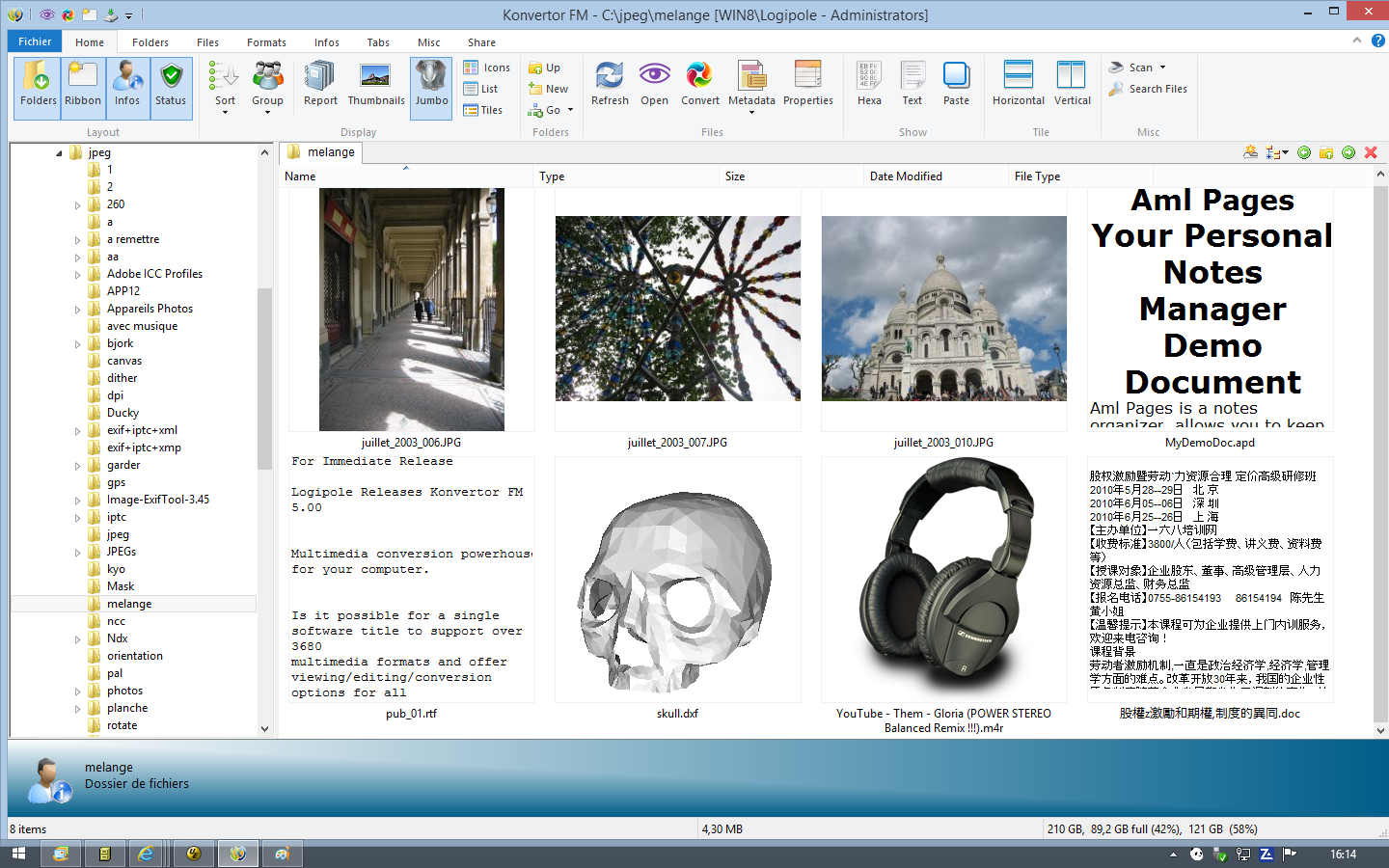 Free Explorer-like program to view/convert/organize between 4400+ different formats: audios, photos, videos. Simple for beginners and powerful for professionals.
Mehr…
ReaTIFF convert to TIF
Version: 2.2 | Shareware (24,95 USD)
ReaTIFF is our popular image converter, allowing you to convert images from most commonly used graphic formats to TIFF. You can convert you images to TIFF either one by one or all at once as a batch job.
Built-in image editor provides several popular image manipulation functions, including resize, crop, rotate, mirror, brightness, contrast, border, watermark, red eye correction and a dozen of various artistic effects.
Mehr…
Advanced PDF to JPG converter
Version: 1.9.9.34 | Shareware (49,95 USD)
Advanced PDF to IMAGE converter converts PDF files to images in JPG, GIF, PNG, BMP, TIFF formats. The PDF to IMAGE converter is a perfect tool for implementing PDF documents data archives. Original document layout is fully preserved. Original PDF formatting and interrelation of text and graphical elements on each page. Adobe Acrobat is not required.
Mehr…
UnJpeg
Version: 1.5 | Shareware (119,95 USD)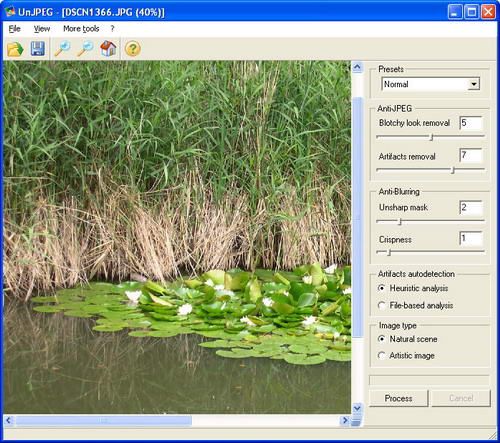 UnJPEG ?isa perfect solution for design studios/publishing houses, designed to professionally recover images damaged by the JPEG compression. This effective product performs JPEG artifact and blotchy-look removal, median noise reduction, smooth image resizing, contrast and crispness control, as well as gives clarity and a real-life effect to pictures taken with digital cameras.
Mehr…
Mobile Photo Enhancer
Version: 1.3 | Freeware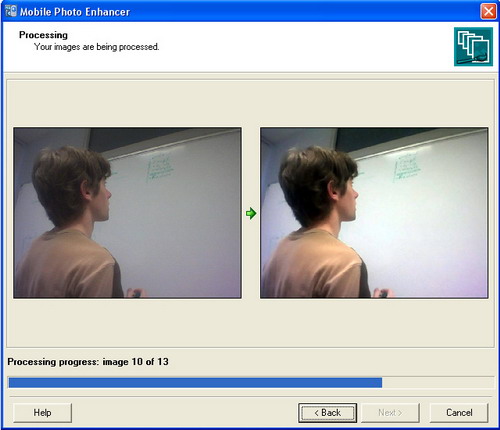 Mobile Photo Enhancer corrects typical defects found in camera phone photos - Jpeg artifacts and digital noise, poor sharpness and color and vignetting (dark corners) problem. The program effectively corrects photos with pronounced defects in no time at all. The product is a two-in-one software package: it contains a tool for processing images one at a time as well as a tool for simultaneous processing of batches of images.
Mehr…
JPEG Compressor
Version: 2017 | Demo (35,00 USD)
JPEG Compressor allows you to resize, compress and edit digital photos in JPEG, the most popular digital photo format. Our JPEG Compressor contains very powerful JPEG compression engine specially designed to preserve the original picture quality. This unique feature helps you to re-save edited photo without loosing its original quality. JPEG Compressor as a photo editor allows you to resize, rotate, crop, remove red eyes, add watermarks and more.
Mehr…
AVI 2 DVD & VCD
Version: 1.0 | Demo (19,99 EUR)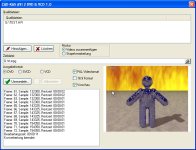 Erstellen Sie Ihre eigenen DVD's oder Video-CDs (VCD oder SVCD) nun ganz einfach! Sie wählen einfach die AVI und MPG Videos zum Konvertieren und das Zielformat aus. Das Programm konvertiert dann alle Videos nacheinander oder fügt alle Videos zu einem großen Video zusammen. Die erzeugten MPG Dateien entsprechen der Norm für DVD's, Video-CDs oder Super-Video-CD's und können dann mit Ihrem CD-Brennprogramm ganz einfach gebrannt werden.
Mehr…
Total Image Converter
Version: 5.2 | Shareware (19,90 USD)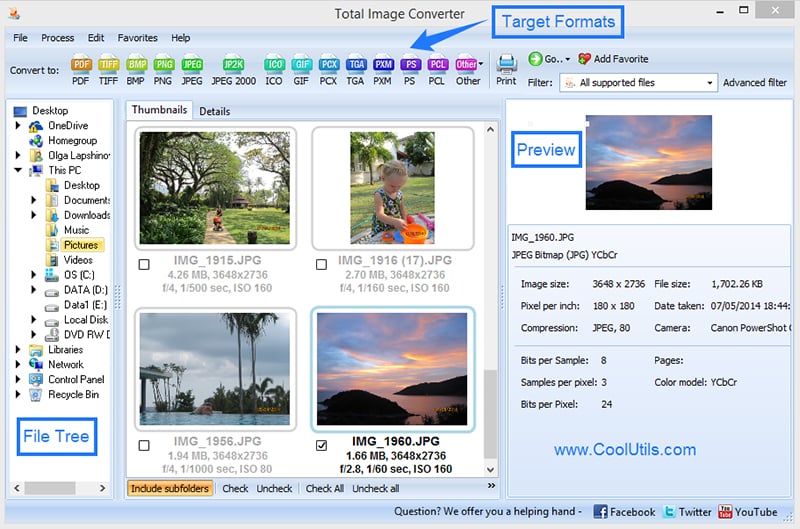 Total Image Converter ist einzigartig - er konvertiert fast alle populären Bildformate (JPG, GIF, BMP, PCX, PNG, TGA, TIFF, WMF, PSD + 20 weitere Formate). Ungeachtet der weiten Liste unterstützter Formate ist Total Image Converter sehr einfach bei der Benutzung. Sie müssen nur die erforderliche Größe und das Format festlegen, den Rest macht Total Image Converter automatisch. Sie können damit auch Bildgröße ändern, Bilder zuschneiden und drehen.
Mehr…