Kategorie Grafik / Konverter & Optimierer
JPEG Compressor
Version: 2017 | Demo (35,00 USD)
JPEG Compressor allows you to resize, compress and edit digital photos in JPEG, the most popular digital photo format. Our JPEG Compressor contains very powerful JPEG compression engine specially designed to preserve the original picture quality. This unique feature helps you to re-save edited photo without loosing its original quality. JPEG Compressor as a photo editor allows you to resize, rotate, crop, remove red eyes, add watermarks and more.
Mehr…
Mobile Photo Enhancer
Version: 1.3 | Freeware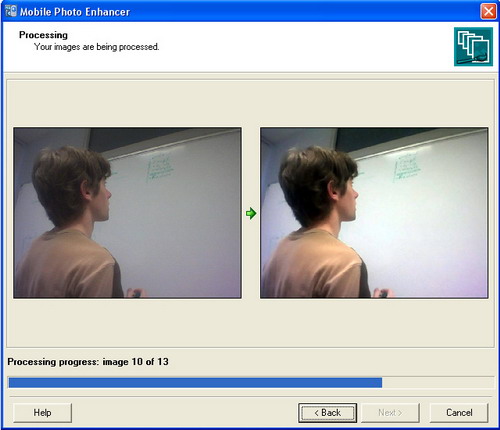 Mobile Photo Enhancer corrects typical defects found in camera phone photos - Jpeg artifacts and digital noise, poor sharpness and color and vignetting (dark corners) problem. The program effectively corrects photos with pronounced defects in no time at all. The product is a two-in-one software package: it contains a tool for processing images one at a time as well as a tool for simultaneous processing of batches of images.
Mehr…
Any DWF to DWG Converter
Version: 2010 | Shareware (118,00 USD)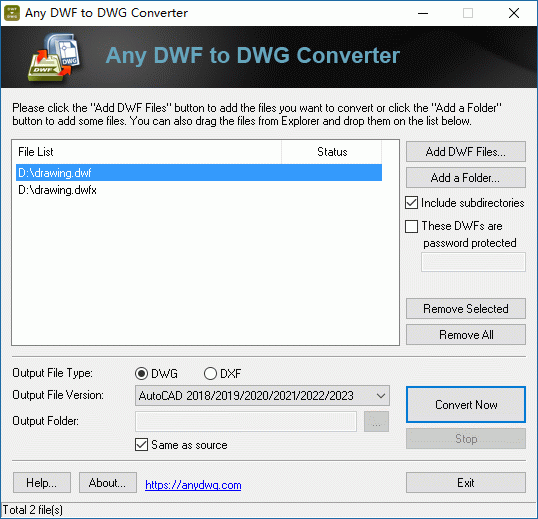 DWF to DWG converter allows you to convert DWF files to DWG and DXF, you can recover DWF entities to corresponding DWG entities easily.
Key Features:
1.Supports all DWF entity types exported by AutoCAD, including arcs, elliptical arcs, ellipses, true type fonts and etc.
2.Supports the DWF multi-page specification.
3.Restores the layers in DWF, renders entire DWF pages.
4.Extracts embedded Images.
Mehr…
Avi4Bmp
Version: 2.4 | Freeware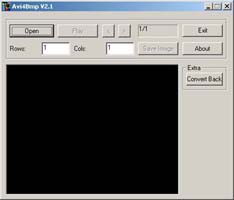 Mainly a conversion tool which reads Avi,Gif and Mpg and converts them to an unique Bmp or Png with all frames from the original animation.
Really handy for game programming. Convert-back feature allow the user to get back the original animation after, for example, the application of filters or retouch.
Perfect for BlitzBasic's LoadAnimImage() function as well as other game developing software which read animated images from a strip or a grid.
Mehr…
Image Splitter
Version: 2.42 | Shareware (24,95 USD)
Speed up your Web site by splitting large images into pieces. Shrink your graphics size while increasing its quality. Make interactive image-based navigation by hot-linking slices instead of using slower-loading static image maps. Image Splitter prepares your images for publishing on-line by slicing an image into rectangular pieces of arbitrary size. Make your Web pages load faster and your Web design workflow easier with Image Splitter!
Mehr…
RasterVect
Version: 24.8.4 | Shareware (67,79 EUR)
Mit diesem Programm k?nnen Sie beliebige Bilder im Rasterformat in das Vektorformat konvertieren. Das Programm unterst?tzt auch Scanner per TWAIN Schnittstelle, so da? Sie auch direkt Vorlagen einscannen k?nnen. Das Zielformat DXF wird von den meisten CAD Programmen die mit Vektorgrafiken arbeiten problemlos verarbeitet. Die Software selbst erlaubt es Ihnen die zu verarbeitenden Bilder beliebig zu ?ndern und die Rasterlinen zu ?ndern.
Mehr…
Any DWG to DXF Converter
Version: 2010 | Shareware (75,00 USD)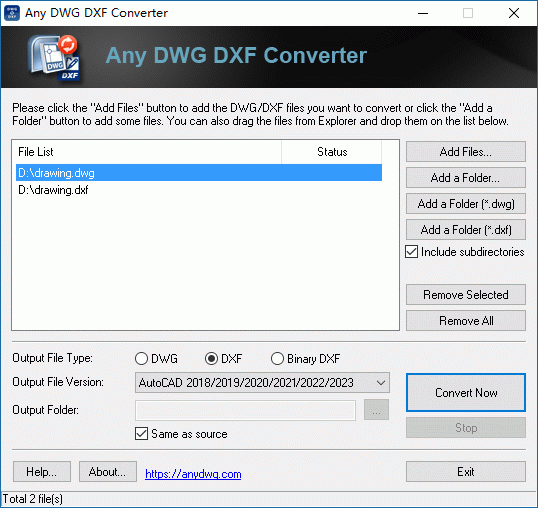 Any DWG DXF Converter is a batch DWG and DXF bi-directional converter that allows you to convert DWG to DXF, DXF to DWG without the need of AutoCAD. It allows you to choose the AutoCAD version of the output DWG and DXF file.
Key Features:
1. AutoCAD NOT required.
2. Convert DWG to DXF, and DXF to DWG in batches.
3. It is also a DWG/DXF file version converter.
4. Supports R2.5 to 2005 DWG/DXF files.
5. Very easy to use.
Mehr…
Watermark Factory - advanced watermark creator
Version: 2.58 | Shareware (49,00 USD)
Watermark Factory allows you to add text or image watermark to any picture. Protect your copyrights or simply add comments to any picture. This useful program has beautiful and easy to use interface. You will be able to process thousands of files in a few seconds. Watermark Factory - the Swiss Army knife of watermark creation!
Mehr…
CoffeeCup PixConverter
Version: 4.0 | Shareware
Convert all your digital photos for use with Flickr or on your Website, sending in e-mail, posting on auction sites, and lots more. CoffeeCup PixConverter is the easy way to batch convert your digital photos for all your online needs. Add photos one by one or convert an entire folder! You can watermark your photos with text and graphics, and there's even a snazzy thumbnail maker built in to create Web photo albums in a snap!
Mehr…
TiffSplitter
Version: 2.0 | Shareware (39,50 USD)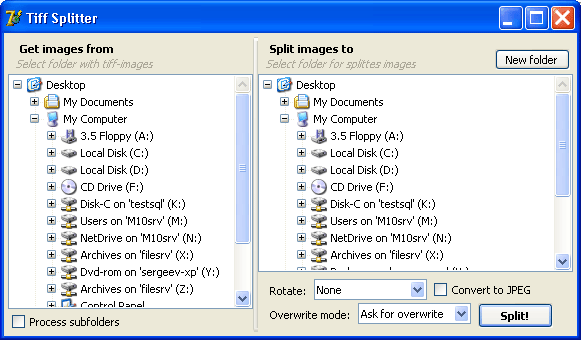 A new most handy program that splits multi-page TIFF files into separate images. TIFF Splitter is easy-to-use and has transparent interface. TIFF Splitter has two 2 ways of handling: you may either use the command line or user interface. Select the folder where you have your tiff files and the directory you want to place output files and press the button "Split". TIFF Splitter will do the rest for you!
Mehr…
JLSoft Picture Resizer
Version: 2.3 | Freeware (10,00 EUR)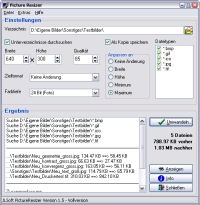 JLSoft Picture Resizer ist ein Tool, um mehrere Bild-Dateien (*.jpg, *.gif, *.tif, *.bmp, *.ico, *.png, etc) in eine andere Auflösung oder ein anderes Format zu konvertieren. Dies ist besonders für Benutzer einer Digitalkamera sinnvoll, um die Bilder bestmöglich zu archivieren. Zusätzlich sind weitere Funktionen, wie das automatische Drehen oder Einfügen von Copyright-Texten möglich.
Mehr…
PDF Ripper
Version: 2.06 | Shareware (29,00 EUR)
PDF Ripper extracts image, text, chart, formula, vector drawings from Adobe PDF files, and convert PDF to Word, PDF to DOC, PDF to RTF, PDF to HTML, PDF to Text with a minimum loss of information while preserving the layout and graphics. Batch extraction and conversion are supported. PDF Ripper supports all PDF standards from PDF 1.0 to PDF 2.0, and it does not requires Adobe Acrobat or Microsoft Word, since it is standalone and royalty-free.
Mehr…