Kategorie Grafik / Konverter & Optimierer
Virtual PDF Printer
Version: 3.0 | Shareware (63,00 EUR)
Virtual PDF Printer serves as a real printer to convert anything printable to PDF. The printer is a high quality PDF generator with high printing resolution, PDF document information creation, PDF content encryption with passwords protection, PDF access control, PDF scaling, PDF version and compatibility control, font embedding options and more. Virtual PDF Printer is an affordable, effective solution offering dynamic generation of PDF documents.
Mehr…
Able Graphic Manager
Version: 2.7.10.10 | Shareware (34,95 EUR)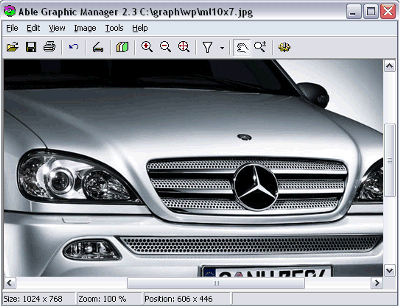 Able Graphic Manager is a program that enables you to easily view, acquire, print and convert graphic files in normal (file by file), batch (many files at a time) and command line modes. Input formats: Drawing Interchange Format (DXF), TIF, TIFF, JPG, JPEG, JPE, JP2, J2K, JPC, PCX, BMP, DIB, RLE, PNG, WMF, EMF, TGA, TARGA, VDA, ICB, VST, PIX, PXM, PPM, PGM, PBM, ICO, CUR. Output formats: JPG, TIF, PCX, PNG, BMP, TGA, GIF, WMF, PXM, PPM, PGM, PBM.
Mehr…
JPEG Imager
Version: 2.5.0 | Shareware (29,95 USD)
An interactive image compressor. Provides various compression controls and a real-time preview of a resulting image. It helps you compress your pictures better, making them smaller and faster to download, but with as little harm to the picture quality as possible. May prove to be useful if you need to optimize your images for publishing on the Web. Includes a set of image enhancement tools, simple built-in batch processor and thumbnail generator.
Mehr…
Algolab Raster to Vector Conversion Toolkit
Version: 2.97.72 | Shareware (99,00 USD)
Vectorizer für CAD/CAM/GIS Fachmänner, Entwerferen und Illustratoren. Vorhanden auch als Algolab Raster to Vector SDK, ActiveX ? Com. Component. Setzt um und rafiniert architektonische, mechanische, Zeichnungen, Karten, Graphik für Bücher und mehr von Raster bis Vektoren. Digitalisiert Mathegraphik. Rafiniert Vektor-Graphik, erschafft feine Linien und Formen. Ausgangformaten sind DXF (AutoCAD), AI (Adobe Illustrator), EMF, WMF and ASCII XY (Excel
Mehr…
ReaWatermark
Version: 2.1 | Shareware (29,95 USD)
Apply your transparent logo watermark to multiple image files.
ReaWatermark simplifies the process of creating and applying watermarks to multiple files in multiple folders. It supports a mixture of text, copyright symbols, graphics and drawing watermarks of any complexity. The multi-level transparency setting allows you to choose and preview how your watermark image or text will affect the protected image.
Mehr…
ReaGIF convert to GIF
Version: 2.3 | Shareware (24,95 USD)
ReaGIF is our popular image converter, allowing you to convert images from most commonly used graphic formats to GIF. You can convert you images to GIF either one by one or all at once as a batch job.
Built-in image editor provides several popular image manipulation functions, including resize, crop, rotate, mirror, brightness, contrast, border, watermark, red eye correction and a dozen of various artistic effects.
Mehr…
AquaSoft Barbecue
Version: 3.2.05 | Freeware (29,90 EUR)
Bearbeiten und optimieren Sie viele Digitalfotos gleichzeitig. Konvertieren Sie Ihre Bilder in eine anderes Format, verkleinern sie dabei, entfernen den Rotstich, fügen ein Wasserzeichen und Aufnahmedatum (EXIF) ein...und alles mit einem Klick. Weitere Funktionen: Mehrfachumbenennen, Makros aufzeichnen, Bildgröße ändern, Farbkorrektur, Bildeffekte, Stapelverarbeitung. Ideal geeignet für Bilder von Digitalkameras. Liest und schreibt EXIF-Daten.
Mehr…
Guck mal
Version: 15.0 | Shareware (12,95 EUR)
Guck mal stellt eine breite Palette von Funktionen rund ums digitale Bild bereit. Dabei verhilft die unkomplizierte Bedienung schnell zu professionellen Ergebnissen.
Mehr…
Spherical Panorama Fisheye Stitcher
Version: 5.05 | Shareware (49,00 EUR)
Spherical Panorama 3/2-Fisheye Stitcher, creates a spherical panoramas.
Spherical Panorama 3/2-Fisheye Stitcher's important features are :
- Automatic and manual image correction. Tiff and Jpeg Fisheye Input format.
- Jpeg and BMP output spherical panorama format.
- Spherical panorama converter for creation of a logo.
- Internal 360 spherical panorama viewer.
Universal support of standard and custom user's equipment, for any rotators and tripods.
Mehr…
Total Watermark Professional
Version: 1.6.753 | Shareware (29,95 USD)
The best way to protect your digital photos is by watermarking them, i.e. placing a faint logo or text superimposed over the top of the photo. Posting a copyright message or corporate logo on your proprietary photos cools down folks' desire to copy and use the photos without permission. Photo watermarking is pretty easy, as long as you have the right software. Also, you can upload images to a website or most popular social networks.
Mehr…
Free Online PDF to DWG Converter
Version: 10 | Freeware
Kostenloser Online-Konverter, der erlaubt, PDF in editierbaren DWG-Dateien umzuwandeln. Außerdem können Sie den Text nach der Umwandlung verändern und dieses Feature ermöglicht einfachere Arbeit mit der erhaltenen Datei. Dank der Ebenheit der Bogenobjekte wird die maximale Identität der Zeichnungsobjekte erreicht. Erfordert keine CAD-Anwendungsinstallation!
Mehr…
ID2Q
Version: PerpetualBundle | Demo (199,00 USD)
ID2Q bietet eine schnelle, einfache und kostengünstige Methode für Sie, Ihre Dateien aus Adobe InDesign zu Quarkxpress zu konvertieren. Einmal in Quarkxpress sind Anwender nun in einem flexiblen und vertrauten Umgebung, so dass für viel einfachere Bearbeitung. ID2Q (Adobe InDesign zu Quarkxpress) ist eine XTension für Quark. Das Quarkxpress XTension bietet dem Anwender eine schnelle und einfache Möglichkeit, Adobe InDesign-Inhalte in einem neuen
Mehr…