Kategorie Grafik / Screen Capture
AWinware Screen Capture Tool
Version: 1.0.1.2 | Shareware (11,03 EUR)
Tryout free screen capture software to capture full screen window, selected rectangular area and active window. Screenshot creator instantly capture screen and save picture on user defined location. Tool is also capable to take save image on clipboard and can be easily paste on any image editor for processing. Software can save snapshots in JPG, PNG, GIF, BMP and TIF format. Image capturing tool is fast and affordable desktop utility.
Mehr…
easy Whiteboard
Version: 2.9.198 | Freeware
Schreiben, skizzieren und zeichnen Sie "auf" den angezeigten Bildschirminhalten, denn ein Bild sagt mehr als 1000 Worte.
Mehr…
EatScreen Recorder Pro
Version: 1.1 | Shareware (39,95 USD)
Screen recording software and screen recorder to create software tutorials, demos and online help video for web sharing and technical support by screen recording and screen capture. EatScreen Recorder is an easy video screen capture & screen recording tool that can record screen activities and sounds into video movie files(AVI, FLV, WMV).
Mehr…
ScreenDiscoverer
Version: 1.5 | Shareware (19,00 USD)
ScreenDiscoverer ist ein Werkzeug, das erlaubt das Zoom der Vergrößerung verschiedener Objekte umzuwandeln, Schnappschüsse zu machen, bestimmte Farbe auszuwählen, und die Charakteristiken der Farbe im verschiedenen Formaten darzustellen. Es gibt eine Möglichkeit einen ausgewählte Bildschirmregion oder beliebigen Fensterobjekt oder den kompletten Bildschirm zu erfassen. Benutzerdefinierte Schnelltasten machen ScreenDiscoverer noch mehr bequem.
Mehr…
SGS VideoSource Free video component
Version: 1.0.0 | Freeware
SGS VideoSource ist ein Video-Komponente, die Erfassung der einzelnen Frames des Videos von jedem Video-Capture-Gerät, bissig Framegrabber-oder Video-Datei auf Windows-Plattform ermöglicht. Der Zweck dieser Bibliothek ist die leistungsfähige und effiziente Reihe von Funktionen für das Abrufen und die Aufnahme von Video bieten. SGS VideoSource ermöglicht Programmierern eine einfache Integration video Erfassung und Verarbeitung von Funktionen in ih
Mehr…
Screen Shot Maker
Version: 2.5.9.3 | Shareware (16,95 USD)
Screen Shot Maker - is a powerful screen capture application that prints screen and grabs screen shot from Windows desktop. If you want to capture desired desktop screen pictures at will and select capture area in rectangle, window, control, etc., some video games, Screen Shot Maker can be your cool and powerful tool.
Mehr…
Web Snapshot
Version: 2.0 | Shareware (75,00 USD)

Capture entire web pages to PNG, Jpeg, Gif, BMP images and resize them to thumbnails. The component saves any downloaded web files (html, flash, styles, JavaScript) to disk. You can specify first URL, thumbnail size and the sample Spider application will make screenshots of websites. The Web Snapshot ActiveX component with examples for C#, C++, ASP, ASP.NET, VB, VBScript, and VB.NET let you start implementing your own projects immediately.
Mehr…
aSkysoft Screen Recorder
Version: 2.4 | Shareware
aSkysoft Screen Recorder is a screen recording software to capture video, sound, pictures and any others you can see on your desktop screen. You can record part of your screen, window or full screen of your desktop activity into video file. The recorded video can be saved as AVI, GIF and SWF Flash files etc. And you can record audio or not into the video from any source like microphone, line-in, speakers etc.
Mehr…
SimpleScreenshot
Version: 1.40 | Freeware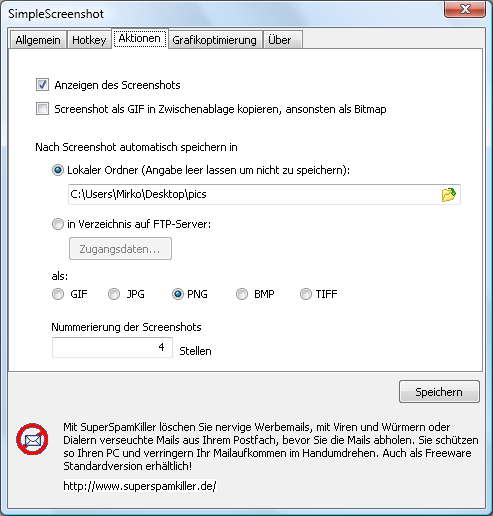 Mit SimpleScreenshot können auf einfache Weise Screenshots erstellt und anschließend als GIF, JPG, PNG, TIFF oder BMP gespeichert oder per FTP ins Web übertragen werden. Jeder Screenshot wird in die Zwischenablage kopiert. Es ermöglicht die Erstellung von Screenshots für den ganzen Bildschirm, eines Fensters oder des Fensterclientbereichs. Die Hotkeys sind frei konfigurierbar, so dass keine Konflikte mit anderen Anwendungen auftreten können.
Mehr…