Kategorie Grafik / Sonstige
ADG Panorama Tools
Version: 5.3 | Shareware (39,99 USD)
Zum Erstellen und Anzeigen von 360-Panoramen. Als Quelle dient dem Programm eine beliebige Anzahl von Einzelbildern, die zu einem klassischen Panorama zusammengesetzt werden. Als besonderes Feature bietet das Tool die Moglichkeit, interaktive 360 Grad-Bilder zu erstellen. Allerdings benotigen diese Bilder die Installation des ebenfalls kostenlosen ADG Java Viewer. Der Viewer erlaubt die Prasentation von interaktiven Prasentationen im Internet.
Mehr…
PhotoEchoes
Version: 3.10.3 | Shareware (24,50 EUR)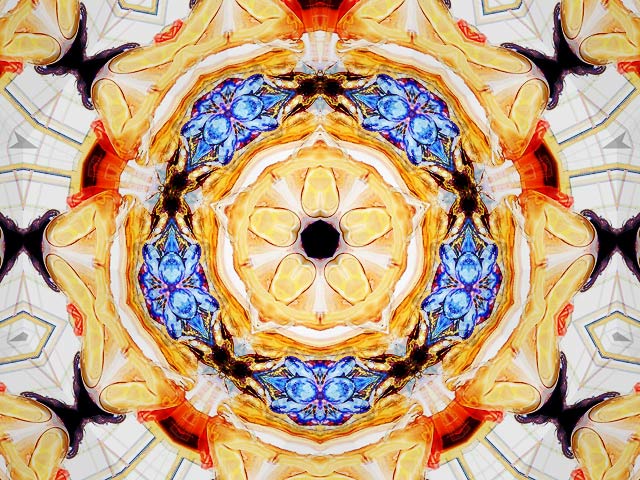 PhotoEchoes is a digital Kaleidoscope that generates awesome animated images based on photographs stored in your computer. It can run as a stand alone program (windowed or full screen) or as a screensaver. With the ability to capture and save at high resolution the images and tileable patterns it creates either to a file or directly as the Desktop Wallpaper. Also with Video recording produces AVI files for other devices (tv sets, phones)
Mehr…
PDF Create
Version: 3 | Shareware (49,00 USD)
PDF Create! is the fast, reliable and affordable way to turn all of your PC documents, drawings and images into industry-standard PDF files. Now you can instantly create PDF documents that are compact and easy to e-mail, can be universally viewed on the Web, and that print just as if they came from the original application. PDF Create! also gives you all of the advanced features you need, including compatibility with all PDF file types.
Mehr…
Omni Page Professional
Version: 15 | Shareware (499,00 USD)
OmniPage Professional allows business professionals to achieve new levels of productivity by eliminating the manual reproduction of documents. Precision OCR analysis, advanced layout detection, Logical Form Recognition? (LFR) technology, and advanced security features quickly turn office documents and forms into over 30 different PC applications for editing, searching and sharing.
Mehr…
PhotoAcute Studio
Version: 3.002 | Shareware (29,00 USD)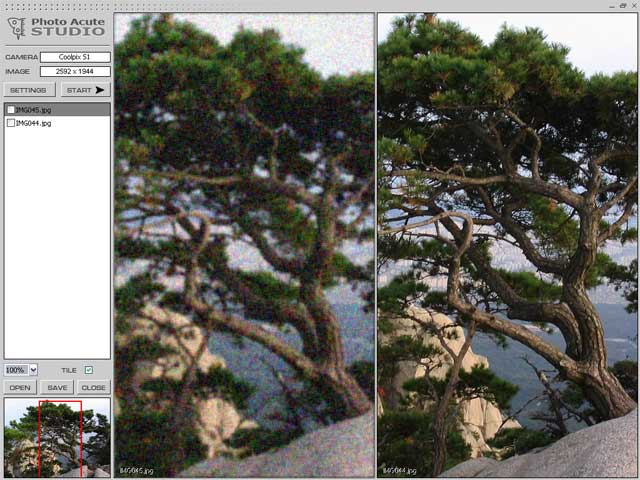 Stacking of continuous photos allows you to increase image resolution beyond the camera limits, expand dynamic range, reduce noise and reveal fine details. PhotoAcute is a stacking wizard with a proven performance and cutting-edge features unavailable yesterday. Up to twice resolution increase, HDR fusion with moving objects handling and precise tripod and handheld photos alignment. Full RAW support. Time-unlimited, fully functional free trial.
Mehr…
Keseling Poster-Drucker
Version: 1.4 | Shareware (14,95 EUR)
Drucken Sie mit Ihrem DIN A4-Drucker beliebige Bilder, Grafiken oder Fotos riesengroß auf bis zu acht Quadratmeter Papier. So können Poster z.B. in den Größen DIN A3 bis DIN A0 erstellt werden. Dazu wird die Bilddatei des Posters auf mehrere DIN A4-Seiten aufgeteilt. Nach dem Druck werden die Seiten zusammengeklebt. Mit Hilfe der Vorschau kann bereits vor dem Druck die optimale Größe für Ihre Poster, Plakate oder Banner ermittelt werden.
Mehr…
SF Karte
Version: 6.00 | Shareware (9,90 EUR)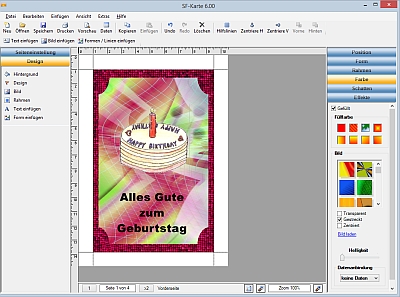 SF Karte druckt verschiedene Arten von Glückwunschkarten, Urkunden, Schilder etc. Mit wenigen Klicks werden anspruchsvolleKarten erstellt. Für eine professionelle Nachbearbeitung stehen komfortable und umfangreiche Funktionen zur Verfügung. Die Karten können auch als Bilddatei oder Mail exportiert werden.
Mehr…
PDF Converter
Version: 3 | Shareware (49,00 USD)
Now you can do so much more than converting PDF files into Microsoft Word documents! ScanSoft PDF Converter Professional 3 is an unmatched combination of conversion, creation, and editing features at a third the price of the leading PDF business software.
Mehr…
Keseling ScreenLineal
Version: 2.2 | Shareware (14,95 EUR)
Messen Sie mit diesem Bildschirmlineal Abstände auf Ihrem Monitor. Ideal für Grafiker, Designer, Webmaster und Softwareentwickler. Eine Lupe vergrößert Bildschirminhalte mit bis zu 20-fachen Zoom. Mit der Farbauswahl können Farben direkt von jedem Pixel des Bildschirms eingefangen werden. Die gewählte Farbe kann in unterschiedlichen Formaten in die Zwischenablage kopiert werden.
Mehr…
CrackTiff
Version: 5.0 | Shareware (29,95 USD)
CrackTiff is a tif tiff converter and merger, able to convert tif tiff files from one compression mode into another, such as convert uncompressed tif tiff files into PackBits, group 3, group 4, LZW or JPEG compressed tif tiff files. You can also combine (merge) multiple tif tiff files into one by the same compression mode with CrackTiff. Options to keep file name, convert sub folder, write log file. Both GUI and command line modes.
Mehr…
DataNumen PSD Repair
Version: 2.0 | Freeware (149,95 USD)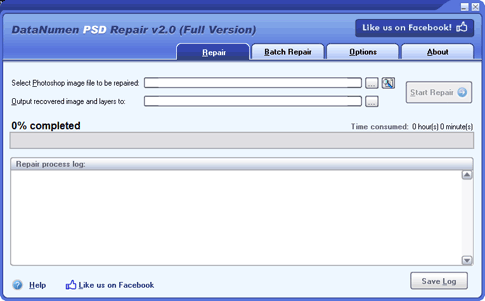 DataNumen PSD Repair(DPSDR) (formerly Advanced PSD Repair) is a powerful tool to recover corrupt Photoshop image(PSD, PDD) files. It uses advanced technologies to scan the corrupt or damaged Photoshop image files and recover your data in them as much as possible, so to minimize the loss in file corruption. Currently DPSDR supports to recover PSD and PDD image files produced by all versions of Adobe Photoshop.
Mehr…
Aye SplitTiff
Version: 4.0 | Shareware (29,95 USD)
Aye SplitTiff is a tif tiff splitter able to split multiple-page tif tiff files into separate single-page tiff files in batches. Both GUI and command line modes are supported. Able to split big tif tiff files of 99999 pages, and save splitted tif tiff files in different folder. Options to write log file. Aye SplitTiff is small and easy to use.
Mehr…