Kategorie Grafik / Sonstige
PanoramaStudio
Version: 3.1.0 | Shareware (34,95 EUR)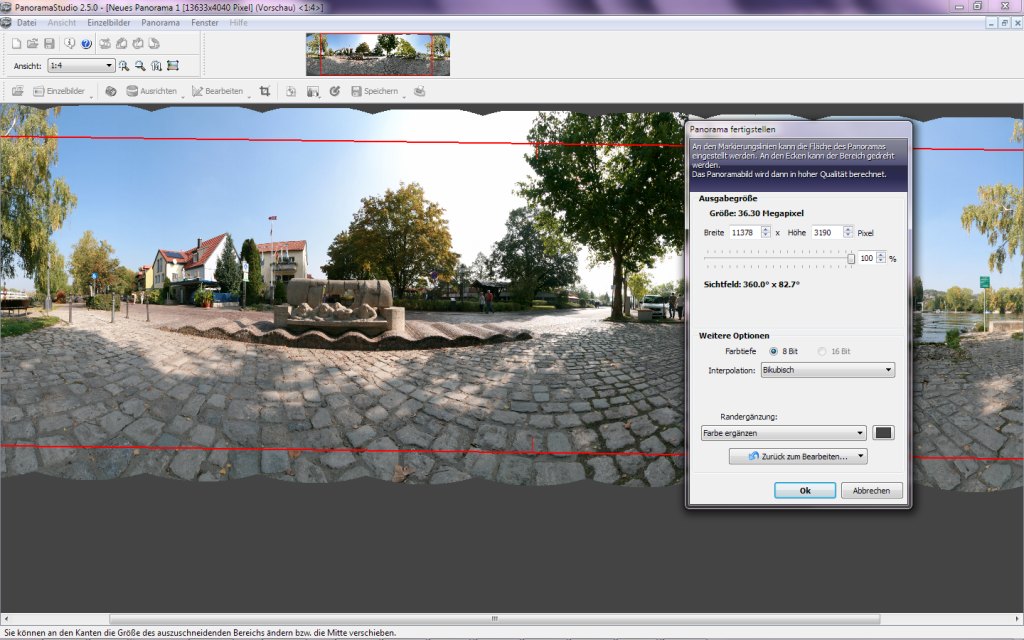 PanoramaStudio erstellt nahtlose 360°- und Weitwinkelpanoramen aus einer Reihe Fotos. Das Programm vereint dabei in einer übersichtlichen Benutzeroberfläche die automatische Erstellung qualitativ hochwertiger Panoramabilder mit umfangreichen Nachbearbeitungsfunktionen für fortgeschrittene Nutzer. Die Ausgabe ist als Bild, interaktives 3D-Panorama/Zoom-Bild (inkl. Hotspots für virtuelle Touren), Bildschirmschoner oder mittels Posterdruck möglich.
Mehr…
TiffCombine
Version: 1.5 | Shareware (49,50 USD)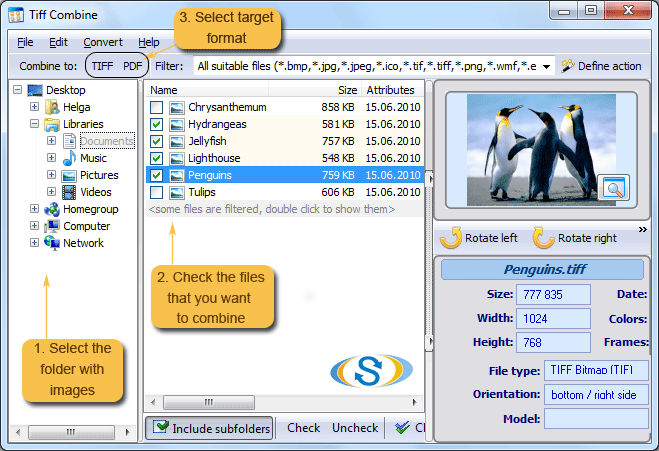 The most user-friendly tool to combine TIFF files. Tiff Combine combines several pages into one tiff file in seconds. It is easy-to-use due to transparent interface. You can combine selected TIFF files or Tiff files within folders. Moreover the program has a unique option of combining TIFF files by common name part. Tiff Combine is very flexible and can combine TIFFs in any way you may need. Download your free trial copy now to see how it works.
Mehr…
My personal Photocalendar
Version: 1.4.3 | Shareware (14,00 EUR)
Mit diesem Programm kreieren Sie Ihre ganz persönlichen Foto-Jahreskalender für Sie selbst oder als Geschenk für Freunde oder Bekannte.
Versehen Ihre Kalender mit eigenen Digitalfotos und persönlichen Einträgen. Die skalierbare Druckvorschau garantiert Ihnen die volle Kontrolle über das Layout der einzelnen Kalenderseiten. Die integrierte Feiertagsberechnung ermöglicht die einfache Übernahme regionaler Feiertage.
Mehr…
Webmaster Color Picker
Version: 2.1 | Shareware (14,95 USD)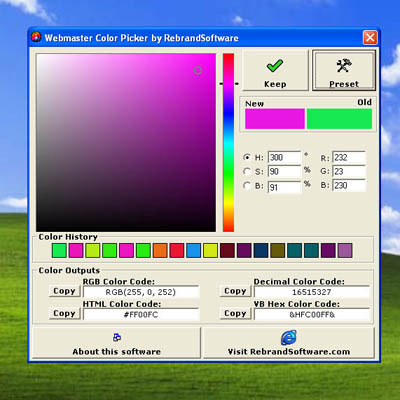 Use this Photoshop-like color picker to help choose colors for your websites, programs or office applications. Displays Decimal, RGB, VB and HTML color codes for each selected color.
Mehr…
FotoKiss Auction Photo Editor
Version: 3.4 | Shareware (39,95 USD)
The Worlds Best Auction Photo Editor! Optimized for eBay Sellers, FotoKiss is a production photo editor that makes it easy to prepare and use digital photos for an auction listing, shopping cart, photo gallery or catalog. It is simple to operate and produces high quality results. It creates an Auction photo, Smart Gallery photo and Custom Thumbnail for your website with one click! It will also publish and link your photos on the Internet.
Mehr…
Anti Red Eye
Version: 1.7 | Freeware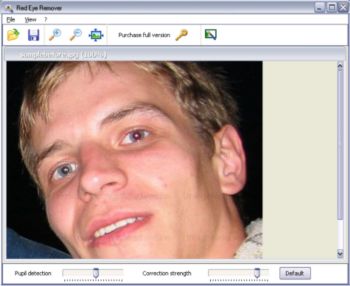 Anti Red Eye is a Photoshop plugin that can remove the common red eye effect from your images almost automatically. Just select a rectangular area around the eye and the red pupil will be automatically detected and fixed. For best results, you can adjust the correction options (correction strength, pupil detection, darkening), watching the results in real time.
Mehr…
Perpetuum mobile für Pocket PC
Version: 3.3 | Demo (7,40 EUR)
Perpetuum mobile realisiert ständig bewegende und rotierende Bälle. Bis zu 500 Bälle springen in einem Raum umher. Die Ballbewegung kann dynamisch mit Schwerkraft erfolgen. Als Zuschauerposition kann der Bildschirm, die Raummitte, ein Ball oder ein Fahrstuhl ausgewählt werden. Hierdurch kommen besondere visuelle Effekte zur Geltung. Der Anwender kann vielfältige Einstellungen über sechs Dialogseiten vornehmen und diese abspeichern.
Mehr…
Image Print
Version: 1.10.0 | Shareware (25,00 EUR)
Erstellen Sie Alben und Bücher mit Ihren Bildern und drucken Sie diese. EXIF-Informationen können automatisch in Texte übernommen werden. Freies Anordnen von Bildern und Texten auf jeder Seite. Legen Sie Schablonen für wiederkehrende Layouts an. Druckereinstellungen werden je Schablone, Album oder Albumseite gespeichert. Testen Sie Papiere mit verschiedenen Druckereinstellungen. Benutzen Sie das Buchprojekt, um die Ausdrucke binden zu können.
Mehr…
Pics Print 3
Version: 3.26 | Shareware (39,50 USD)
Pics Print is a Windows application that makes it simple to format and print high-quality photos, greeting cards, calendars, contact sheets, scrap books, collages, and family albums. It offers the following: WYSIWYG Printing; See and adjust your layout in the preview. Greeting Card, Calendar, Borderless Photo, Contact sheet and Poster Wizards. Add text and annotations to your images. Crop and edit images within Pics Print.
Mehr…
PDF Converter Professional
Version: 3 | Shareware (99,00 USD)
Now you can do so much more than converting PDF files into Microsoft Word documents! ScanSoft PDF Converter Professional 3 is an unmatched combination of conversion, creation, and editing features at a third the price of the leading PDF business software.
Mehr…
AV Bros. Puzzle Pro for Windows
Version: 3.1 | Demo (49,95 USD)
AV Bros. Puzzle Pro 3.1 is an extremely powerful and flexible Photoshop plugin (Photoshop plugin means the filter plugin (8bf) for Adobe Photoshop and compatible hosts.) The product is targeted to help you create jigsaw puzzle effects of various types, but it also produces a whole bunch of different high quality image effects. This Photoshop plugin gives you an absolute control over the creation of the desired effect.
Mehr…
FirmTools Panorama Composer
Version: 3.0 | Shareware (29,95 USD)
FirmTools Panorama Komponist hilft Ihnen, Wannen von den Reihen Ihrer Fotos, außer ihnen als panoramisches Foto (jpg Bild) leicht zu konstruieren, da das 4web page (ActiveX Projektorsteckverbindung) und während der alleinstehende Projektor (exe Akte) so Sie sie Ihren Freunden schicken kann und sie können sie ohne irgendwelche speziellen angebrachten Programme ansehen.
Mehr…